Welcome the New Year at Gardens by the Bay! Kicking off 2018 is the "Dahlia Dreams" floral display, which features a delightful array of dahlias blossoming amidst the oriental setting of a Chinese courtyard garden. Visitors can also look forward to a host of cultural festivities, including spectacular ultraviolet (UV) light performances featuring the debut appearance of the UV Lotus Dragon and UV Northern Lions in Singapore, as part of the Gardens' Lunar New Year programme "Spring Surprise".
Our Parenting World (OPW) team will be visiting Gardens by the Bay and will bring to you, pictures of the lovely floral displays, please stay tuned. In the meantime, here's what you can expect at Gardens by the Bay from 19 January to 4 March as follows: 
"DAHLIA DREAMS" FLORAL DISPLAY (大丽花之梦)
Inspired by the picturesque landscape of Chinese imperial gardens, Dahlia Dreams welcomes Lunar New Year with an elegant display of dahlias, camellias, lagerstroemias and bromeliads in a courtyard garden setting. Auspicious Southern Lions greet visitors as they enter while Chinese guardian lions (also known as "Foo Dogs") stand guard. To celebrate the Year of the Dog, intricate diorama cutouts, exquisite driftwood sculptures and ornamental topiaries in the shape of dogs can be spotted in the display. Adding to the majesty are palace lanterns and umbrella curtains that embellish the garden. On selected days in February, the God of Fortune will make an appearance in the Flower Dome to spread wealth and prosperity. 
Date: Friday, 19 January – Sunday, 4 March
Time: 9am – 9pm 
Location: Flower Dome
Details: Admission charge to the conservatories applies.
Please see below for Chinese New Year Ticketing Promotion.
CHINESE NEW YEAR TICKETING PROMOTION
The Lunar New Year is a time for family get-togethers. From 16 February to 4 March 2018, purchase a full-priced Singapore Resident Adult ticket at our ticketing counters onsite and receive a Singapore Resident Senior Citizen ticket for free! Terms and conditions apply.
Visit gardensbythebay.com.sg for details.
CURIOUS TO FIND OUT MORE?
Pick up a Dahlia Dreams Garden Trail for more interesting information or join the daily "ASK Me!" tours by the friendly Display Interpreters as they share fascinating botanical facts and anecdotes about the floral display.
Date: Friday, 19 January – Sunday, 4 March
Time: Daily at 11am and 3pm (2pm – 5pm on 27 & 28 January, and 10, 11, 24 & 25 February)
Details:
• Guided tours are free, but admission charge to the Flower Dome applies.
• Tours last approximately 15 minutes and are available on a first-come-first-served basis.
• To participate, gather at the "ASK Me!" poster near the Flower Field. Tour will begin when a group of five or more visitors is assembled.
• Tours will not be conducted on Flower Dome closure dates.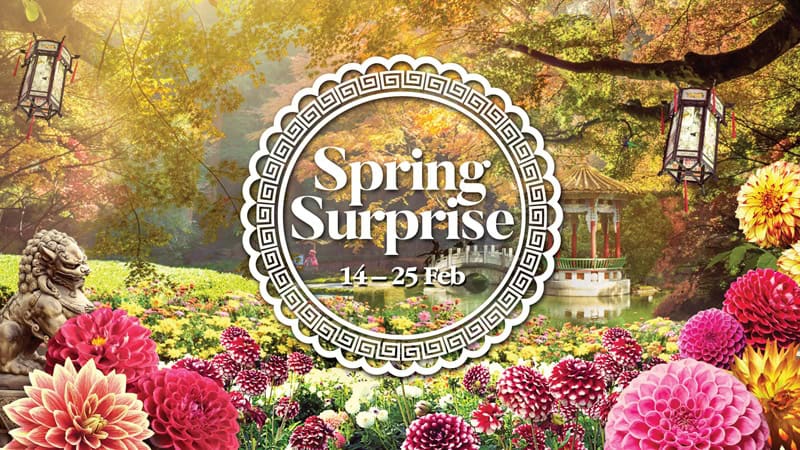 All the above images credited to Gardens by the Bay
SPRING SURPRISE
Usher in Spring and celebrate the Year of the Dog with Gardens by the Bay. Spring Surprise 2018 offers an array of festive performances and fun for the entire family. Do not miss the spectacular ultraviolet (UV) light performances with the UV Lotus Dragon and UV Northern Lions making their very first appearance here in Singapore.
Date: Wednesday, 14 February – Sunday, 25 February
Time: 12pm – 8.30pm (selected timings)
Location: Supertree Grove, Flower Dome, The Canopy
Details: Programmes are free. Admission charge to Flower Dome applies.
Please visit www.gardensbythebay.com.sg/whatson for more information.