In the world of Japanese cuisine, an Omakase meal is considered to be an unique and fine dining experience where your meal is decided by the Chef using seasonal and the finest ingredients available. The food is presented in an artistic manner and elegantly to the diners. 
For a proper meal of Omakase, you would normally expect to pay in the range of $200 or more. But, for now MAI by Dashi Master Marusaya has launched its signature Sushi & Dashi Omakase at an affordable price of S$88++ per person. Yes for this price, you actually can enjoy this wonderful set of Omakase meal.
The 38-seater restaurant with a sushi bar and two small private rooms is housed at a beautiful heritage building located at 46 Bukit Pasoh Road.
After our media trips to Japan and being hosted with really good Japanese fare and especially Omakase, we have been looking for dining places that serve authentic Omakase, we are so glad to have found MAI by Dashi Master Marusaya. Upon entering the restaurant, we were seated at the Chef's table and able to see the talented Chef Hiroyuki Ono in action and preparing our meal. Marusaya Vice President, Hideo Ueda warmly introduced and explained to us the various dishes, it was an absolute pleasure for us to meet him and Chef Hiroyuki Ono!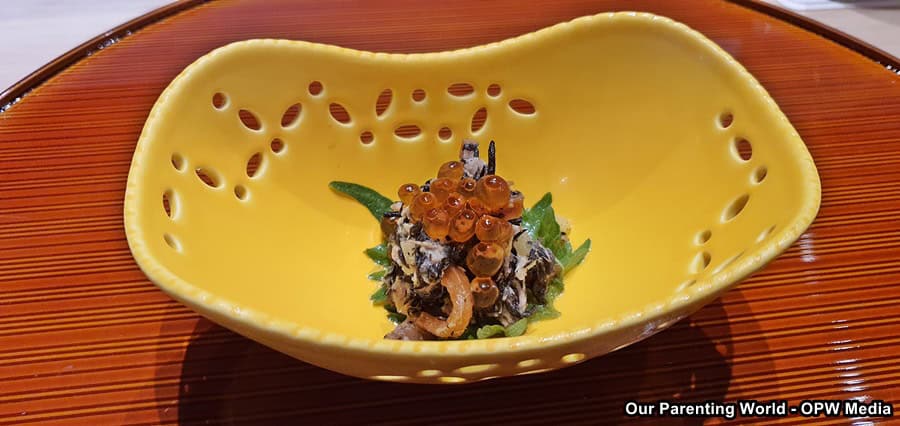 Hijiki Seaweed with Japanese Homemade Mayo topped with Ikura (Salmon Roe)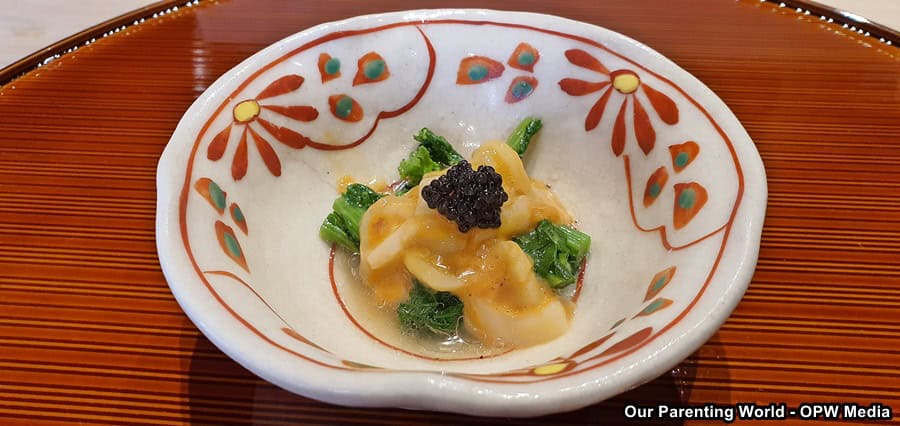 Japanese Kailan with Sea Urchin and Squid topped with Caviar
First up, we started our first two appetizers, Hijiki Seaweed with Japanese Homemade Mayo topped with Ikura (Salmon Roe) and Japanese Kailan with Sea Urchin and Squid topped with Caviar. The Salmon Roe is huge and juicy, well-combined with the Hijiki seaweed and mayo to give a delightful texture. The creamy Sea Urchin together with the mild sweetness from the fresh squid, the crunchy Kailan topped with caviar makes this a luxurious appetizer.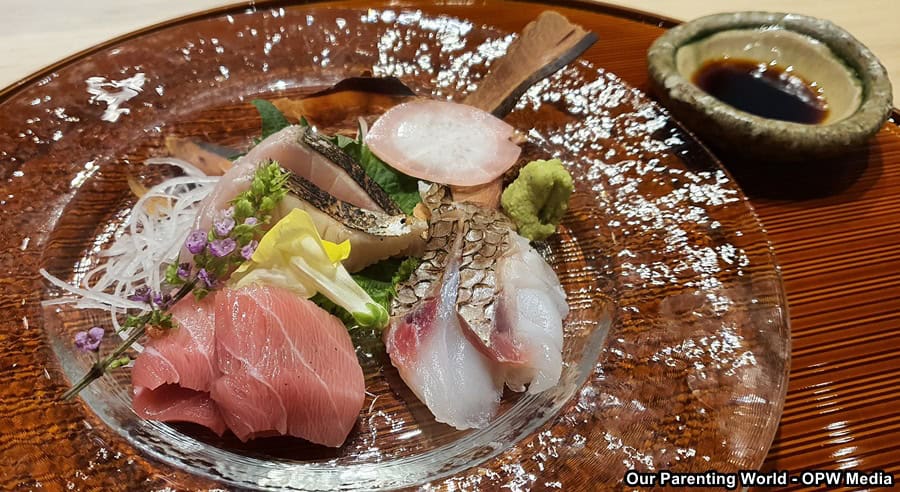 Sashimi platter consists of Sawara (Spanish Mackerel), Chutoro (Medium Fatty Tuna) and Tai (Red Snapper) (accompanied with Shiso Flower and Bonito Jerky)
This is a beautifully plated sumptuous Sashimi platter filled with fresh, thick and juicy pieces of Sawara, Chutoro and Tai that melt in your mouth. Absolutely heavenly! 
Mackerel with Vinegar Sauce with Momiji Oroshi (Spicy Grated Daikon Radish) topped with Ginger Flower (Momiji Oroshi is prepared with ginger, yuzu, sesame oil, shiso leaf, chilli padi and ground radish)
This dish comes with chilli padi that Chef has adapted to local preference for our love for spicy food and chillies. The fresh, tender Mackerel taste is further enhanced with the spicy and sourish kick from the chilli padi and vinegar sauce and the unique taste from the ginger flower.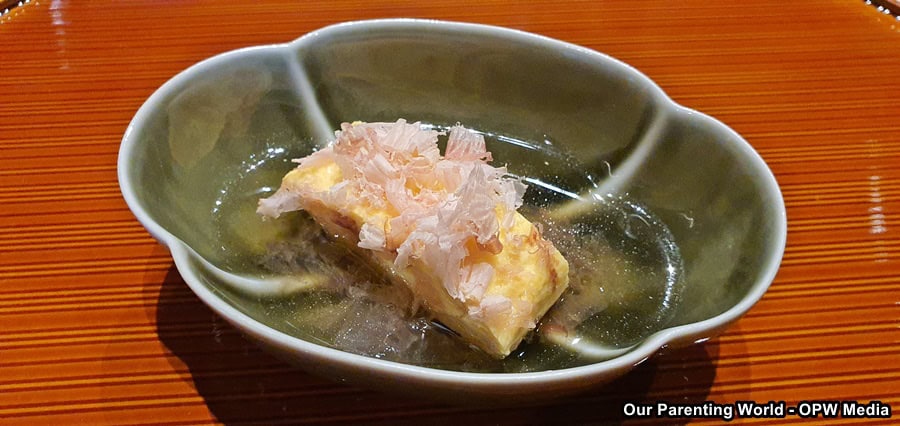 Tamago ( Japanese Egg Omelette) in Dashi Stock
Tamago egg is a classic Japanese folded omelet consists of several layers of cooked egg. The Tamago is so soft, creamy, sweet and has a really light texture. It comes with a flavourful Dashi stock, which makes you feel like you are having a wonderful home cooked meal in a Japanese household.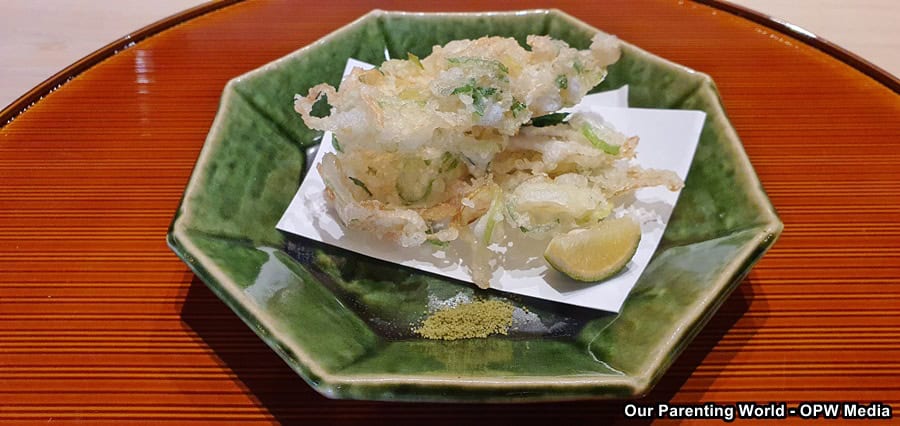 Whitebait Kakiage accompanied with Matcha Salt and Japanese Lime
Whitefish is deep-fried tempura style that gives a light and nice crunch. You can eat it by itself or dip it in Matcha salt and or sprinkle with Japanese lime for different tastes and flavours. Whichever way you eat, they are all irresistible!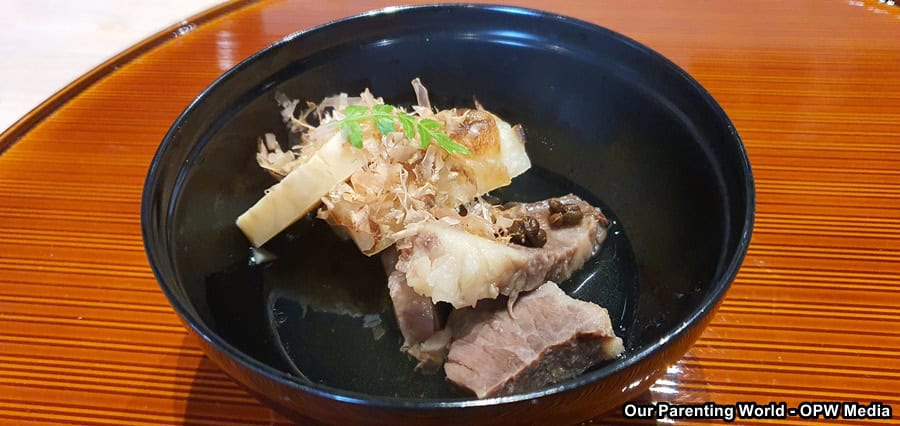 Oden (Japanese Stew) with Iwate Beef Neck, Chikuwa (Japanese Fish Cake), Bamboo Shoot and Mala Leaf
This is an enjoyable dish with different textures comprising of the soft and tender braised beef neck, the flavourful and sweet stew, the crunchy bamboo shoot and chewy fish cake.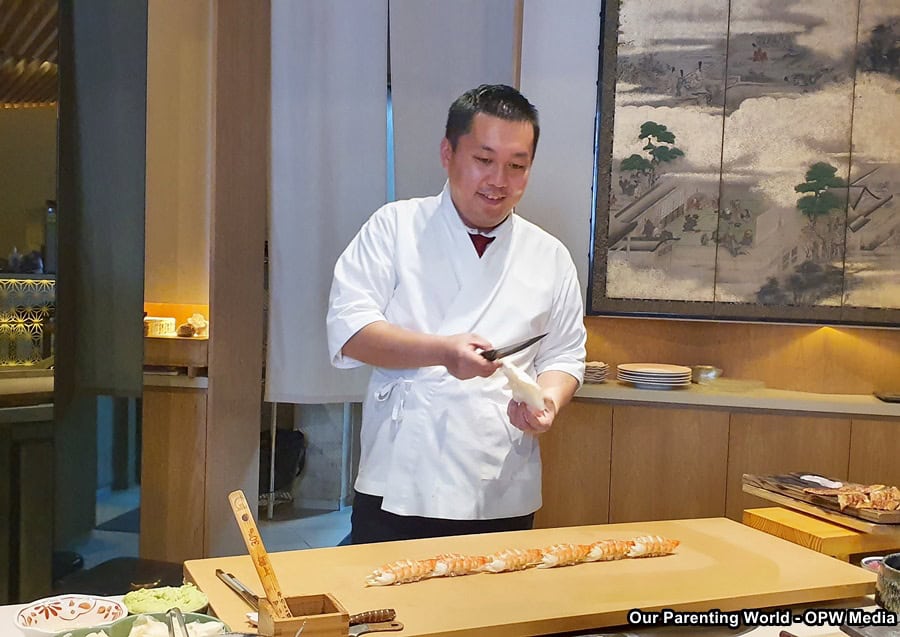 Here comes the sushi, as we watched Chef preparing the sushi is like a piece of art. Each of these delicious sushi is so skilfully and beautifully prepared by Chef using Hokkaido Rice together with the freshest and high quality ingredients. What a sumptuous feast! Here's the following seven sushi that we have tried as follows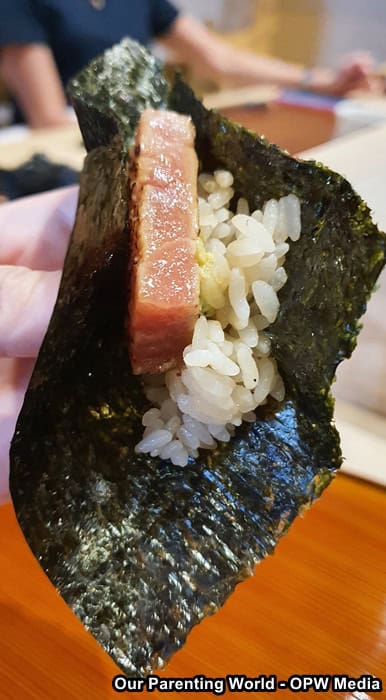 Aburi Otoro (Flame Seared Tuna Belly) Japanese Sandwich
Marinated Akami Tuna (lean part of tuna along fish's spine) and Aburi Otoro (Flame Seared Tuna Belly) Nigiri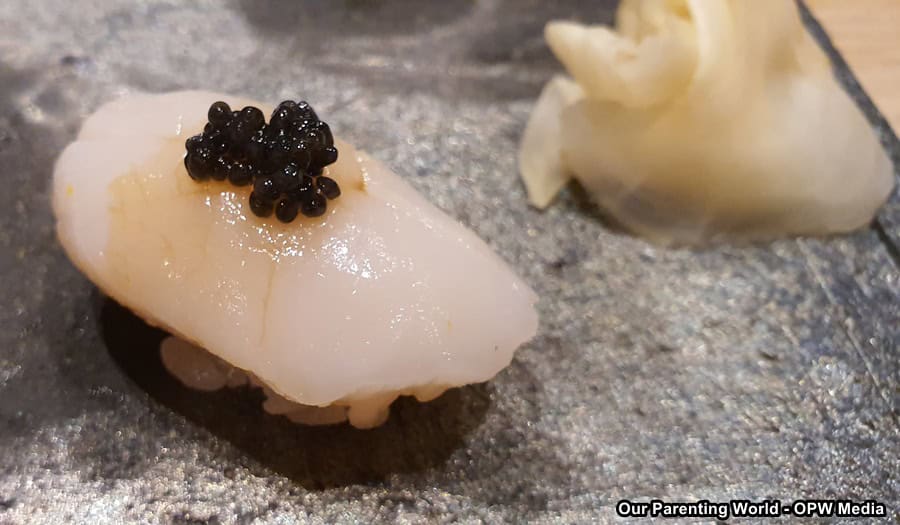 Hotate (Scallop) with Caviar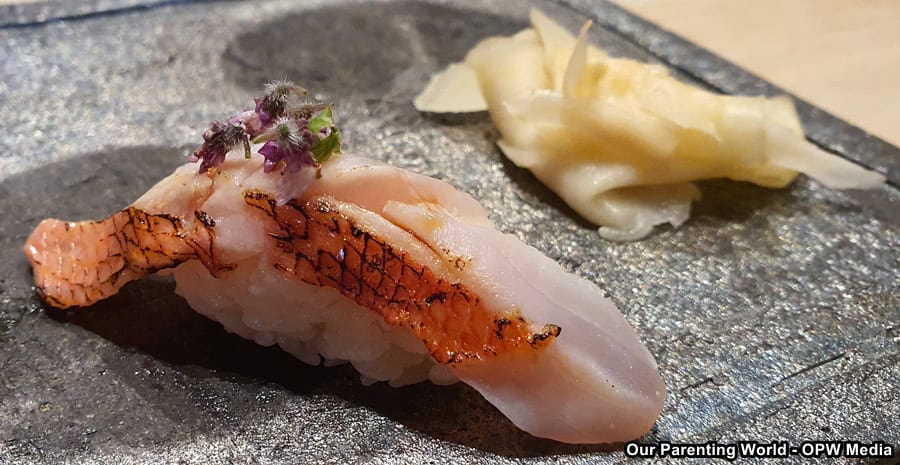 Kinmedai (Golden Eye Snapper or Splendid Alfonsino) with Shiso Flower Nigiri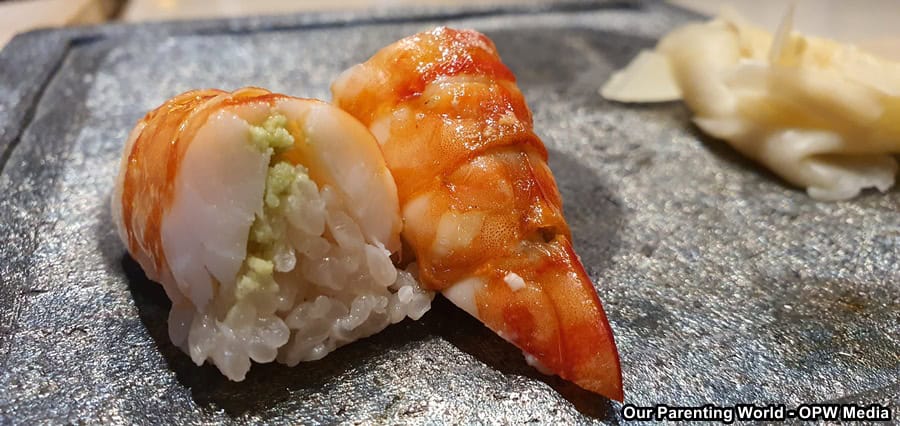 Kuruma Ebi (Japanese Tiger Prawn) Sushi 
Unagi (Eel) Nigiri ( Sauce used for Unagi is made of Mirin, Sugar and Sake)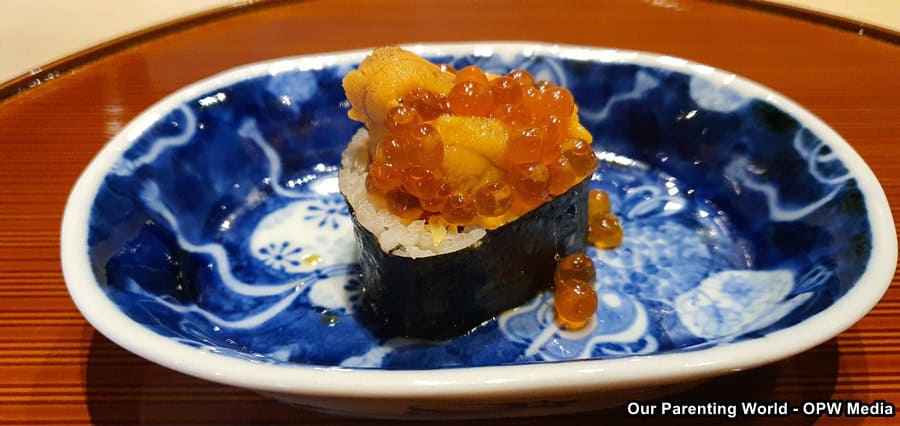 Aburi Otoro (Flame Seared Tuna Belly, Akami Tuna (lean part of Tuna along fish's spine), Chopped Tuna and Takuan (Daikon Radish) Maki topped with Uni (Sea Urchin) and Ikura (Salmon Roe).
The secret of this restaurant lies with the superb culinary skills, dazzling showmanship and charming personality of Chef Hiroyuki Ono who has previously worked in top local Japanese restaurant like NAMI Restaurant & Bar by Shangri-La Hotel Singapore and also in other similar top Japanese restaurants in Japan, Amsterdam and Kuala Lumpur. It's amazing to watch him wielding the different knife sets when preparing the different sashimi and sushi items.

Miso Soup with Tofu Skin and Cabbage (L) and Daifuku (R)
To round off this hearty and sumptuous meal in Japanese way, we have the comforting and flavoursome Miso Soup with Tofu Skin and Cabbage. This is followed by a choice of coffee or tea and dessert, Daifuku, which is soft, chewy mochi stuffed with Azuki Bean Paste and Strawberry.
We had an amazing dining experiences at MAI by Dashi Master Marusaya, we were very impressed with the delectable and excellent food prepared by Chef Ono Hiroyuki and the impeccable services provided by their staff. Be prepared to be pleasantly surprised as at MAI by Dashi Master Marusaya, the dishes served will vary and change with the seasons and the ingredients available so that you can enjoy the freshest and mouth-watering different-flavored Japanese cuisine at the restaurant. 
MAI by Dashi Master Marusaya
Address: 46 Bukit Pasoh Road Singapore 089858.
Operating Hours:
Mondays to Saturdays:
Lunch: 12pm to 2.30pm (last order 2pm)
Dinner: 6pm to 11pm (last order 10pm)
For reservations, please call 6327 8414.
Website: http://bitejapan.asia/mai/