Due to Covid-19 pandemic, there is an increasing demand for cleaning and sanitising of our work or home areas that could expose us to harmful chemicals. Introducing Mr Wonderful Sanitising Water, a 100% chemical-free and eco-friendly cleaning solution that eliminates up to 99.9999% of harmful germs and bacteria.
This multi-purpose cleaning solution is manufactured in Singapore, can be used as a multi-surface cleaner for the kitchen, toilet, remotes, watches and jewellery. Most importantly, it was created with human safety in mind, and is extremely safe in the event of an accidental child ingestion. Along with its ability to deep-clean, it is also colourless, odourless, non-sticky and does not produce foam or residue. 
Mr Wonderful backed by extensive research and development was formulated by Dream Sparkle, an eco-friendly cleaning company founded by a former paramedic, Johnson Zhuo. He is the founder and CEO of Dream Sparkle with years of experience in the cleaning industry. As Potassium Hydroxide is the main active ingredient, this biodegradable cleaning solution comes in the form of purified ionised alkaline water, which is safe upon skin and food contact.
All images credit to Johnson Zhuo and Mr Wonderful Sanitising Water
Our team speaks to Johnson Zhuo where he shares more about his product, Mr Wonderful Sanitising Water. Read on to find out more. 
Exclusive Interview with Johnson Zhuo, Founder and CEO of Dream Sparkle
1. Can you share with us more about Mr Wonderful and your range of products?
From 2000-2007, I was a regular in the Singapore Civil Defence Force (SCDF) as a full-fledged operational paramedic. Seeing life and death, day in and out, it made me wonder: "What has life got to offer? Am I able to do more if I have more resources and capabilities?" I began to think of wanting to do more of what I was doing as a paramedic.
In 2014, I started to understand, life isn't just about money, fame and power, it's what one wants to do with it when he or she has it and what he or she wants to leave behind before he or she touches the earth. I want to set up a Moral Education Centre for our next generation and an Elderly Hospital to remember our pioneering generation. There is a gap in the Singapore cleaning industry, there has also been an increase in hand, foot, mouth disease cases in Singapore. So, on 29 September 2014, Dream Sparkle Pte Ltd was founded. We clean and disinfect households using Singapore ambulance cleaning standards and non-harmful to health cleaning solutions.
Fast forward to 2019, we had been discussing if we should share our in-house (eco-friendly cleaning & sanitising products) to the mass market. On 2020, Mr Wonderful (Sanitising Water and daily general cleaning solution) was born!
More exciting households' eco-friendly products for young families and children are along the pipelines! (Hint Hint: Eco-Friendly Micro cloths, other Eco-Friendly households cleaning products, babies/parents' special material clothes!)
2. Being chemical-free, how is Mr Wonderful Sanitising Water able to eliminate 99.9999% of harmful germs and bacteria? 
There is a different between alcohol sanitising or other harsh cleaning chemicals. They are able to eliminate the germs and bacteria almost less than 5 seconds. However, due to their nature, it also means they are harmful to our lungs, skins or maybe other forms of poisoning! (Especially children, KK Hospital had a report showing there is an increase in children been sent to the hospital for chemical/alcohol brunt and breathing difficulties during this COVID19 period as parents uses strong chemical or alcohol for home cleaning.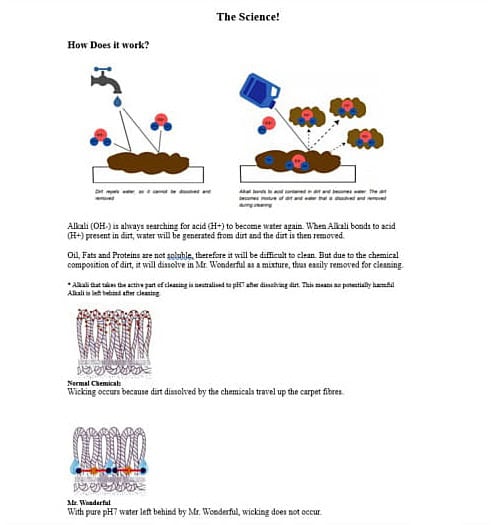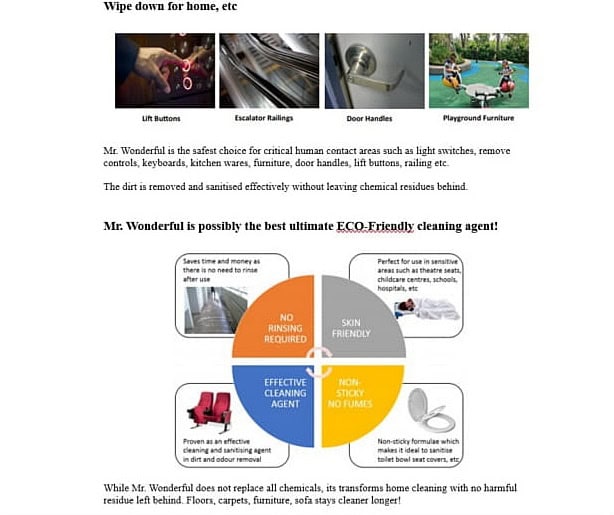 3. On top of cleaning surfaces, how does Mr Wonderful Sanitising Water work for watches and jewellery? Is there a demo? 
As of above science on how Mr. Wonderful works on cleaning and sanitising, it works the same for watches and jewelleries. (Noted that metal like aluminium not recommended for soaking or leaving Mr. Wonderful too long on it, as it will tarnish the aluminium).
The Science to Mr. Wonderful:
Alkali (OH-) is always searching for acid (H+) to become water again. When Alkali bonds to acid (H+) present in dirt, water will be generated from dirt and the dirt is then removed.
Oil, Fats and Proteins are not soluble; therefore, it will be difficult to clean. But due to the chemical composition of dirt, it will dissolve in Mr. Wonderful as a mixture, thus easily removed for cleaning.
* Alkali that takes the active part of cleaning is neutralised to pH7 after dissolving dirt. This means no potentially harmful Alkali is left behind after cleaning.
Is there a demo?
You can always contact us for a demo (For Our Parenting World) 😊
Or if you want to D.I.Y. at home or office to clean and sanitise your watches/jewelleries, just follow these simple steps:
1- Get a container to hold about 100-200ml of Mr. Wonderful (depends on how many watches/jewelleries you want to clean and sanitise)
2- Pour Mr. Wonderful in to the clean container.
3- Drip the watch (make sure the water resistance for watches is working) or jewellery into the container filled with Mr. Wonderful.
4- Give the watch or jewellery a swirl for about 5-10 mins. (To clean and sanitise the watches or jewelleries thoroughly and makes it even shinier, you could use a soft tooth brush to brush gentle for better effect!)
5- Wala! You will begin to see the shiner watch and jewellery! Dirt deposit on the container and colour of the solution changed to dark brown or brown!
6- Recommended to repeat once a month.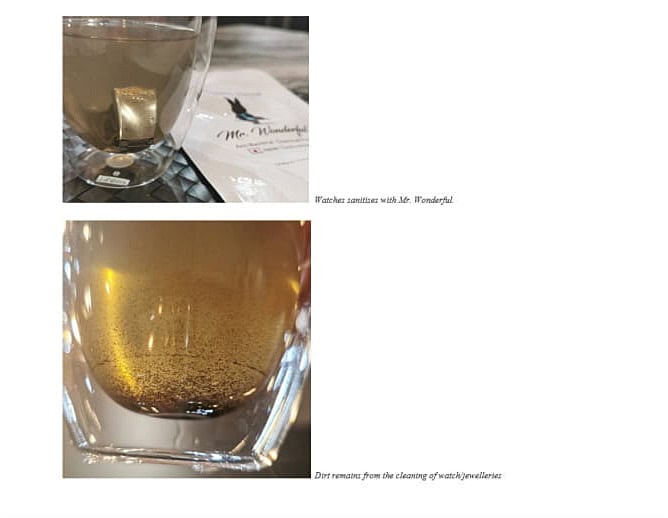 4. As Mr Wonderful Sanitising Water is eco-friendly, will the company continue to focus on producing sustainable cleaning solutions for the future?
Yes! The company focus is to be a provider of Eco-Friendly households' products! Watch out for our new launch that will be announced on our FB page 😊https://www.facebook.com/MrWonderfulGlobal
Mr Wonderful Sanitising Water is available in a 48ml pocket-sized travel spray bottle, and a full-sized 300ml spray bottle. You can purchase it online on major e-commerce sites, such as, Shopee and Lazada.