noMSG is a food manufacturing company that was founded by a couple who had difficulty feeding their picky baby when it came to eating. They went around asking for some tips among their peers on how they managed to get their babies to eat and they mentioned about natural seasoning powders. To be exact, they named Ikan Bilis Powder because of the nutritional values it carries and also the umami flavour it exudes. The couple started making the powder to feed their baby, they became good at it and they decided to sell it to the public so that parents don't have to worry about their babies not eating.
noMSG first started off with healthy natural seasoning powders ranging from Ikan bilis, whitebait, mushroom, scallop, chicken and kombu powder. As their name suggests, their powders are free from MSG, additives and preservative, and is 100% natural. noMSG has lately ventured into producing 100% Natural Chicken and Pork Collagen Soup.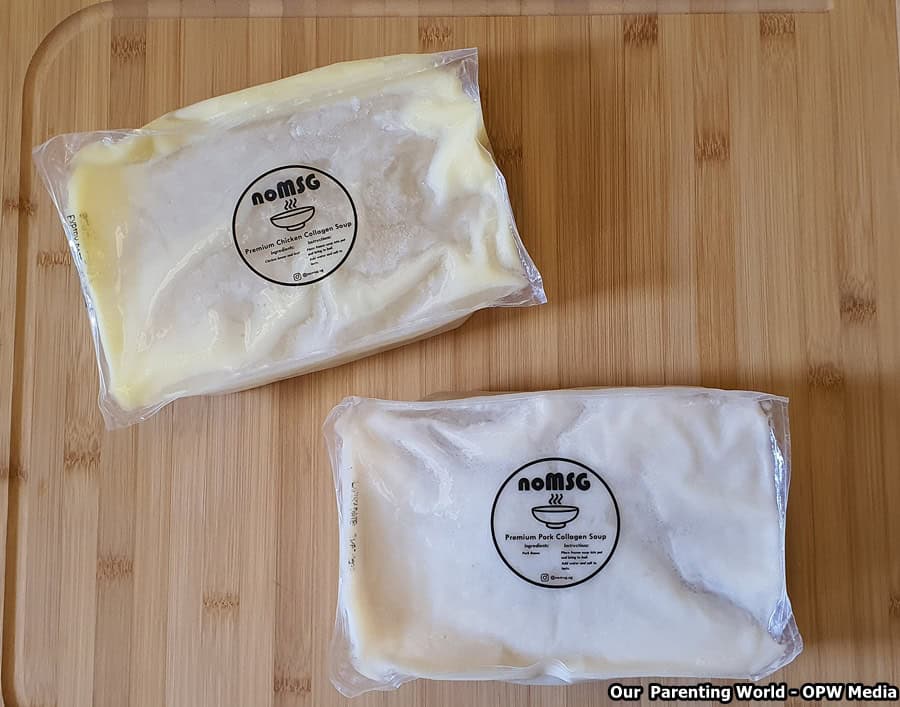 We tried out their Premium Chicken Collagen Soup and Premium Pork Collagen Soup. Each packet of soup contains 1 litre, uses FDA Food Grade pouch that is BPA free, able to withstand temperatures of up to 100ºC and prevent leaking when frozen. The Collagen Soups are produced in batches daily, noMSG uses the freshest ingredients delivered to them daily for their chicken and pork collagen soups. Using only premium ingredients with no MSG, additives and preservatives, you can expect freshly produced, 100% natural Chicken and Pork Collagen Soup from noMSG to be delivered to you. 
Now cooking is made so convenient. It is easy to use the collagen soup, simply defrost the frozen soup, pour the content into the pot, add in your ingredients and bring it to boil. It is that simple and the soup is also great for steamboats.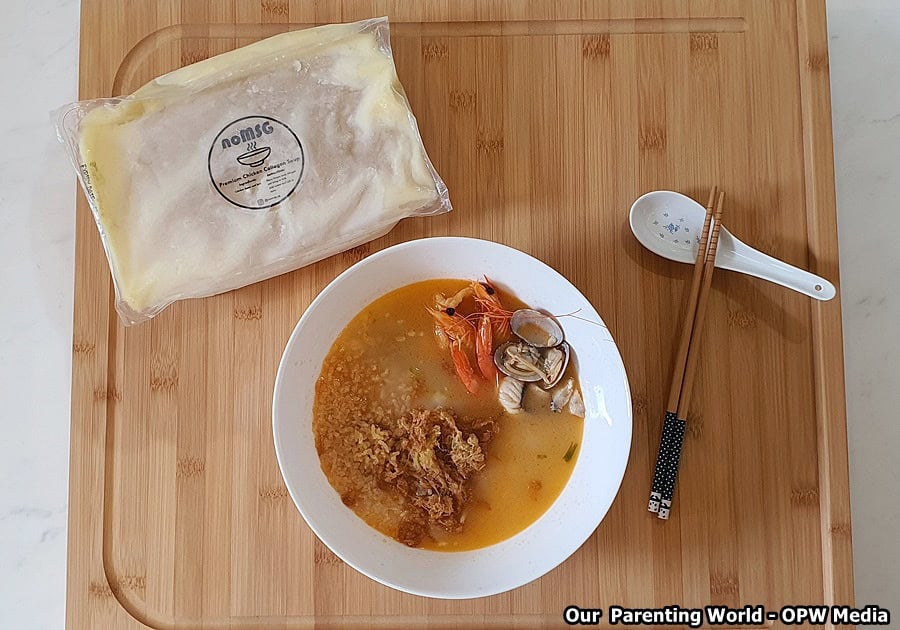 We used the Premium Chicken Collagen Soup to prepare Seafood Pao fan. The Chicken Collagen Soup is made of chicken feet and bone, double boiled and simmered on low heat for over 9 hours to achieve a fragrant and thick consistency.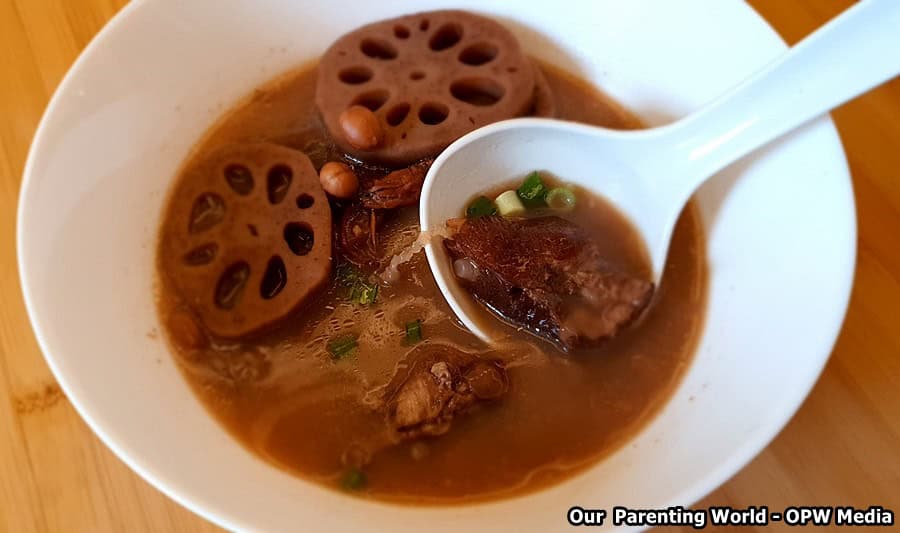 We used the Premium Pork Collagen Soup to prepare Lotus Root Soup with Pork Ribs and Peanuts. The Pork Collagen Soup is made of pork bones. The soup is double boiled and simmered on low heat for over 9 hours for it to be rich creamy and full of favour. noMSG Premium Collagen Soups contains no salt, you can add the salt according to your personal preference.
We enjoyed both types of soups, they are rich, robust and full of flavour. With noMSG Premium Collagen Soups, we can save a lot of time preparing our meals and whip up delicious, healthy and nutritious soups in no time!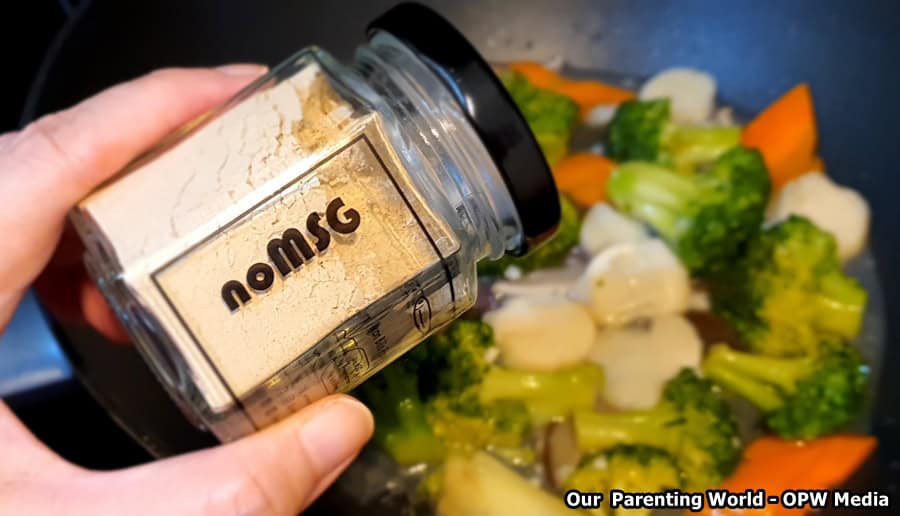 As parents ourselves, we are very concerned with the food and ingredients that we use in our cooking especially for our children, they have to be natural, healthy and nutritious. noMSG has a range of healthy natural seasoning powders such as Premium Ikan Bilis Powder. The packaging comes in two forms, one in glass bottle and the other in refill packet with 15% more powder. The powder is very fine and able to dissolve quickly to stimulate easy digestion.
noMSG's Ikan Bilis Powder is suitable for babies 6 month old and above. Ikan Bilis is high in calcium, protein and omega-3 fatty acids which are essential for a baby's and kid's developmental growth. It helps to aid in the growth of strong bones and teeth, muscles and eye-health. Its high nutritious value is beneficial for the whole family. Ikan bilis powder is suitable for cooking, just sprinkle the seasoning powder when you are cooking the food, the powder is very fine and will dissolve easily. You can use it as a food seasoning for soups and or as a base for your stir fry dishes. We can use the seasoning powders with a peace of mind knowing that they are made with natural and premium ingredients, it makes our home-cooked dishes more aromatic and appetising too. 
All noMSG's ingredients are carefully handpicked to ensure that customers experience top notch quality products. Enjoy free island-wide delivery on all orders above $40 (w/o Collagen Soup) or $80 (with Collagen Soup) in Singapore. To check out noMSG and to purchase, please visit its website at www.nomsg.sg.