On 16 September, the late Mr Lee Kuan Yew, Singapore's beloved first and longest-serving prime minister, would have turned 100. Widely acknowledged as the architect of modern Singapore, Mr Lee led the island nation's dramatic transformation from a developing country to a global economic powerhouse in less than five decades.
"When it came to pursuing his vision for Singapore, his energy was unparalleled. He was just relentless," says Karen Seah, founder of X3D Studio. "Singapore truly owes our current successes to Lee Kuan Yew's steadfast vision, values, sacrifice, and love in building our nation. This exhibition is our way of honouring him and his constant quest for excellence and progress."
Now Is Not the Time is an immersive experience that chronicles Mr Lee's life and celebrates his legacy – as a national leader and global inspiration, as an advocate of multiculturalism and a champion of technology and innovation – through the magic of virtual production, AI, generative art, architecture, sculpture, film, and music.
"We've merged the powers of art, technology, and storytelling to create an exhibition we hope resonates with different generations and across borders," adds Ms Seah. "It's also our way of connecting Singapore's younger generation with the past so that they fully appreciate what it took to build this safe and prosperous country. None of it was easy and there are many lessons to take from history." The exhibition's title, Now Is Not the Time, speaks to one of those lessons. "We've come a long way, yes, but now is not the time to rest on our laurels," says Ms Seah. "Instead, we must continue to head into the future with passion and embrace the boundless opportunities in creativity and innovation."
Among the exhibition's highlights is the work of New York-based contemporary artist Daniel Arsham, who created a series of art pieces – including a full-body sculpture of Mr Lee in a pivotal moment in history, right when he declared Singapore's separation from Malaysia – for the immersive art collaboration. It is the first time Mr Arsham, whose previous collaborations include work for global brands such as Dior, has made a sculpture of a global leader.
"I've been intrigued by Singapore since my first visit over 10 years ago," says Mr Arsham. "The futuristic nature of the city is incredibly inspiring to me and I'm truly humbled to be part of the of the celebrations marking Mr Lee's 100th birthday. I hope that the sculptures I have made in his honour will inspire a new generation and help them to understand and appreciate the importance of his legacy as a revered global leader."
The exhibition also showcases Singapore's creative talent through works by students from LASALLE College of the Arts Film School and NYP School of Design and Media; the architectural firm Brewin Design Office; and production company Refinery Media. It also features original music by the award-winning composer Tay Chee Wei, who had composed music for EMMY-nominated documentaries such as NOVA's Ultimate Space Telescope (IMDB) and Decoding the Weather Machine (IMDB).
This monumental exhibition is made possible by the support of Singapore's eminent organisations, including Founding Partners such as DBS Bank & Pontiac Land Group; and Partners such as Allen & Gledhill, Ho Bee Land, Kuok Group, Mapletree Investments, PSA International, RB Capital, SATS and Woh Hup.
Said DBS CEO Piyush Gupta: "Lee Kuan Yew was extraordinary not only because he had exceptional foresight but also a strong sense of purpose. He lived and breathed Singapore – the success of Singapore and the future of its people were the singular lodestar of his actions. This enabled him to rally Singaporeans from all walks of life behind his bold vision of transforming Singapore from a fledgling port city to a global modern metropolis."
"With our world today facing rapid change and constant disruption, having a spirit of invention is more important than ever. That is why at DBS, we've been on a multi-year journey to embrace a culture of innovation and transform ourselves digitally. We are privileged to be involved with the "Now is Not The Time' exhibition – our hope is that it will spark meaningful conversations and ideas on how, together, we can reimagine this city for the next bound."
"Pontiac Land Group is proud of our involvement with the 'Now is Not The Time' exhibition as we acknowledge art's transformative potential to inspire and educate. This meticulously curated exhibition offers valuable insights into Mr Lee's life, vision, and values, and we hope it will serve as a source of inspiration to the general public and especially the younger generation," said Mr David Tsang, CEO, of Pontiac Land Group.
About the Exhibition: "Now is Not the Time"
Depicting a unique interplay between temporal perspectives, Now is Not the Time is an art exhibition that leverages the power of immersive technology to bridge the past, present, and future. It is a transformative, multi-sensorial experience that delves into Singapore's illustrious history, excavating the building blocks that have made the country what it is today. Through technology and artistic innovations, Now Is Not the Time spotlights the notable and formidable challenges that Singapore hurdled during the visionary stewardship of Mr Lee. Each part of the experience serves as a poignant reminder of the strategic decisions, indomitable courage, and unwavering foresight that constitute the bedrock of our nation's current culture and stature.
Key highlights of the exhibition "Now Is Not The Time"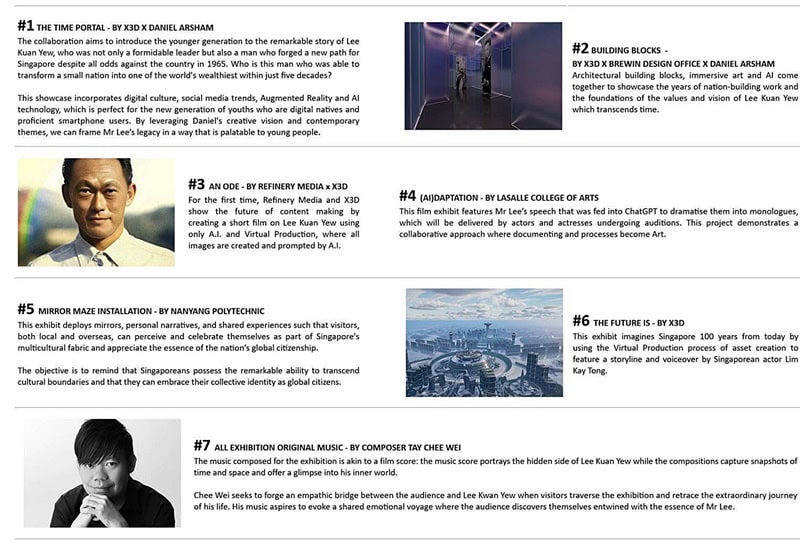 Event Details
Title: Now Is Not The Time
About the exhibition:
"Now Is Not The Time" is a modern immersive art installation that commemorates the 100th anniversary of the birth of Singapore's Founding Father Lee Kuan Yew. The exhibition is open to the public daily from 11 am till 8 pm from 10th till 24th Sep 2023.
The exhibition blends virtual production, AI, generative art, architecture, sculpture art, film, and music to deliver a unique experience, and is designed to appeal to all ages through Instagram-worthy visuals and the incorporation of interactive Alternate Reality (AR) and Artificial Intelligence (AI). Visitors can look forward to appreciating original works by local art schools, and artists from Singapore and abroad.
Date: 10th till 24th September 2023
Time: 11 am to 8 pm, daily
Venue: 25 Pasir Panjang Rd Singapore 117536
Ticketing:
FREE for the public. Visitors are required to register at www.nowisnotthetime.sg and select their preferred time slots (in 30-minute blocks).
Age Restriction: The exhibition is open for ages 13 years old and above.
Getting there:
By MRT, By Bus
Labrador Park MRT Station (CC27), Exit A 10, 143, 175, 176, 30
Shuttle Service Loop Service
▪ Pick up at Harbourfront MRT Station.
▪ The ride takes about 10 minutes.
▪ Service is available from 10.30 am till 8.30 pm, daily from 10th till 24th September 2023
▪ The last shuttle service departs at 8.30 pm daily from the exhibition site to pick up point
Parking: $3 per 90 minutes
Online and Socials
Website: www.nowisnotthetime.sg
Instagram: @nowisnotthetimesg
Hashtags: #nowisnotthetimesg | #x3d | #danielarsham | #lky100 | #lky