Nowadays, more and more people are adopting a healthy lifestyle and making healthier food choices. Introducing Oatberry, a Singapore-made and owned brand, founded by Darren Tan and his wife Vanessa in 2015, both working professionals and parents to two young children. Oatberry is a one-of-a-kind café at Scotts Square known for its range of plant-based products from handcrafted gluten-free granola to vegan bakes, energy balls to nut butters, smoothies to acai bowls.
More about Oatberry, their founding journey started from Darren's food allergies. His frequent flare ups since childhood had affected his daily life and mood. His children have also inherited some of these allergies. In search of nutritious allergy-friendly food and discovering the lack of healthy choices for breakfast cereals, Darren's frustration with the poor options turned into determination to experiment with granola recipes in their own kitchen. He has since found a purpose to help other allergy-sufferers like himself or simply provide healthier safer alternatives for others to eat better through Oatberry products which are all-natural, vegan and allergy-friendly. Their products are free of common allergens such as gluten, milk, soy, peanuts and eggs.
Top: American Breakfast set and Bottom: Oatberry Breakfast set
We visited Oatberry recently to try out their All-Day Plant-Based Brunch Sets, we had American Breakfast and Oatberry Breakfast. The American Breakfast set at S$18 consists of Two Baked Eggs, Plant-Based "Chicken" Nuggets (contains gluten, egg & dairy) and Oatberry Oat Waffles with Vegan Butter and Organic Maple Syrup. The Oatberry Breakfast set at S$20 consists of Two Baked Eggs, Roasted Vine Tomatoes, Warm Button Mushrooms, Sliced Avocado, Sourdough Toast and Oatberry Granola Bowl (Original Essentials Granola with Greek yogurt or your choice of milk) & Choice of Drizzle. The two platter sets are Soy-Free, Nut-Free & Allium-Free and contains egg, gluten & dairy. Both sets are sumptuous and delicious filled with nutritional goodness, it is a great way to kick start the day!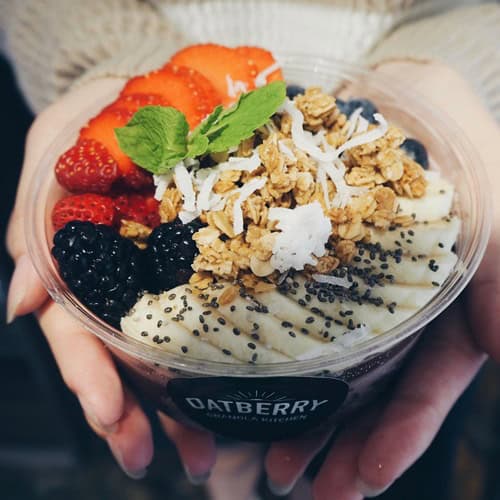 One of the highlights at Oatberry is their organic acai bowls (vegan), their organic fair-trade acai is filled with fresh fruits, toppings and Oatberry Essentials Granola. We tried out their Berrylicious Açaí Bowl from S$10.90, is their berry bestseller!
We enjoyed this colourful Berrylicious Açaí Bowl, so refreshing and appetising! The organic açai sorbet is a luscious combination of strawberry, blueberry, blackberry, banana, coconut chia pudding, Oatberry Essentials Original Granola and a drizzle of your choice. Every Oatberry's açaí bowls comes with a dollop of protein-rich coconut chia seed pudding, coconut flakes, a sprinkle of chia seeds and a drizzle of your choice.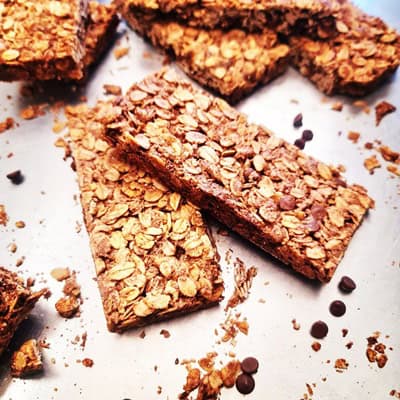 In addition, Oatberry has just launched their granola bars. The new gluten-free, vegan granola bars come in three flavours: Macadamia Gula Melaka, Blueberry Vanilla and Double Chocolate Chip. The Macadamia flavour has a distinct local touch with gula melaka, the Blueberry Vanilla contains natural dried whole blueberries and pure organic maple syrup, and the Double Chocolate Chip has the subtle sweetness of pure cocoa and vegan chocolate chips.
The granola bars are baked using organic coconut oil and are packed in twos for double the crunch and joy! Full of nourishing goodness and a delectable mix of fruits, nuts and seeds without any refined sugars, these bars appeal to both young and old and make ideal nutritious snacks for people constantly on the move. 
The Oatberry Café at Scotts Square is open daily from 9am to 6pm and Oatberry Express at Sembawang is open daily from 10am to 7pm. Island-wide delivery and takeaway are available. Delivery charges will be calculated by their logistics partner, based on the distance from the store. To find out more, please visit their websites at www.oatberry.com / www.oatberrycafe.com