Our Parenting World is invited to review the new Oral-B toothbrushes. In the world of toothbrushes, Oral-B has been well known to produce high quality toothbrushes to clean our teeth.
What most people do not know is Oral-B is actually produced by Procter and Gamble, which also produces other popular consumer healthcare products like Gillette shavers for men, Head and Shoulders and Pantene shampoo etc. They are one of the largest consumer goods companies in the world.
Why do you need to brush your teeth? If you ask this to any child or adult, all of them would be able to answer "To prevent tooth decays!" Since young, most of us were taught by our parents and teachers that by brushing our teeth regularly, it would remove the plaques which are stuck in our teeth and this will help to prevent decays.
However, few people are able to answer that by brushing teeth properly one can also help to reduce risks of certain serious diseases like heart disease, pneumonia and stroke for adults. Daddy is a medical doctor who specialises in preventive medicine and a strong advocate for teaching our young to acquire the habit of brushing teeth daily so that they can reduce these risks in the future. The bacteria and plaque in the mouth if not eliminated regularly contribute to the development of these serious diseases in the future. Now you know, it is important to brush your teeth, not just to prevent tooth decays, but also to protect yourself from some of these deadly illnesses.
Thus, to remove these plaques, one must have good brushing technique and a suitable tool (i.e. a good toothbrush) to do the job. In recent years, the electrical toothbrush has slowly replaces the conventional toothbrush in many families in Singapore. What are the advantages of electrical toothbrush?
Unlike manual toothbrushes, electrical toothbrushes have the bristles whirring at a higher speed and able to remove the plaque more efficiently and faster. It can also clean areas which are harder to be accessed by the normal toothbrushes.

Electrical toothbrushes have a fixed strength in their cleaning function and this is better for gum hygiene. For manual toothbrushes, if you brush too hard, you may injure your gums.

Some electrical toothbrushes come with a timer which can tell you whether you have spent sufficient time in brushing your teeth
For the new range of Oral-B toothbrushes for children, they have designed them based on the needs of the various age groups:
Stage1: 4-24 months
Today it's tender gums; tomorrow, their first tooth. While it can feel daunting to keep up with your baby's rapid growth, feel good knowing our 4-24 month brush is designed to do just that.
Features:
Baby-soft bristles: Gently cleans and massages baby's teeth and tender gums.
Cushioned head: Designed to help protect tender gums.
Non-slip handle: Designed to help parents brush baby's teeth and gums.
Disney Baby characters: Helps make brushing fun.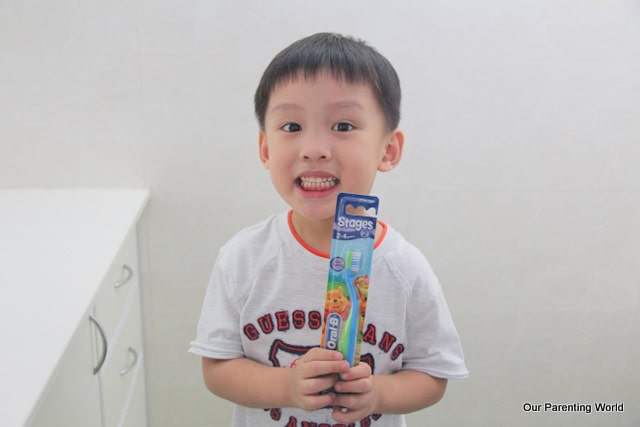 Stage2: 2-4 years
Typically, baby teeth grow until the age of four. Because their mouths are small and their hands unsteady, it's important to choose a brush just for them. You can encourage your child to grow their brushing skills as well, by giving them their favourite Disney characters to brush with and providing the "finishing touch".
Features:
Cushioned head: Designed to help protect tender gums
Narrow brush head: Made to fit kids' small mouths
Power Tip™ bristles: Longer bristles at the tip to help clean hard-to-reach back teeth in kids' mouths
Easy-to-hold handle: Fashioned to help kids learn to brush
Stage3: 5-7 years
Chances are your grade-schooler is brushing without your help, and they've probably even had a visit or two from the Tooth Fairy. Keep their enthusiasm high with "big kid" brush features.
Features:
Cushioned head: Uniquely designed to help protect tender gums
Cup-shaped bristles: Fashioned to surround and clean teeth
Tapered head: Shaped to help kids reach their back teeth
Power Tip® bristles: Extra-long bristles to help brush hard-to-reach areas
Big, soft grip: Formed for hands still learning to brush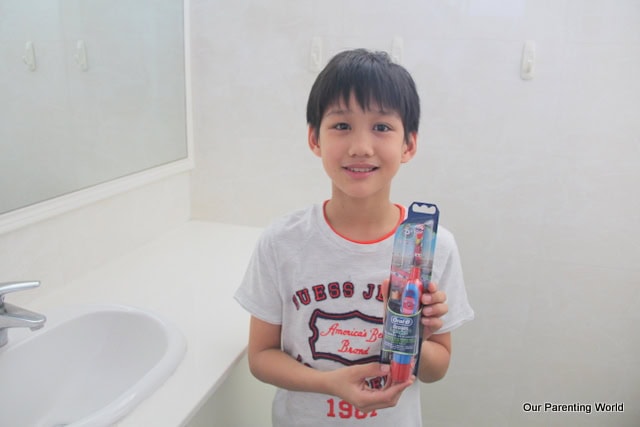 Stage 4: 8+ years
Kids 8 years old and up have first teeth, permanent teeth, and gaps. It's important for them to brush thoroughly, but all this change can make for tender gums. With combination bristles, the stages 4 toothbrush can help.
Features:
Cushioned head: Designed to help protect tender gums
CrissCross® bristles: Angled in opposing directions to reach between teeth
Flared bristles: Shaped to massage gums in gaps between teeth
Power Tip- bristles: Extra-long to help kids reach their back teeth
Adult-like handle: Tailored to fit kids' hands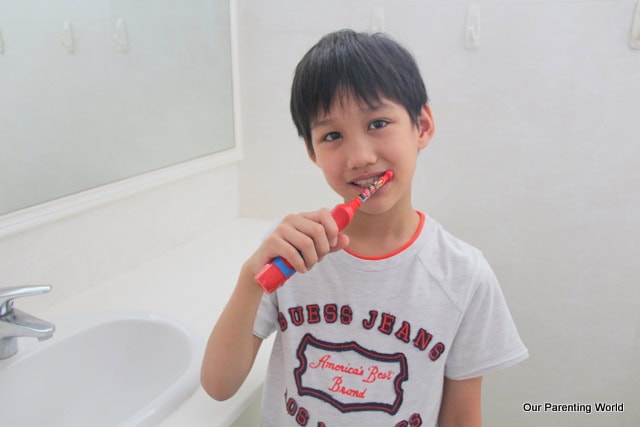 Gor Gor is invited to try out the new Oral-B electrical toothbrush. After brushing his teeth with the new Oral-B electrical toothbrush, Gor Gor has only one word to say about the new toothbrush: "Excellent!" When probed further, he said the toothbrush is easy to hold and able to reach to the back of the mouth easily due to its design. He is able to brush his teeth cleanly without much effort.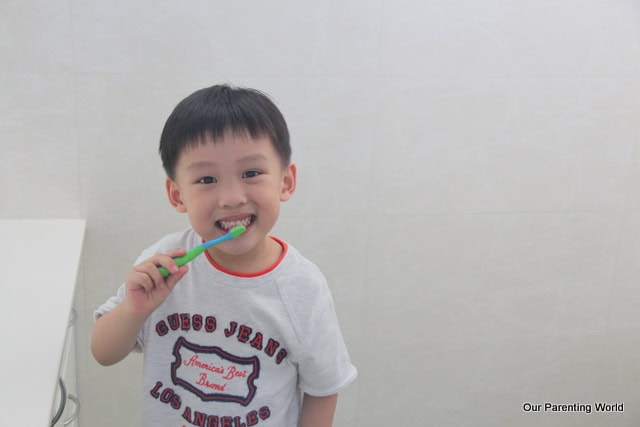 Di Di tried out the new Oral-B manual toothbrush. He likes the toothbrush as it is small and easy for him to hold. He is very excited to see Pooh Bear, one of his favourite Disney characters on his toothbrush that always motivate him to brush his teeth. Both the new Oral-B electrical and manual toothbrushes are certainly a hit with our boys.
To round it up, we also use Oral-B toothpaste because not only you need to have good toothbrushes to reach out to the difficult brush sites in the mouth easily, you also need good toothpaste to remove the stubborn plaque in your mouth. Oral-B toothpaste complements Oral-B toothbrushes well.
Just like the old phrase "An apple a day keeps the doctor away", Our Parenting World suggests a new phrase "Proper tooth brushing everyday keeps the doctor and dentist away".
Full Disclosure: This is a sponsored post on Oral-B toothbrushes however all opinions and views are entirely ours.