Our Parenting World, Di Di tried out the latest new and improved Pampers Baby Dry range of diapers and wet wipes.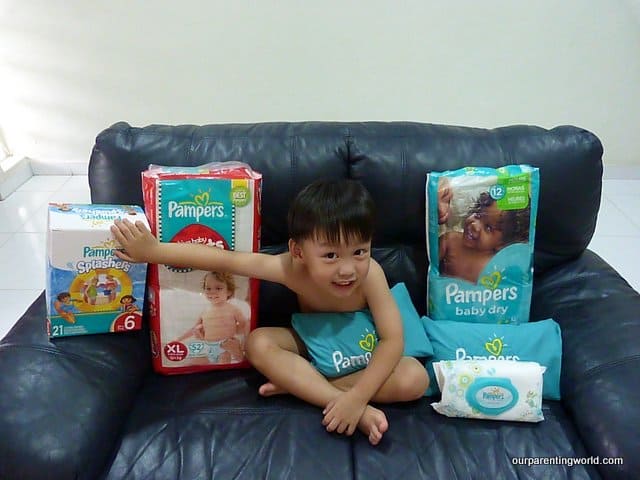 "In case you are wondering, I am not really naked, I am wearing a diaper now. I am going to model, use the diapers and to find out how good the new Pampers range of diapers are."
But first, let's talk about Pampers Baby Dry, it will provide uninterrupted sleep for babies as it now features extra absorbent zones that will speed away wetness faster than before to help keep baby's skin dry. It helps baby sleep tight all through the night, helping moms to give their baby a night of Golden Sleep® by minimizing wetness as a sleep disturbance and silencing the 'wetness wake-up call'.
Research from Pampers shows there is a direct link between urination/wetting and sleep disturbance which is just like an 'invisible alarm clock'. Babies who sleep better have been shown to be more positive about interacting and concentrating; be  more alert and generally able to interact more sociably with those around him/her. 
Besides Baby Dry, Pampers has also reintroduced products such as the new-to-market Pampers Swaddlers, Pampers Cruisers and Pampers Splashers, all of which are made in Japan or USA.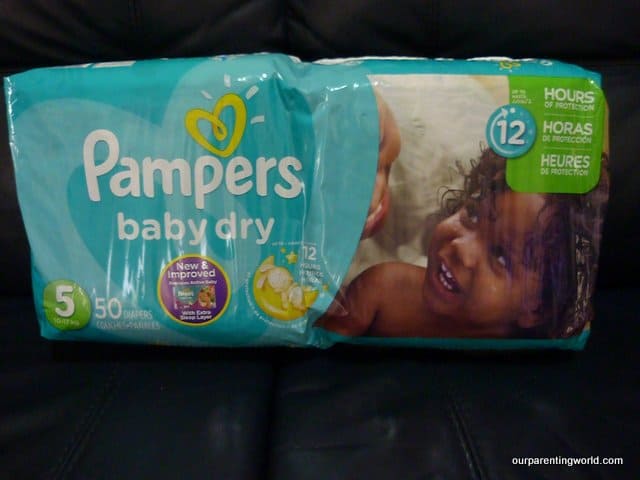 Pampers introduces New Pampers Baby-Dry, with improved Extra Sleep-Layer. This absorbent layer absorbs wetness faster than before to help baby get up to 12 hours of Golden Sleep. As parents, you will appreciate how useful it will be when your baby can sleep continuously at night and does not need to wake up.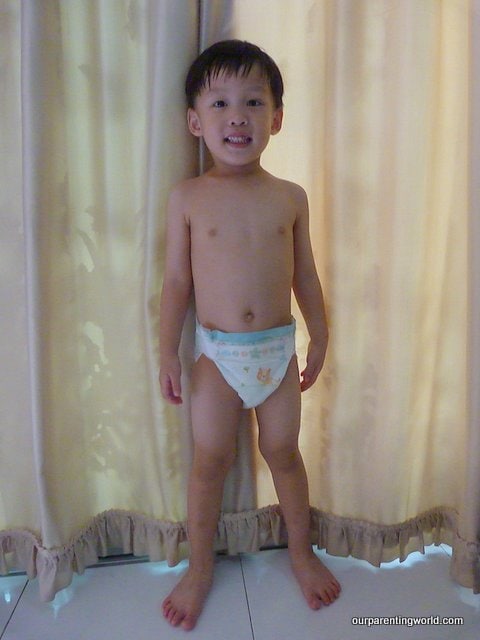 Front view of the New Pampers Baby-Dry.
Back view of the New Pampers Baby-Dry.
True to its claim about absorbing wetness faster and not only that it is able to absorb larger amount of liquid keeping Di Di's bottom dry and it is not sticky. Di Di is a clean freak and if the diaper is wet, he would request to change it immediately. However with this new improved range, he is able to wear it longer without complaints. He is also able to sleep through the night.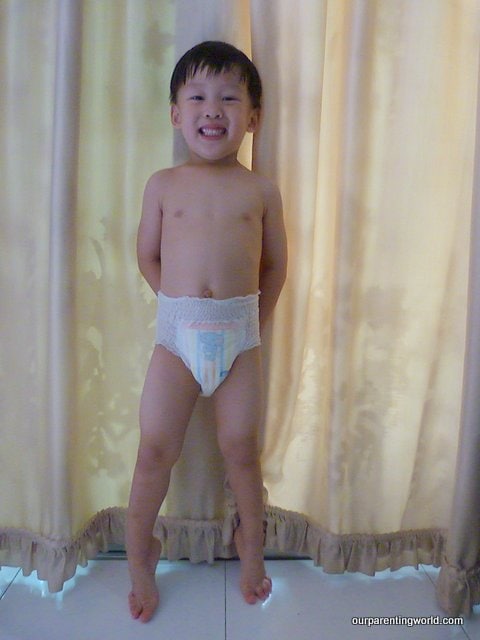 Front view of Pampers Active Baby Pants.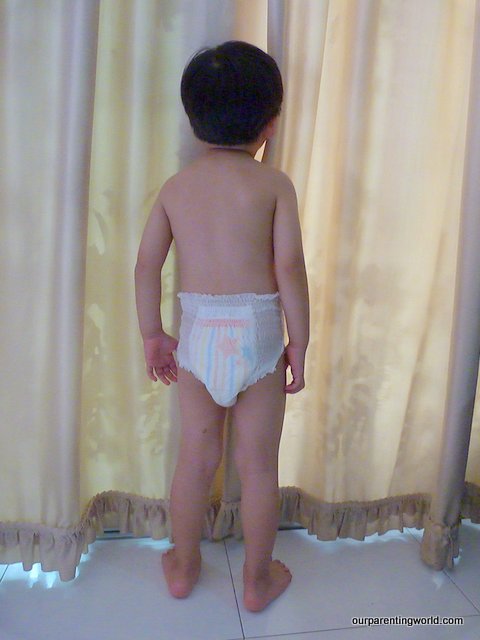 Back view of Pampers Active Baby Pants.
Di D can be pretty independent and he loves to wear pull up pants as he finds that he can wear this easily. He is able to pull up and adjust the pants all by himself. He also finds it very soft and comfortable. Pampers Active Baby Pants takes care of Di Di's bottom by keeping it dry and it comes with 5 stars skin protection which is gentle and good for his sensitive skin.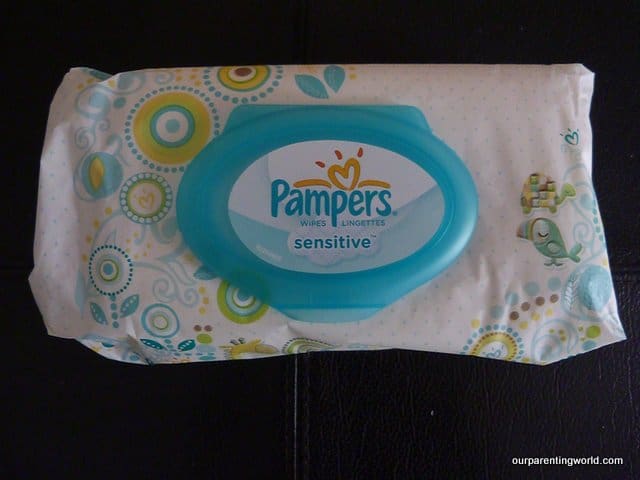 This is Pampers Sensitive Wipes.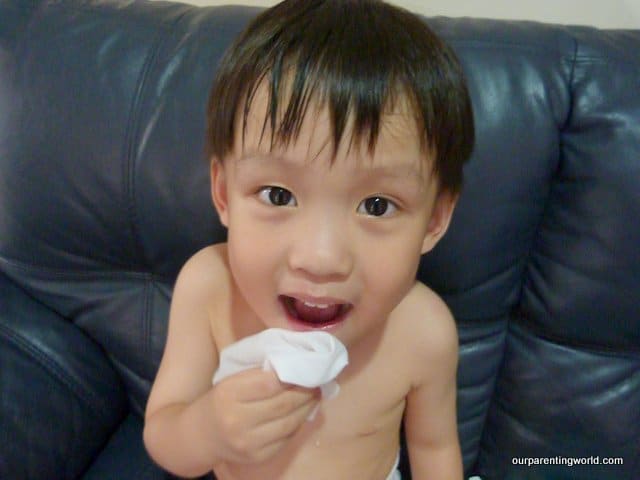 "I like to keep myself clean and the quality of wet wipes is very important. The material must be soft and gentle to my skin and it must clean well."
The wet wipes pull out easily, it is very soft and moist. We used it for various purposes like cleaning Di Di's bottom, wiping the dirt off his body and face. It's smooth and able to pick up dirt well. The material is very soft and gentle on his skin. Di Di has no complaints about the wet wipes.   
This is Pampers Splashers Swim Pants for children.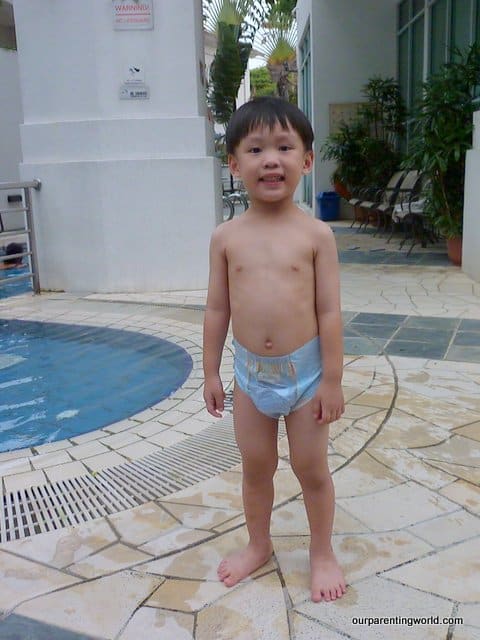 "I am going for water play in the pool in my new Pampers Splashers swim pant."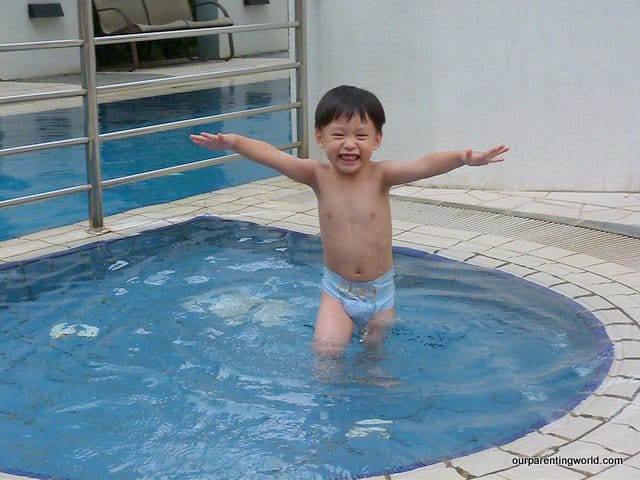 "Okay enough of modelling, I am going to have a fun time at the pool!"
It is super easy to wear this pull up pants designed especially for pool or water time. It has double leg cuffs to give good protection against any leaks. What's thoughtful about this design is that it is stretchy and easy to tear off the sides to remove it when we are ready to change up. It is as easy and as comfortable as wearing a normal pants, unlike the traditional diapers.
Our Parenting World team and Di Di would like to thank the kind and lovely organisers and Pampers for giving us the opportunity to try out its latest range of new and improved Pampers products!
To find out more about Pampers, please click

HERE.