Hotel buffets need not be boring; the items should not be the same whole year round. That is exactly what the creative and talented chefs at AquaMarine, Marina Mandarin Hotel do to constantly create an exciting menu for diners and returning diners.
Hot on the heels of the popular Thai theme at the restaurant in the month of March 2017, the restaurant will roll out the Peranakan menu for the coming month of April 2017. Please click HERE to read about our review and highlights of the current Thai Food Promotion at AquaMarine for March 2017. 
From the Peranakan food items we have tried, we have no doubt that it will be equally as popular as the Thai promotion with diners. 
Peranakan or Nyonya cuisine comes from the Peranakans, descendants of early Chinese migrants who lived in Singapore and Malaysia and married into the local Malay families. Thus their cuisines will have a mixture of Chinese and Malay influences with strong and spicy taste like assam prawns and ayam buah keluak.
Although there are many Peranakan restaurants in Singapore, their standard of food can vary widely from authentic Peranakan dishes in some of these restaurants to other pretenders of Peranakan food which are just normal cooking of Malay food with some Chinese style. We must say that the Peranakan food served in AquaMarine definitely belongs to the authentic version, which is more difficult to master.
We are big fans of AquaMarine Buffet spread as it offers a wide range of dishes catering for those who love to sample different cuisines all under one restaurant. This Peranakan theme will complement the usual Japanese, Indian, Chinese and other stations in the restaurant.
Our Parenting World team brings to you the highlights of the Peranakan food being served at AquaMarine Buffet in the coming month of April: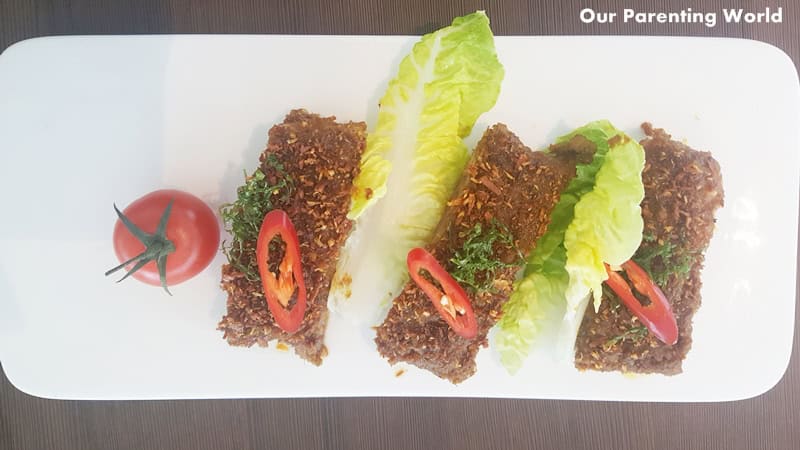 Beef Rendang
Beef Rendang is not easy to cook as if you overcooked, the beef will be tough and elastic like rubber. This Beef Rendang is so tender and full of flavour that it literally melt-in-your-mouth with the meat that falls apart when you bite into it. We are very impressed with this dish!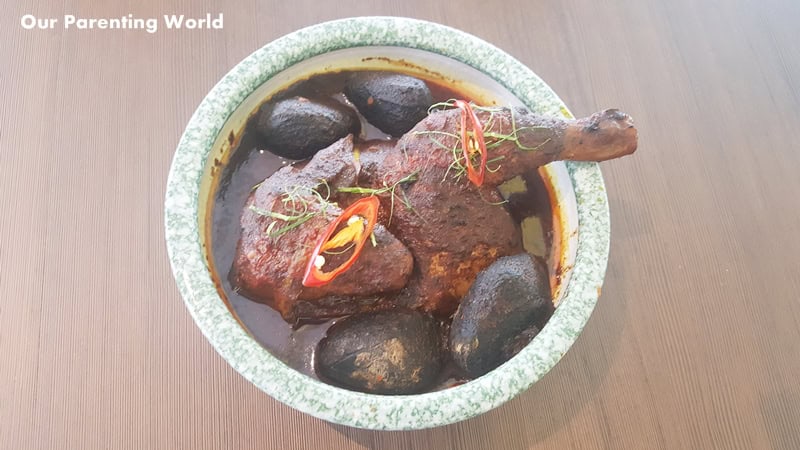 Ayam Buah Keluak
Ayam Buah Keluak is a signature dish and a popular one in the Peranakan culture. It is a chicken dish that is cooked using the buah keluak nut and braised in a thick, spicy tamarind gravy. This is an authentic and tasty Peranakan dish that you have to try and you can also suck out the flavourful content from the nut.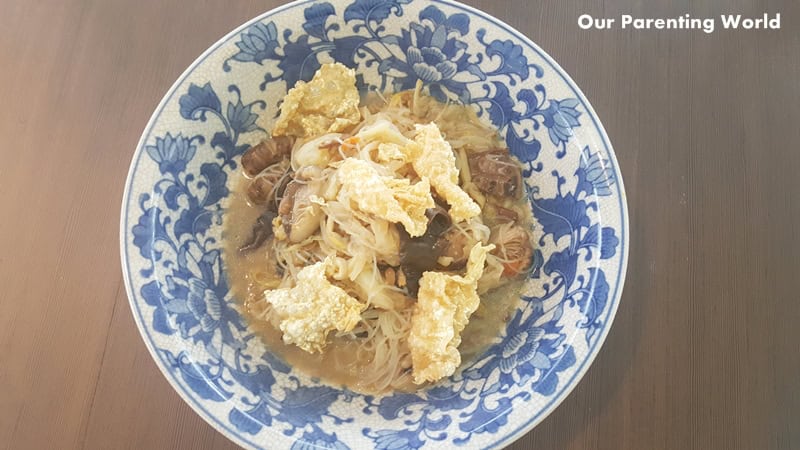 Chap Chai
Chap Chai consists of stir fried vegetables. The vegetables and ingredients have been simmered and deliciously stir fried to bring out the sweetness of the vegetables.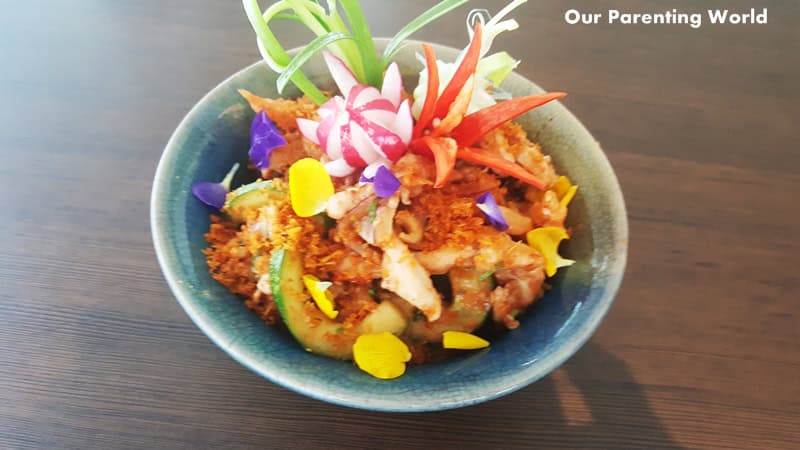 Nonya Chicken Salad with Spicy Coconut and Dried Shrimp (Appetisers – Nonya Salads) 
This dish is unique to us as we have not tried similar version elsewhere. This is an appetising dish combining with a variety of tastes and flavours from the spicy coconut and salty flavor from the dried shrimp.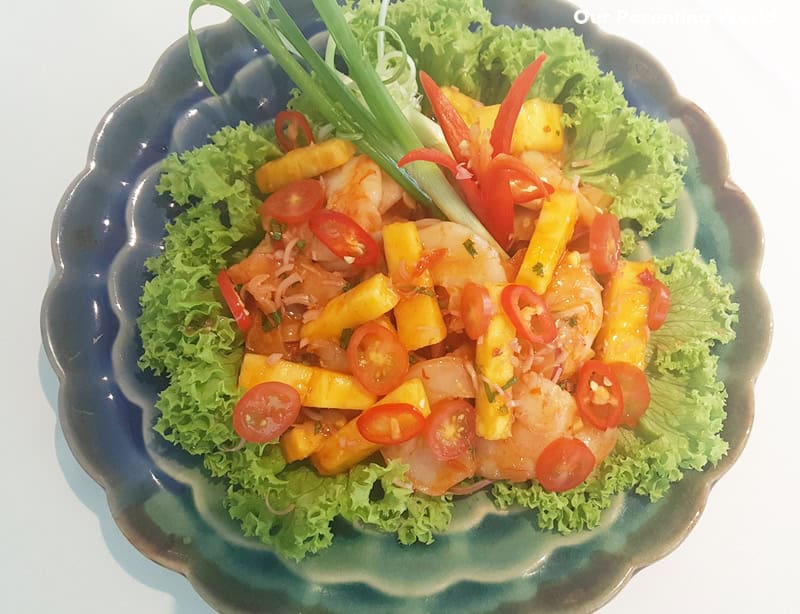 Pineapple Salad with Prawn and Ginger Blossoms (Appetisers – Nonya Salads) 
This salad dish is also unique to us, this is a refreshing salad with juicy pineapples combine with chewy and fresh prawn flavored with fragrant Ginger Blossoms.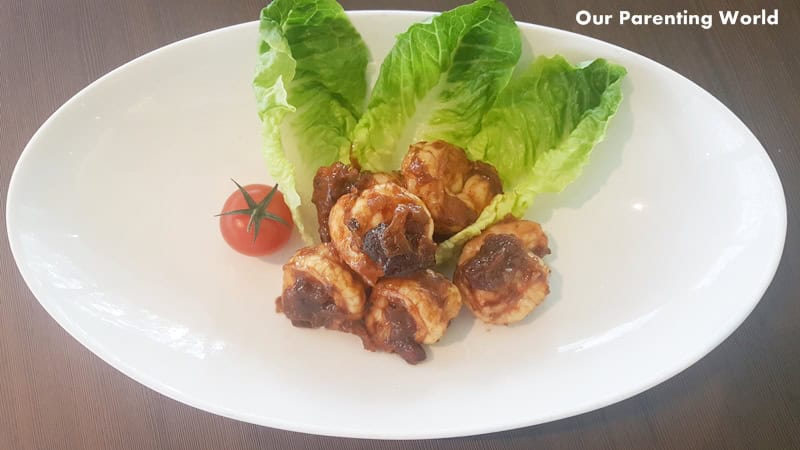 Udang Goreng Assam
Udang Goreng Assam consists of tasty tamarind prawns, the prawns are well-marinated and juicy! It will be tempting to pop one prawn after another into your mouth.
Now comes the desserts highlight: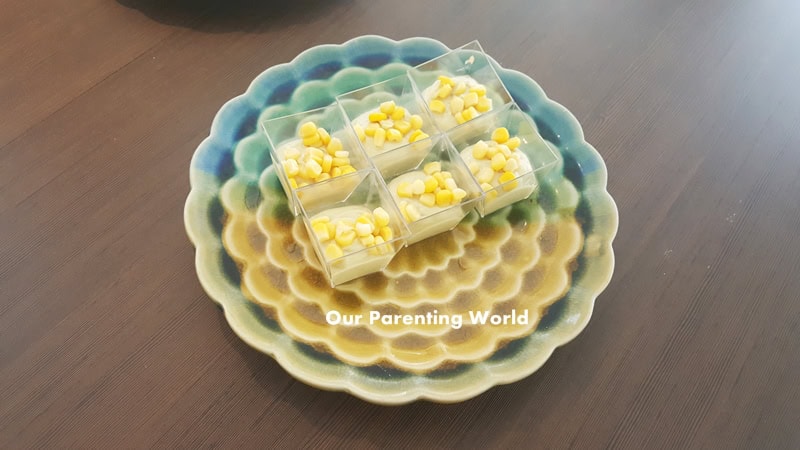 Durian Cake
Durian is known as the King of Fruits and is the favourite fruit for many Singaporeans! This durian cake is rich, velvety and this dessert is definitely a heaven for durian lovers.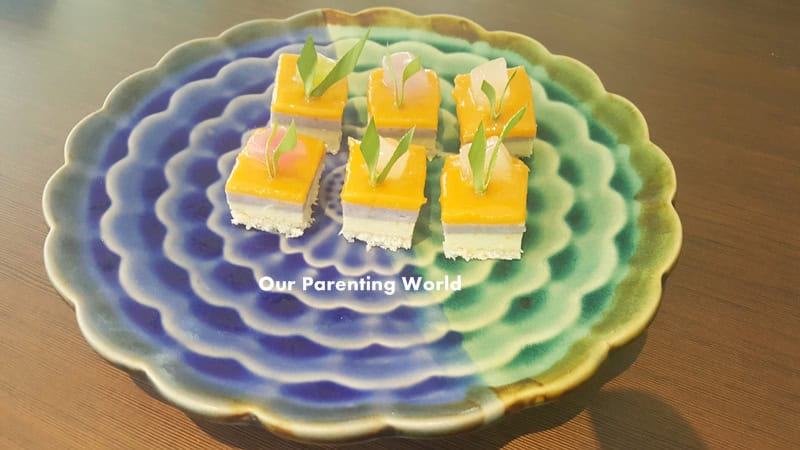 Bur Bur Char Char Cake  
This dessert is interesting and innovative! We have tried various bur bur char char desserts before but this is the first time the chef made it into small pieces of cake. It is an ingenious idea, the cake is soft, creamy and absolutely yummy! 
Do visit AquaMarine Restaurant this April 2017 and indulge in its range of delectable Peranakan Food. This is another food promotion at AquaMarine that is not to be missed!
Peranakan Food Promotion at AquaMarine available in April 2017:
AquaMarine
Level 4 Marina Mandarin,
6 Raffles Boulevard,
Singapore 039594,
Tel: 6845 1111
For more information, please click HERE.