Red Shoe Stories is a personalised children's book company set up by two sisters, Naomi Vowels and Frances Atkins and they have written a children's picture book called "Where are my shoes?". They have launched their debut picture book "Where are my shoes?" on 1 May 2018 via Kickstarter! 
The story is about a magical adventure about a favourite pair of shoes that have gone missing. The main character recalls what they did that day to try and remember where they left them. The best part of the story that it is personalised, so you get to put your child in the story, build their character and – best of all – choose the shoes they wear together with the name of the adult joining them on their adventure! Once you've finished customising your story, your little reader will instantly recognize themselves as the hero of the story!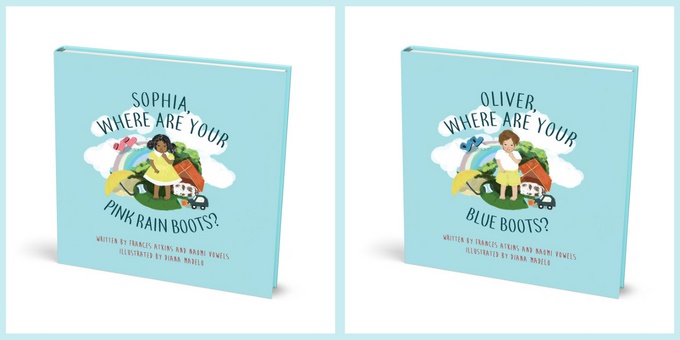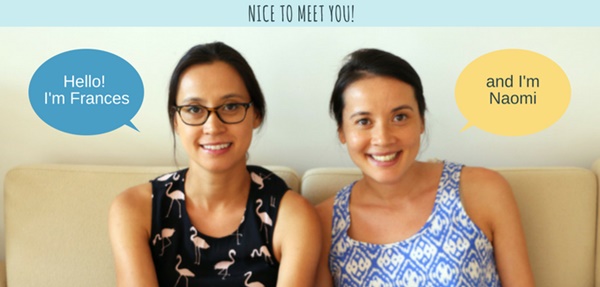 Exclusive Interview with Naomi Vowels and Frances Atkins, Authors of "Where are my shoes?"
Our Parenting World (OPW) team is pleased to be able to interview the two lovely sisters, Naomi Vowels and Frances Atkins (NF), authors of "Where are my shoes?" to find out more about them and their new book. 
1) Please share with us more about your background and what made you decide to come up with the book "Where are my shoes?"
NF: Hi, we're Naomi and Frances – two sisters and mothers from Australia – and the creators of Red Shoe Stories!
I (Naomi) am a new mum and, together with my husband, moved to Singapore in early 2017. We've set up Red Shoe Stories here in Singapore and I've loved settling into this wonderful city of amazing food and incredible culture!
Frances lives in Sydney – although makes frequent trips to Singapore – and has two little readers of her own, and one on the way! Her children absolutely love reading and are constantly pulling books out from the bookshelves to read. In fact, they were the inspiration for our first book "Where are my shoes?"
We decided to set up Red Shoe Stories, and write our debut book "Where are my shoes?" after careers in government and business: Frances is a former lawyer, and Naomi worked in banking and as an Australian diplomat.
We both enjoyed our former careers but, if we're honest, they were never really our passion. We always knew there was something more exciting, more "us", that we could be doing… it just took us a bit of time and courage to get there! So, after many phone calls, emails, WhatsApp messages and countless cups of coffee, we finally left the corporate sector and got started on writing our first story.
2) Can you tell us more about your new book, what is the story about and what can readers expect from the book?
NF: Something really exciting about our book is that it is personalised, so you can customise elements of the story for your child. The story itself is about your little boy or little girl who has lost their shoes. They recall all the things they did that day – in the most creative and imaginative way – to try to remember where they left them. It's a beautifully illustrated adventure about your little reader's somewhat peculiar, yet very clever shoes!
When my sister and I were coming up with the concept of the book, we had a couple of key objectives in mind. Firstly, we want it to help build early literacy, and we do this through using rhyme and repetition throughout the story. We also want this book to be read aloud with children to help them build their vocabulary bank, improve their listening skills, and develop a love of reading.
3) What can readers customise in the story and what benefits does a personalised book offer to parents and young readers?
NF: There is so much that can be personalised in the story, which is really what makes it so unique! You can include your child's name as the main character, build their profile (choose hairstyles, hair colour, and skin complexion), and most exciting of all, pick the shoes they wear (choose from 6 styles and 9 colours). You can also add the name of an adult joining them on their adventure. A personalised book lets us celebrate diversity, which is a very important issue to Frances and I, since we ourselves are mixed race. Growing up we absolutely loved reading books, but we hardly ever saw illustrations of characters that looked like us. Through our book, we want every reader around the world to be able recognise and identify themselves in the story.
4) Please share with us what is special about this personalised book?
NF: What makes our books so special is the level of customisation customers can include in the story. By personalising the book with people and possessions familiar to our children, we can nurture their love of reading and at the same time build their confidence as they seem themselves not only as the hero of the story, but the problem solver too!
We are also extremely proud of the gorgeous illustrations that accompany our story and add something extra special to our books. We spent months searching for the perfect illustrator for our story and we were lucky enough to engage a wonderful young artist, Diana Madelo. She's created beautiful illustrations that remind us of the classic picture books we grew up with. Diana's style is very enchanting and matches perfectly with the sentiment of the story, which evokes the wonders of a child's curiosity and creativity.
5) Who and or what inspired you to write this story?
NF: The inspiration for our first book about lost shoes came from Frances' two young children. Each one has a favourite pair of shoes (although these may change month to month!) that they absolutely must have on before they leave the house. No other pair will do. The only problem is that they can never be found when they're needed (sound familiar?)… so I have witnessed (and joined in) the rummaging around the house searching for little shoes for little feet.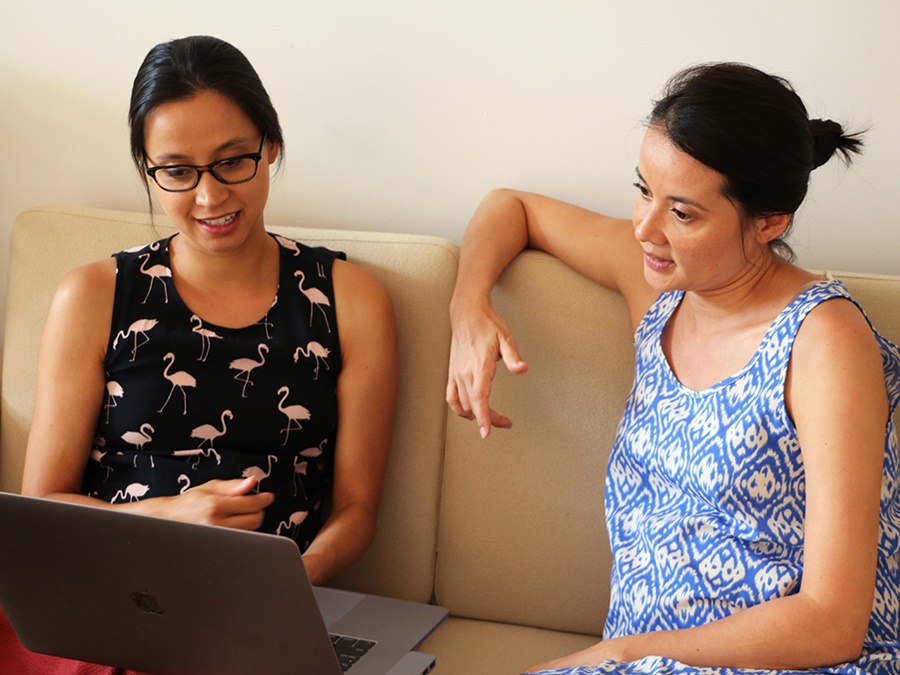 6) How long did you take to work on the book and what are the challenges that you have faced to complete the book?
NF: It's taken us just over a year working tirelessly to get to where we are now. It's probably been one of the busiest years of our lives, as we've built our business while both being pregnant and recently giving birth! And Frances has been extra flat out as she's juggled everything amongst raising her two little children. One of the biggest personal challenges for us was putting our work out there to be critiqued. Our story was reviewed by a former publisher and went through multiple rounds of editing with two separate editors. While we did receive great feedback from each one, it was quite daunting to share our story with publishing professionals and have it "put to the test". I can tell you, we were very nervous each time we opened an email from the editors!
7) What is your favourite book of all time and who is your favourite author?
NF: We are both big fans of Gabriel Garcia Marquez – his writing is so evocative and such a delight to read. My favourite book of his is Love in the Time of Cholera (although it is very hard to choose a favourite), and Frances adores 100 Years of Solitude.
For kids books Frances' top picks at the moment are Rudie Nudie by Emma Quay (she sees her two kids in the story so clearly!), and Tap The Magic Tree by Christie Matheson for its interactivity.
I love anything in the Dr Seuss series, and the classic Magic Beach by Allison Lester – I just love getting into the rhyme and rhythm of the book!
8) Who played the greatest role in you becoming an author and why?
NF: This would have to be Frances' children – while we have had some incredible role models and mentors along the way, it was the motivation to write an empowering and confidence-boosting story that really got us started. And it was Frances' children who were the inspiration for this!
9) What's your advice to someone who aspire to be an author like yourself?
NF: Start writing! You will go through so many iterations of your story but the first, and most important, step is just to write.
10) Can you tell us more about what your #Read4More campaign and what it is all about?
NF: We believe strongly in the power of reading and the foundational role it plays in early childhood education. We want our books to have a tangible underlying purpose so we have set up the #Read4More campaign. For every picture book purchased, we donate one book to a reading program that supports childhood literacy and girls education in developing countries.
 
11) What's your next plan/project?
NF: Right now we are 100% focused on launching our book via Kickstarter, and we have a campaign that is running from 1-31 May 2018. Once we've (hopefully) run a successful Kickstarter campaign, we'll be getting right back in writing our next book – we have a bunch of ideas that we can't wait to flesh out and bring to life!
12) Lastly, do you have anything else that you would like to share with our readers about your book, when are you launching on Kickstarter and what will the funds be used for?
NF: We're really excited to say that our Kickstarter campaign launches on 1 May and runs until 31 May. Not only will our picture book be available for pre-order, but we have a number of fun rewards exclusive to Kickstarter on offer, such as stickers, colouring-in books, print artwork, classroom packages and storytelling sessions. For early supporters of our Kickstarter campaign, we have a limited number of picture books at discounts of up to 20% off the RRP, signed copies and priority delivery.
Our Kickstarter funds will go towards building our website. We've already begun designing a fun, interactive and easy to use website, and have found an innovative website development firm based here in Singapore that we are looking to work with.
We hope you will help Kickstart us and enjoy sharing our book with your little reader!
Sample illustration of the Girl's version of the book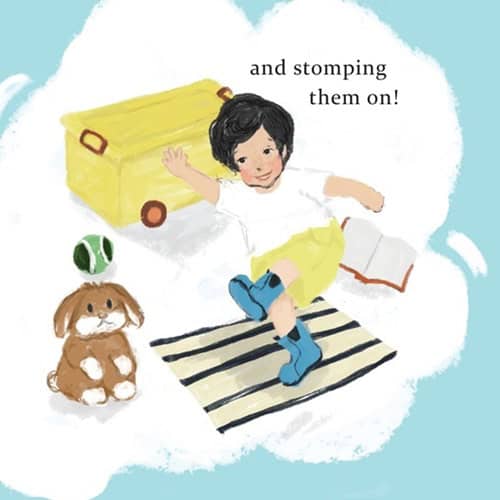 Sample illustration of the Boy's version of the book 
"Where are my shoes?" – the key elements of the story are customised for your little reader, you can get to choose the personalisations, the fun starts even before you've opened the book! You can personalise the child's name, their profile (choose  hairstyles, hair colour and skin complexion), the shoes they wear (choose from 6 styles and 9 colours) and the name of the adult joining them on their magical adventure!  The final product is a unique picture book tailored for your little reader, and beautifully illustrated in a way that echoes the best of traditional children's books.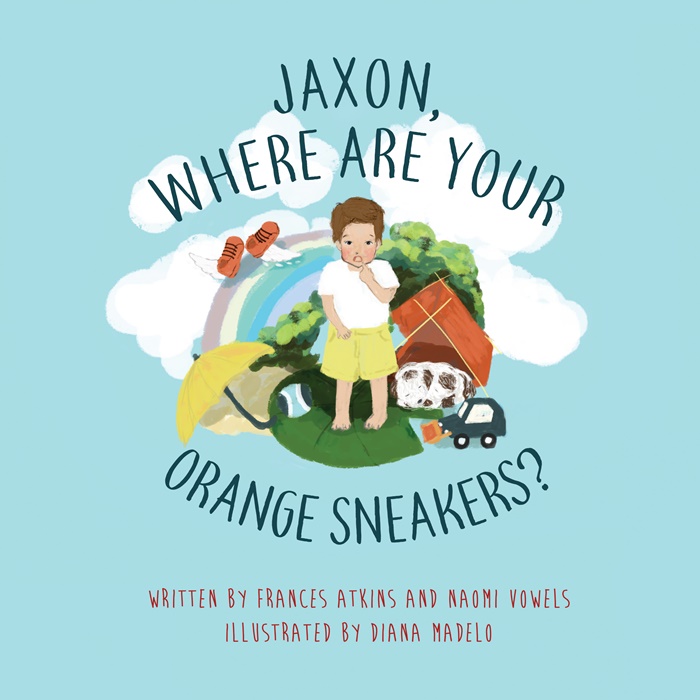 The name of your child will be printed on the book cover. That's so cool! Image the excitement of your child when he/she receives the book with his/her name on it. 
 
The book is now available for pre-order on KICKSTARTER from 1 MAY 2018. Please register your details on the website at redshoestories.com to be the first to hear out about the SUPER EARLY BIRD offers! There are only a limited number of picture books available at the exclusive Kickstarter price of up to 18% off the recommended retail price, so be quick! There will also be a range of other fun and exciting rewards, so be sure to check them out too! If the Kickstarter campaign is successful, the funds will be put towards the development of their website. The founders and authors, Naomi Vowels and Frances Atkins have already designed a fun, interactive, and easy-to-use website, so now they just need help to raise SGD $11,000 by 31 May 2018 to reach their Kickstarter goal and launch the website. 
They would love your support to successfully fund their campaign, and in return they will deliver to you, your very own personalised book(s) and other fun and exciting rewards you choose! Please support them and best of all, get a lovely personalised book for your child that he/she will enjoy! 🙂