Imagine letting the kids enjoy Safari Adventure within the comfort of a luxurious hotel suite? 
The Ritz Kids Night Safari is an unique family bonding staycation experience that one should consider as a luxurious comfortable family outing away from the busy daily life.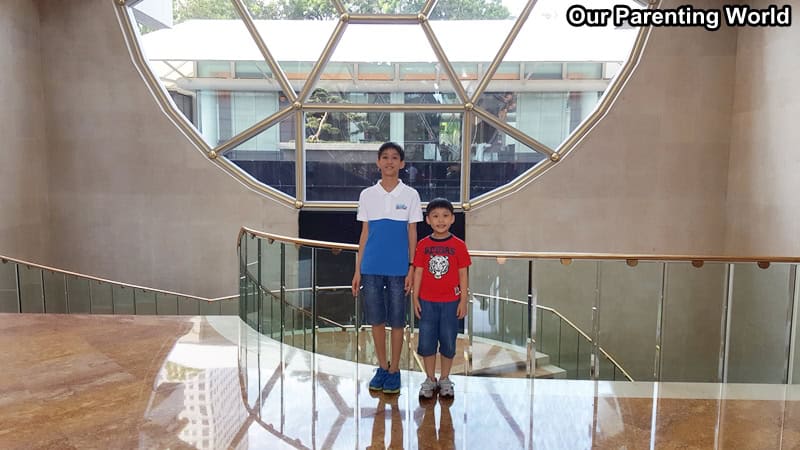 Ritz Carlton Hotel is well-regarded as one of the most luxurious hotels in Singapore. The moment we step into the hotel, we felt that we were transported to a different world, one that is classy, luxurious and calm. It is like a vacation away from the busy Singapore city.  Check-in was a breeze, despite being a busy weekend afternoon. There were additional hotel staff who helped some of the visitors waiting in the queue to direct them to additional check-in counter behind the main check-in desks.
A video overview of our hotel suite which is a luxury corner suites that comes with a spacious living and study area that has an expansive work desk with built-in power points, multiple power adaptor sockets and iPod docking station, Nespresso coffee machine, coffee and tea making facilities, a separate bedroom with one King sized bed. 
Guests will enjoy watching the 46-inch LED TV and DVD player in the living room and bedroom comes with complimentary high-speed wireless Internet access.
Upon checking into our room, we are certainly impressed and immediately fall in love with the beautiful room!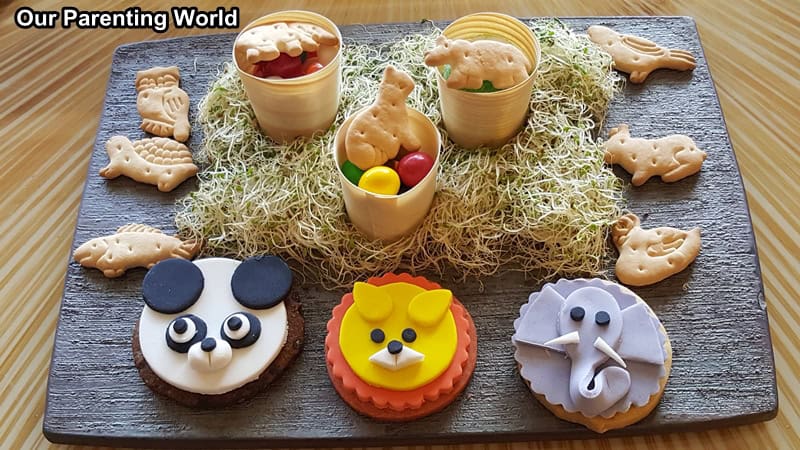 How thoughtful of The Ritz-Carlton to prepare a delectable spread of treats for the kids!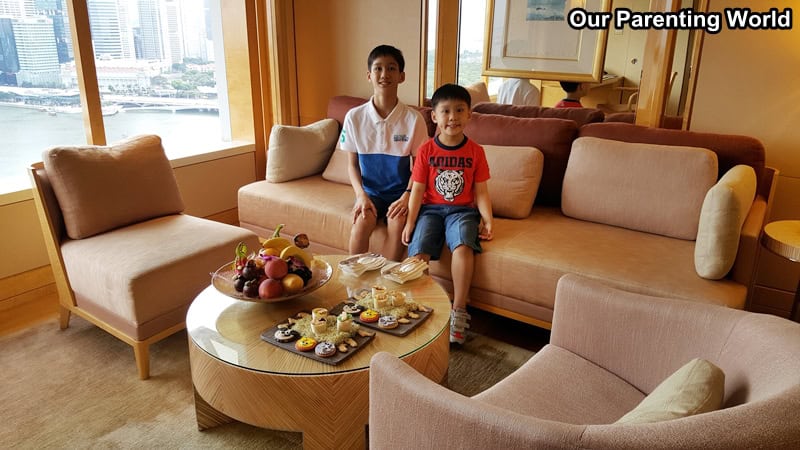 Beautifully decorated and stylish living area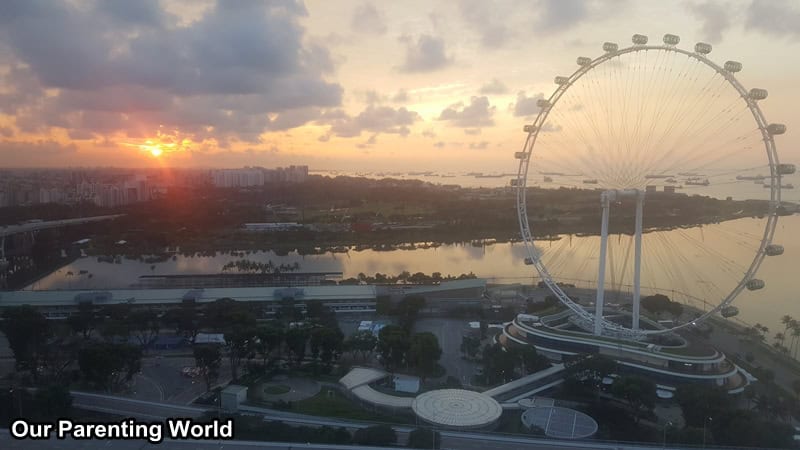 Our Premier suite room is huge with plenty of spaces for 2 active boys to run about. We can say the view from the hotel room is considered one of the best we have ever experienced!
We can see the Sun rises from the east from the window of our hotel, admire the beautiful and panoramic view Singapore skyline from our bedroom and the living room.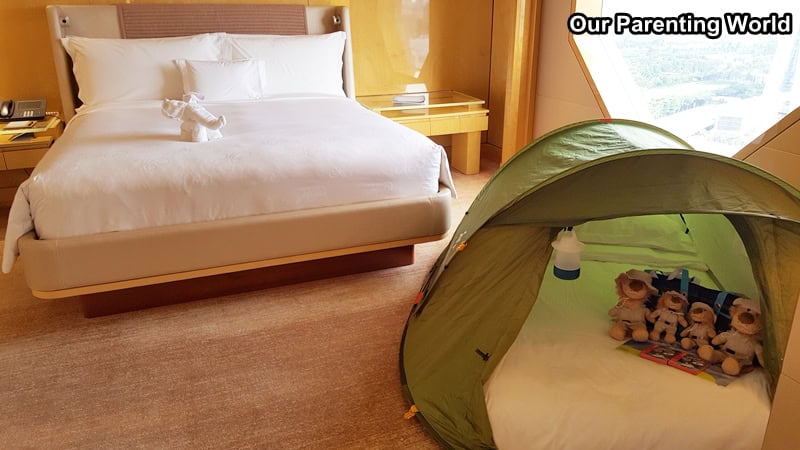 Kids can enjoy outdoor adventure fun right inside the hotel room!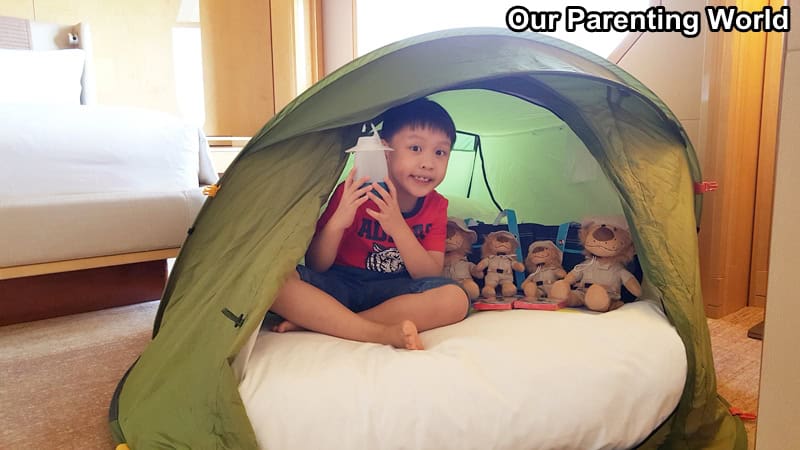 The Ritz Kids Night Safari introduces the spirit of the great outdoors in kids at the comfort of the room. There is a sleeping tent already pitched in the room when we arrived, and equipped with a night lamp, an edible turndown amenity, Ritz-Carlton mascot soft toys and activity books for an in-room camping experience for our kids. 
Our kids are delighted when they see the Ritz Kids Night Safari sleeping tent which includes a single-sized premium mattress, feather duvet and a standard pillow.
This is something new and exciting to them as they have never seen this set up at other hotels before!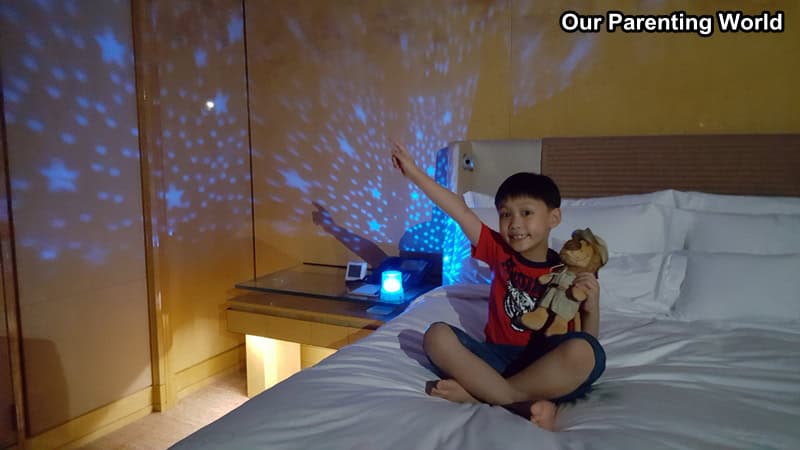 When the night falls, use the nice little projector provided by the hotel to project the night sky filled with stars and crescent moon.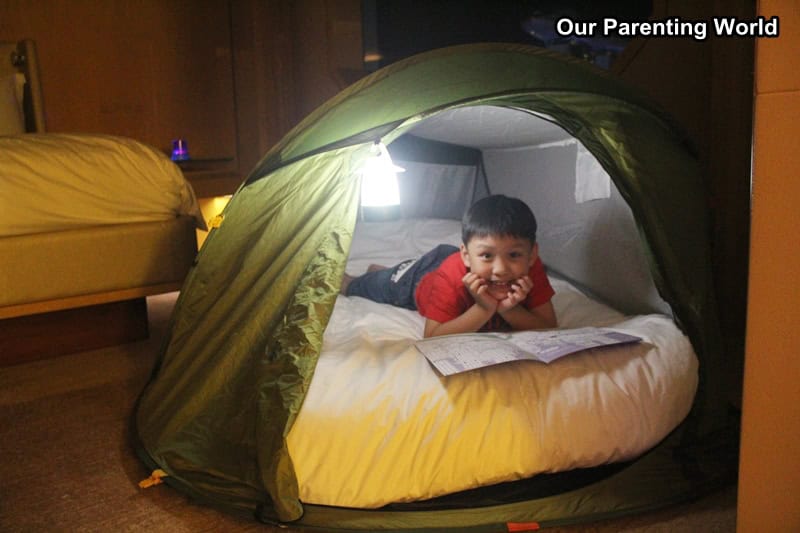 After sunset, watch the room transformed into a starry Safari adventure with the help of clever lighting from the portable light projector. Our kids are super excited to sleep in the tent at the comfort of our bedroom, do their reading and work on the activity books provided by the hotel at the tent. They spend many hours inside the tent.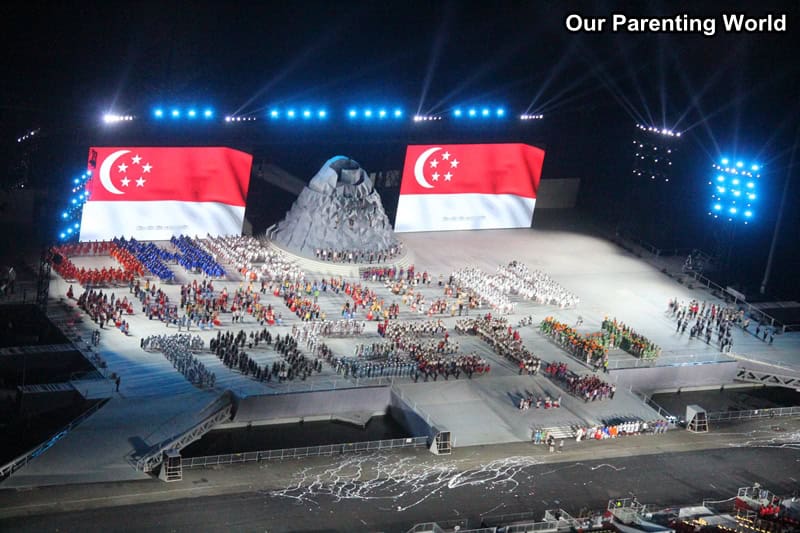 Celebrate National Day at The Ritz-Carlton, Millenia Singapore!
During the weekend of our visit, we managed to catch one of National Day Parade Rehearsals right from our hotel suite, this is definitely one of the best places to watch National Day Parade!
Here's a video of the spectacular and dazzling Fireworks display from National Day Parade taken right at the hotel suite of The Ritz-Carlton, Millenia Singapore!
Valid on 8 July, 15 July, 22 July, 29 July & 9 August 2017
Starting from SGD680 per night
Plan a staycation with family and friends at The Ritz-Carlton, Millenia Singapore over the National Day rehearsals, preview weekends, or during the actual parade itself. 
Book the Best Available Rate during the show dates and be treated to a grand mass performance display on The Float @ Marina Bay from the comfort of our Marina Bay facing rooms. Highlights of the parade include the Singapore Flag Flypast, an aerial salute by the Republic of Singapore Air Force and a thrilling parachute sequence by the Red Lions, plus a dazzling display of fireworks.
Room rate is for room-only and is not inclusive of buffet breakfast. Room type is subject to availability and advance reservations are required.
Rate is subject to applicable service charge and prevailing government taxes. Reservations are subject to availability and can be made by calling (65) 6434 5111 or emailing [email protected]
Check out its hotel stay package at 
http://www.ritzcarlton.com/en/hotels/singapore/offers/celebrate-national-day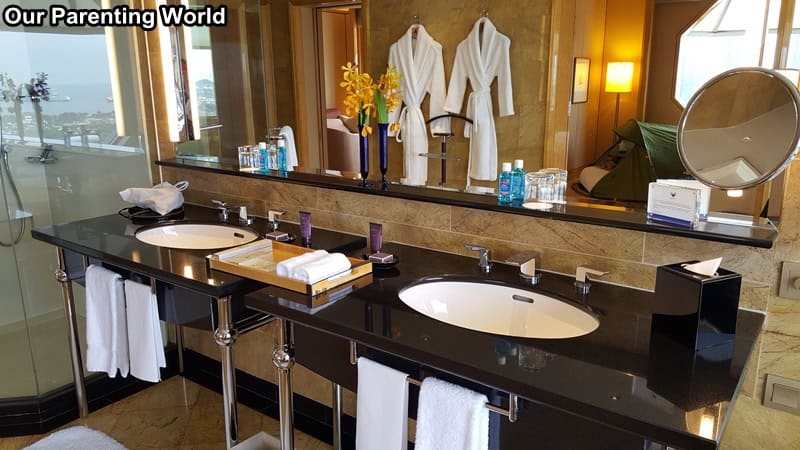 Let's look at this huge and luxurious marble bathroom comes with Dual Marble vanities and Asprey bath amenities.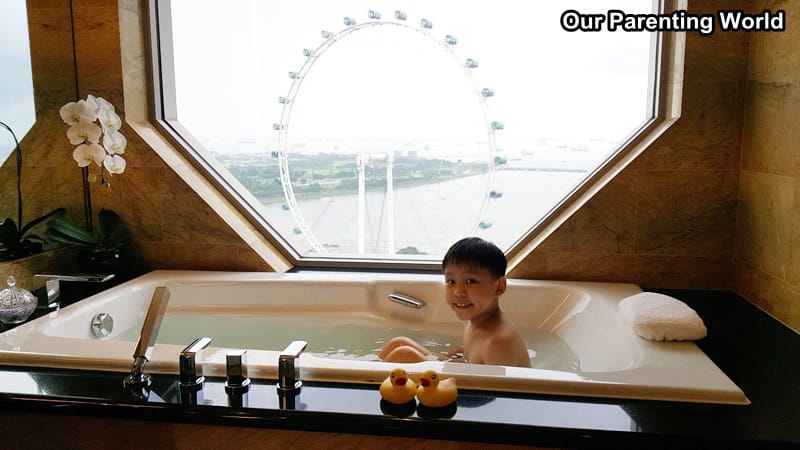 This beautiful bathroom has a shower stall with rainshower feature and you can also use the huge bathtub overlooking a panoramic views of the Singapore Flyer and the cityscape.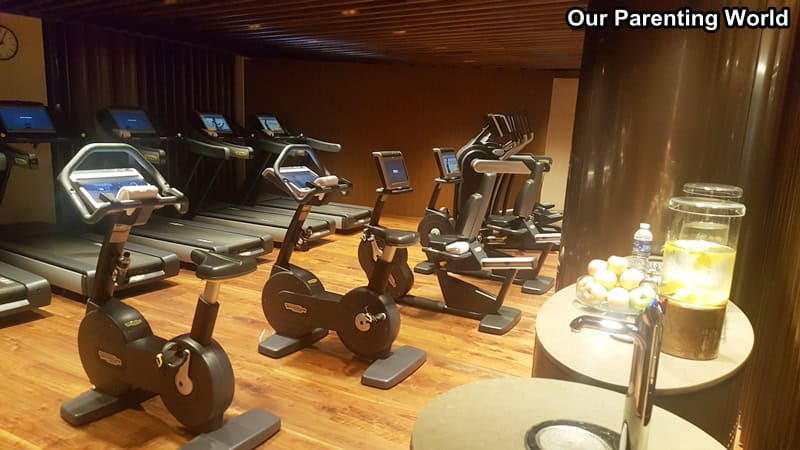 Hotel guests can enjoy a wide range of amenities at The Ritz-Carlton Gym featuring a comprehensive range of state-of-the-art fitness equipment designed to facilitate High Intensity Interval Training (HIIT), TRX Suspension Training, build cardiovascular endurance and enhance weight training. A Movement Studio also adds variation to any workout. What's more, the gym is opened for 24 hours which is so convenient!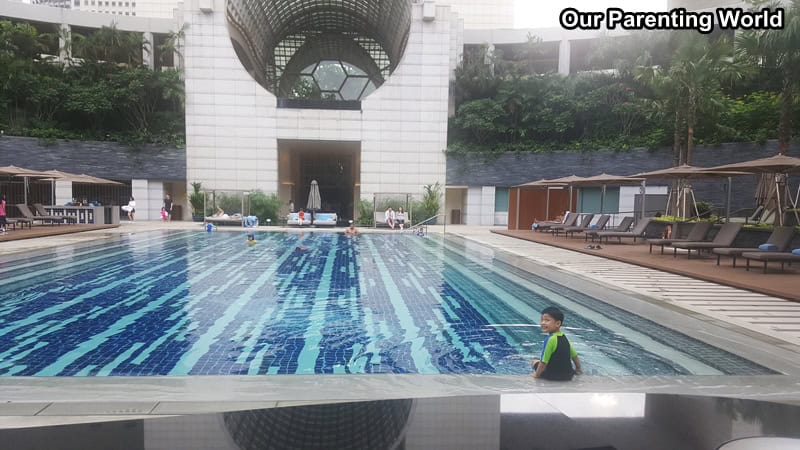 Enjoy swimming or taking a dip at this new outdoor swimming pool and surrounded by lush greenery. 
Ritz Kids Night Safari Adventures
Ritz-Carlton has up its level even higher by adding special touch to its young guests introducing the Ritz Kids Night Safari Adventures.
The Ritz Kids Night Safari seeks to cultivate the spirit of the great outdoors in young children, and cater to their inquisitiveness, creativity and thirst for new adventures. From the moment you check-in, this immersive programme will take the little ones on an adventure, where they will be delighted to discover a sleeping tent pitched in the room, and equipped with a night lamp, an edible turndown amenity, a Ritz-Carlton lion beanie and an engaging activity book for an in-room camping experience.
The above package consists of the following: 
Overnight accommodation in a Premier Suite 

Daily buffet breakfast for two adults and two children

Ritz Kids Night Safari sleeping tent throughout your stay

Ritz Kids amenities include:




– Specially prepared edible turndown amenity




– Children activities on weekends




– Daily ice cream pass




– Ritz Kids birthday surprise (for birthdays within stay duration)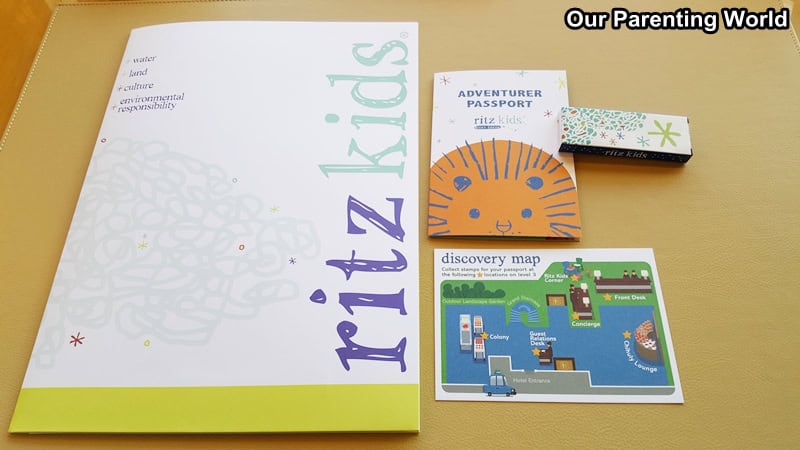 Kids will embark on their adventure when they arrived at the room with an engaging activity book and they will also be given a discovery map to explore around the hotel. 
The Ritz-Carlton, Millenia Singapore debuts an inspiring in-room camping adventure as part of an enhanced Ritz Kids Programme. The new "Ritz Kids Night Safari Adventures" seek to cultivate the spirit of the great outdoors in young children, and cater to their inquisitiveness, creativity and thirst for new adventures. Each Ritz Kids will receive a welcome letter, a passport, discovery map, and an ice cream pass which entitles them to a complimentary scoop of ice cream daily.
Follow Our Parenting World's kids as they embark on an adventure with the discovery map on hand around The Ritz-Carlton, Millenia Singapore.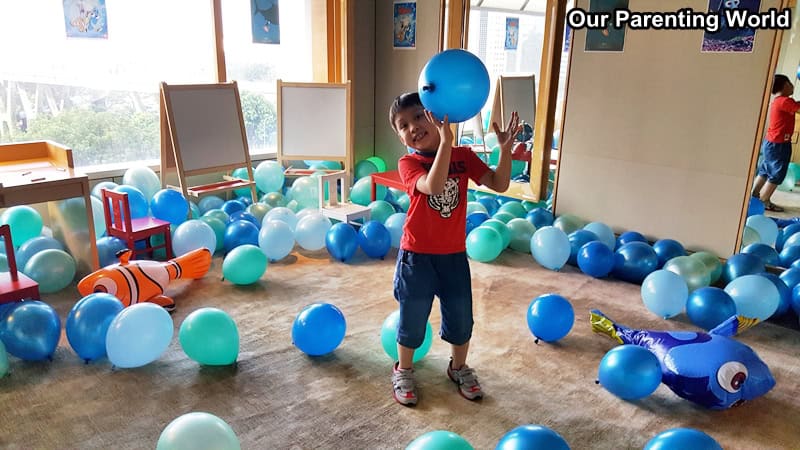 The hotel is so thoughtful to its young guests as it has a dedicated Ritz Kids Play Area located at Level 4 where four guests rooms have been transformed into play area with each room offering different and unique fun experience for kids. The play area are for kids from 4 to 12 years old.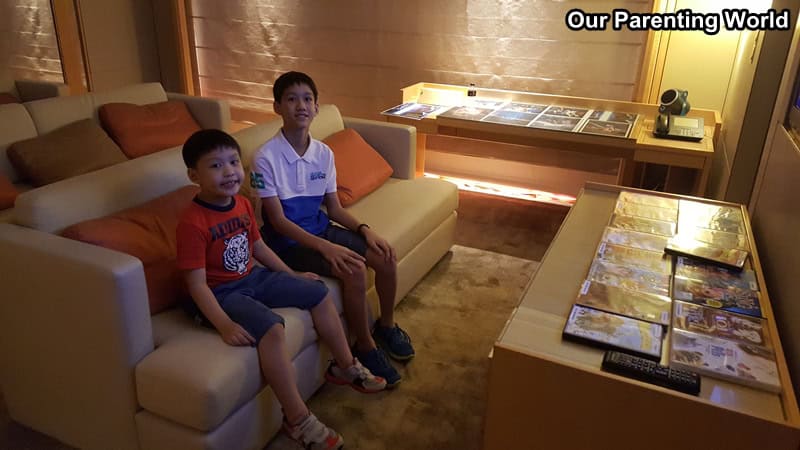 The boys enjoying a movie at Ritz Kids Play Area where the parents can chill out and relax! 
This is also one of the most children friendly hotels we have every experienced in Singapore. At level 4, the 4 rooms specially dedicated for children include a movie room and a children's library.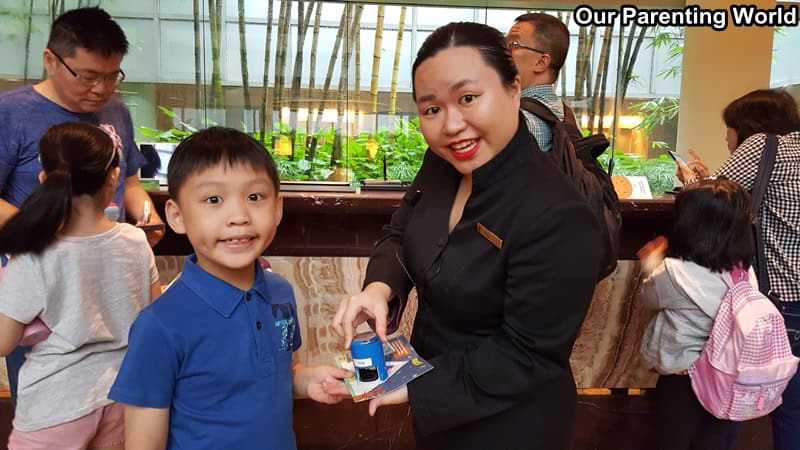 Our Parenting World's kids embarked on a treasure hunt expedition around the hotel's lobby located on Level 3 and level 4 to collect animal stamps on their Adventurer Passport issued to them which could be exchanged for a goodie bag and a scoop of ice-cream at the end of the treasure hunt.
During the weekend of our visit, there were many Singaporean families bringing their children to stay at the hotel, it shows how popular Ritz Kids Night Safari Adventures is. Many children were going from station to station working on their discovery maps.
At each station, the friendly Ritz's staff will help the kids to put a stamp on their maps.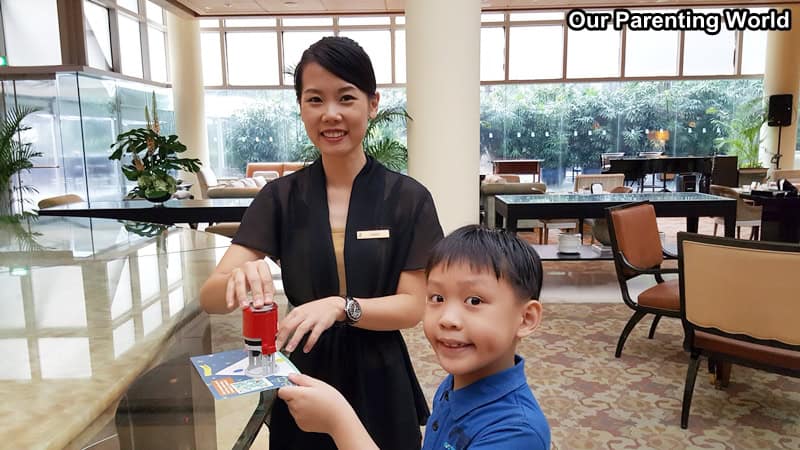 Putting a stamp on the discovery map at Chihuly Lounge
Collecting the stamp at the Kids Play area and the map is now completed. What made our stay even more memorable is the friendly and passionate Ritz's staff that always make us feel welcome and brighten our day! Thank you to all the Ritz's staff for your warm hospitality! 
Once the children have collected all the 6 stamps at the various checkpoints in the hotel. They can redeem a complimentary scoop of ice cream daily.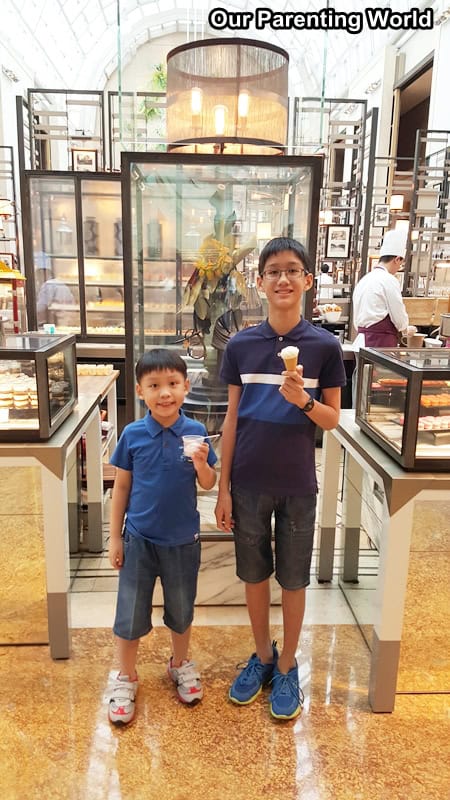 You can redeem your ice cream at Colony, the restaurant is located at the lobby level of The Ritz-Carlton, Millenia Singapore. 
Thumbs up to The Ritz-Carlton, Millenia Singapore for treating the young guests so well and for making the kids special with its Ritz Kids's programme! 
To find out more about Ritz Kids, please go to
http://www.ritzcarlton.com/en/hotels/singapore/area-activities/ritz-kids#fndtn-Amenities
Our Parenting World's TOP 5 reasons why you should choose this staycation package for your family:
This is the only Safari themed hotel staycation we know of in Singapore and the experience is very memorable and happy for the kids

It is a kids' friendly hotel down to children having their own amenities, Adventure Passport for the treasure hunt etc.

Adults can also enjoy its excellent facilities, including a well-equipped luxurious gym which opens 24 hours, a beautiful swimming pool surrounded by greenery and easy access to Shopping malls. 

Summer Pavilion, their in-house Chinese fine dining restaurant is a One Michelin star restaurant, one of the best Chinese restaurant sin Singapore.

The Singapore skyline views from the hotel bathtub and the hotel suite are the best we ever experienced!
The Ritz-Carlton, Millenia Singapore
7 Raffles Avenue
Singapore, 039799 Singapore
Phone: +65 63378888
To find out more about The Ritz-Carlton, Millenia Singapore and for bookings, please go to: http://www.ritzcarlton.com/en/hotels/singapore 
To find out more about Ritz Kids Night Safari Adventures at The Ritz-Carlton, Millenia Singapore and for bookings, please go:
http://www.ritzcarlton.com/en/hotels/singapore/offers/ritz-kids-night-safari-adventures