The highly anticipated World Tour, "Ah Sam and Ah Tam Happy Together World Tour" is just around the corner. Two of Hong Kong's greatest singers, Sam Hui, the "Elvis Presley of Hong Kong" and Alan Tam the "Principal Tam" will put on an unforgettable concert together, combining all the golden hits of Hong Kong's Part 1 and Part 2 concert, taking you back to memory lane. Their recent concert in August held at Hong Kong was sold out across 11 shows – this is one concert that should not be missed.
Alan Tam: "The Principal"
This incredible singer, known for his modern romantic ballads, enjoyed stints in various bands and even won an amateur Hong Kong singing competition before going solo in 1978. Alan Tam has since released over 20 million albums and he is the Cantopop music icon in Asia.
Alan Tam received the 30th Hall of Fame Award in 2007 due to his contribution to the Hong Kong and Chinese music industry for more than 30 years. He was also awarded the title of "The Principal" in recognition of his efforts for actively cultivating newcomers to the music scene in Hong Kong.
Alan Tam Songs
In only 26 years, this legendary superstar has written over 800 songs. Many of his classic songs have become eternal hits that will never grow old or go out of style. His debut studio album Naughty Boy launched him to stardom through wonderful songs such as "Love in Autumn" and "Embrace", which captured the public's imagination and the hearts of many fans. Alan Tam continues his love for music with unrelenting energy. His popularity in the music world is due to his charm and perfect interpretations all kinds of creative songs. In the hearts of fans, he will always be the charming and talented Principal Tam. The opportunity to witness an Alan Tam concert should never be passed up! An Alan Tam show isn't just a concert, rather a legendary trip to the past. So don't hesitate and buy your Alan Tam tickets before they're all gone!
Sam Hui Back in Concert
The famous "God of Song" is back!
Sam Hui started off as an actor and eventually wound up becoming a singer and songwriter who greatly appealed to the Hong Kong working class. He's known for combining western-style music with popular Chinese music and writing songs full of metaphors and philosophical meanings. He's been an inspiring Cantopop musician and inspired many other greats including Jacky Cheung and Alan Tam. After several years of contributing to the Asian music industry, with numerous album releases, both in English and Cantonese, as well as a string of successful concerts, Sam Hui decided to end his professional career as a musician, announcing to the media that he was stepping down so that the 4-heavenly kings (Jacky Cheung, Andy Lau, Aaron Kwok and Leon Lai) can emerge.
However, years later, Hui decided to go back on stage claiming that it was where his heart belonged. Unsurprisingly, his first few concerts were sell-out shows.
Sam Hui Songs
Sam Hui, has released over 23 Cantonese albums and 4 English albums. He rose to prominence immediately with the 1971 Time of The Season EP and hasn't looked back since. Sam Hui, who's already in his sixties will be performing and singing all of his classics live across the globe. Don't miss the chance to see this Cantopop legend in the flesh, as you never know when he will retire for good!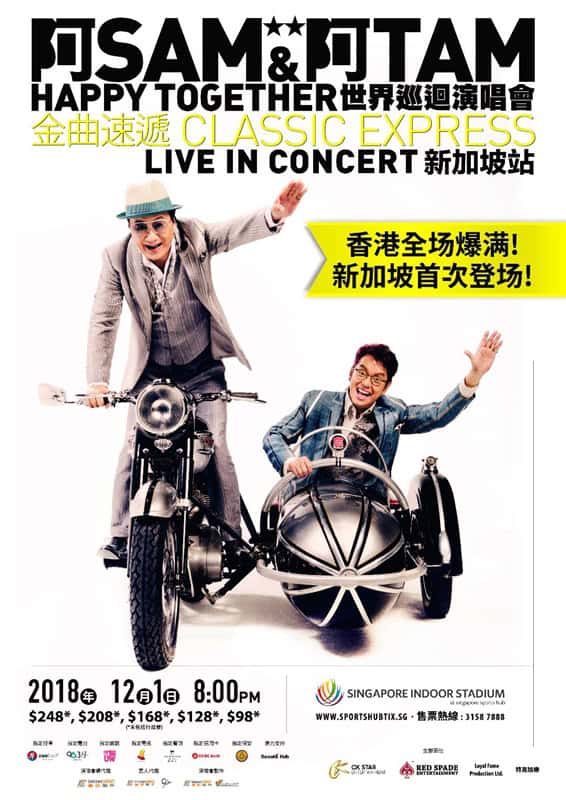 This concert is brought to you by CK Star Entertainment and Red Spade Entertainment. Don't miss the opportunity to catch Sam & Tam Happy Together World Tour live in Singapore!
DATE: Saturday, 1st December 2018 TIME: 8.00pm
VENUE: Singapore Indoor Stadium
TICKETING INFORMATION:
Cat 1 : S$248
Cat 2 : S$208
Cat 3 : S$168
Cat 4 : S$128
Cat 5 : S$98
Cat 6 (Balcony Row 28): $128
Cat 7 (Balcony Row 28): $98
Prices above exclude Sportshubtix booking fees and handling charges.
To purchase the tickets, please visit  www.sportshub.com.sg/SamTam2018