J65, the all-day dining restaurant has one of the best buffets in town at affordable prices. You can always savour the freshest catch at J65 and explore daily themed nights highlighting different seafood along with local favourite dishes. 
Good news for foodies! Hotel Jen Tanglin Singapore has launched fresh new themed nights promotion at J65, Look forward to feast on your favourite seafood with two new themes this time, Tuesday Asian Seafood and Thursday What the Fish Buffet dinner in addition to the all-time favourites, Monday International Seafood, Wednesday Lobster Rock 'n' Roll and Friday to Sunday Seafood Madness. 
Singapore's Chilli Crab
Seafood Spicy Coconut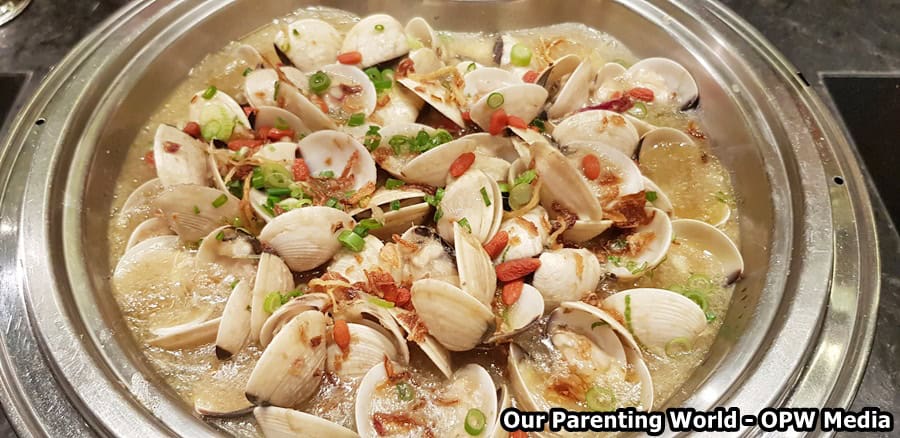 Steam Clam with Ginger and Garlic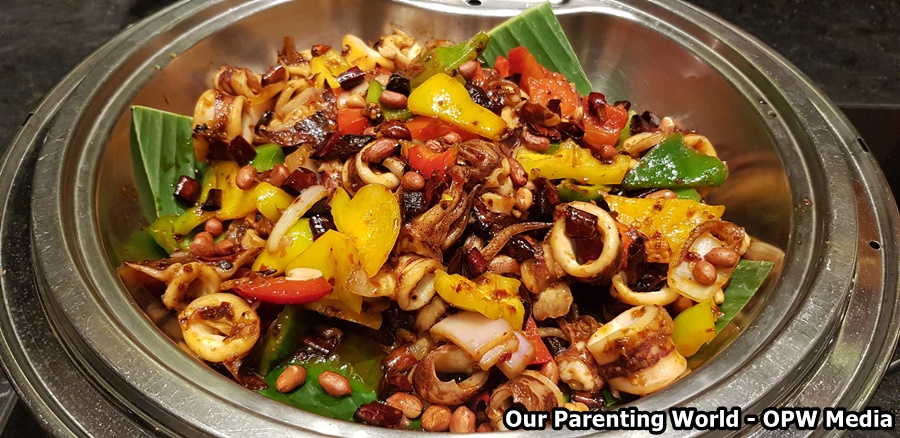 Szechuan Pepper Squid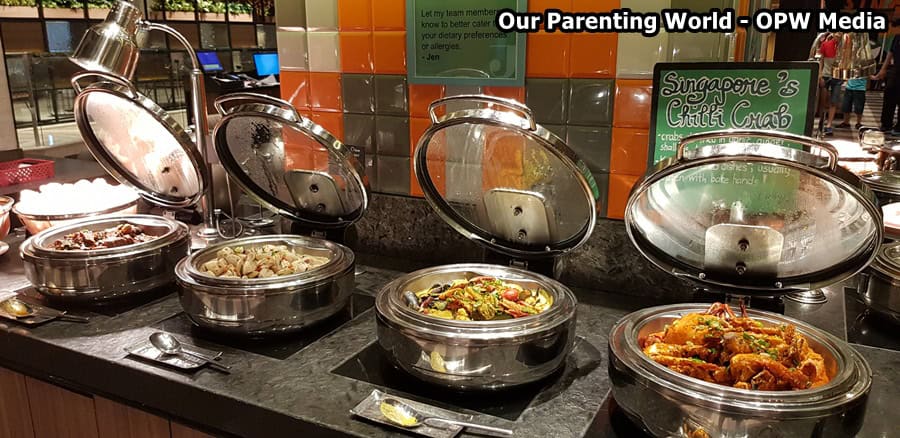 Take pleasure in feasting on the popular and well-known seafood dishes like the Singapore's Chilli Crab which is stir-fried in garlic, ginger, shallots, tomato paste and chilli sauce. Other delightful seafood dishes like Seafood Spicy Coconut, Steam Clam with Ginger and Garlic. Szechuan Pepper Squid and many more are also available.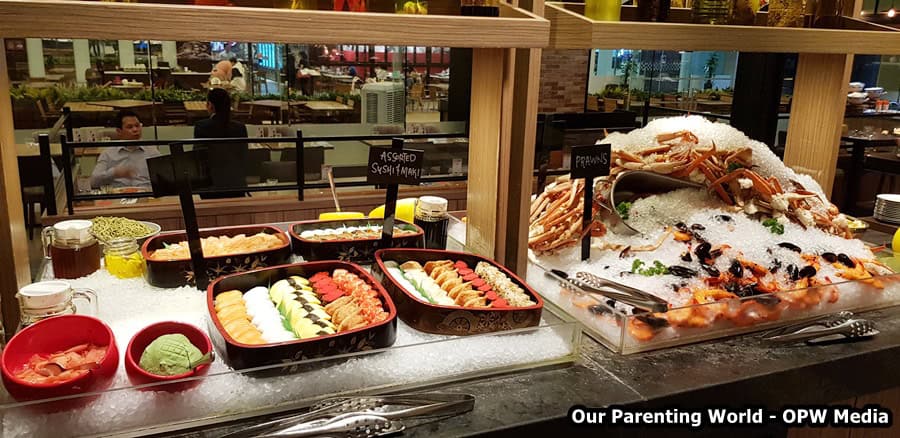 A temping, sumptuous spread of sushi, salmon sashimi and loads of fresh seafood consisting of mussels, prawns and snow crabs are available to entice diners. 
If you prefer baked versions, look for the deliciously baked seafood items like Baked Salmon and Korean Baked Seafood.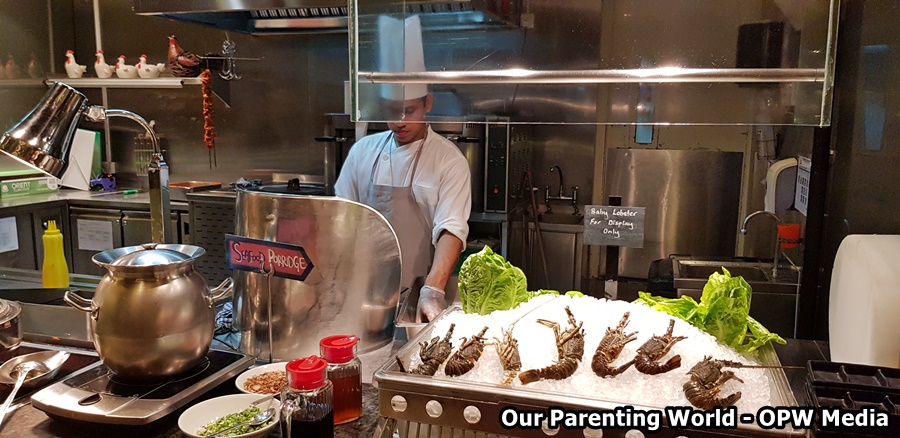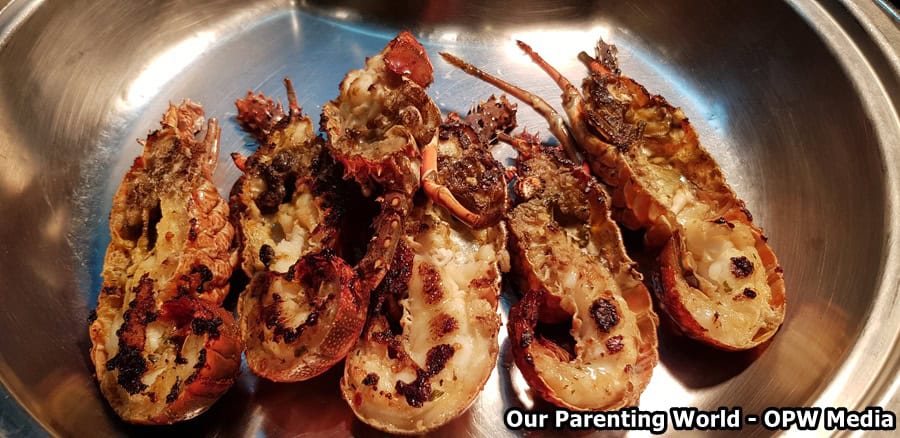 Lobster fans, proceed to the live cooking station to savour on delectable grilled baby lobsters.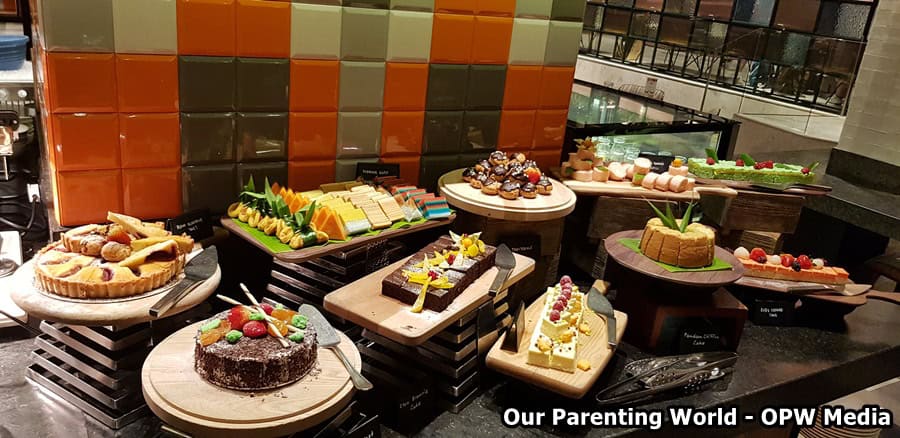 After a hearty meal, not forgetting to have some space for desserts! It is a desserts haven filled with cakes, pastries, kuehs, fresh fruits, sweet soups, ice creams, puddings, jellies and many more! Yummy!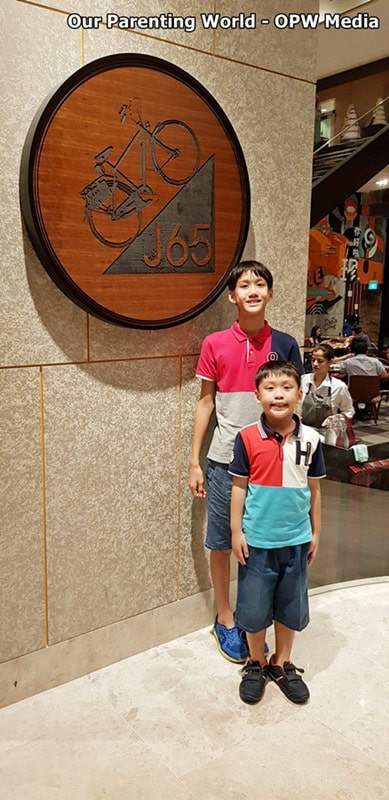 We enjoyed the food and services at J65 and it is definitely a food haven for food and seafood lovers! 
J65's current theme buffets, full details as follows: 
Tuesday:
The new Tuesday theme features the best recipes of Asia! From the well-loved Singapore Chili Crab, Whole Baked Salmon in Teriyaki Style, Prawn Curry with Mango, Korean Style Baked Seafood, Mixed Seafood in Spicy Coconut Broth, Malaysia Kam Heong Prawn, Baby Lobster Percik, Spicy Thai Clams, Fresh Snow Fish Tikka, Fried Oyster Omelette and more! 
Thursday:
Taste the freshest catch at J65 on Thursdays as we dish a What-the-Fish menu featuring over 10 different type of fishes – all prepared in different styles. Here's just to name a few, Angoli Fish Head Bee Hoon, Grilled Sting Ray with selection of (Chili & Kicap Sambal, Air Assam, Sambal Belacan), Korean Breaded Grouper, Poached Norwegian Salmon, Hong Kong Style Pomfret, Thai Baked Snapper Seabass with Tobiko and Wasabi Cream, Sea Perch Congee, Ikan Pari Masak Assam Pedas Mediterranean Baked Barramundi with Olives, Artichokes, Tomatoes and Herbs, Angoli Fish Head Curry with Brinjal & Lady's Finger in Pot, Salmon Fish "Puttu" Biryani and more. 
The Wednesday Lobster Rock n Roll and Friday to Sunday Seafood Madness remains a crowd favourite!
The above themed dinners are priced competitively at:
Monday International Seafood   
SGD 85++ for two persons           
Tuesday Asian Seafood   
SGD 65++ per person    
Wednesday Lobster Rock and Roll 
SGD 85++ per person   
Thursday What the Fish 
SGD 65++ per person                        
Friday to Sunday Seafood Madness             
SGD75++ per person 
J65 
Hotel Jen Tanglin Singapore, level 1
1A Cuscaden Road, Singapore 249716
Enjoy exclusive promotion when you book online via hoteljen.com/bookJ65
For direct bookings please call 6831 4374 or email [email protected]
Good News! Giveaway Alert!  – CLOSED
We are giving away 2 x dinner buffet for you and your loved one (worth SGD 85++ for two persons) to enjoy the all time favourite, Monday International Seafood Buffet at J65, Hotel Jen Tanglin Singapore!
Facebook and Instagram Contests:
Simply do the following:
1) LIKE and FOLLOW Our Parenting World Facebook Page and Hotel Jen Tanglin Facebook Page
2) LIKE, SHARE and TAG 5 friends to share this Facebook Giveaway Post
3) FOLLOW our Instagram at @opwmedia
4) LIKE, SHARE and TAG 5 friends to share this on @opwmedia Instagram Giveaway Post
* Please set your accounts to public and indicate your instagram handle at the Facebook Comment Post and check that all the steps are entered correctly to be eligible for the giveaway 🙂
Hurry, giveaway will close on 15 May 2018 at 23:59Hr. Winner will be announced and notified on 17 May, please check this space for announcement.
Thank you and Good Luck! 🙂
Winner's Announcement:
Giveaway closed and winner announced, please refer to our Facebook Page for winner's details at follows: 
Terms and Conditions 
Entry into the giveaway contest will be deemed as acceptance of these terms and conditions. The rules of the giveaway contest and how to enter are as follows:
1) The prize is as stated, subject to change and fulfillment by the sponsors. Winners are not allowed to change the prizes. The prize will be non-transferable, non-refundable and non-exchangeable for other products/dates/times. The sponsors reserve the right to amend the competition, substitute any prize or with another of equivalent value without giving notice.
2) All participants have the opportunity to win as long as you have completed and fulfilled all the steps required by the giveaway contest. Please make sure your likes and shares are set to public for verification purposes. Incomplete entries and fake accounts will be disqualified at the discretion of the organisers.
3) Winners of past giveaways in the last one month will not qualify for this giveaway, please wait till after one month from the date that you have won to participate in the current giveaways. 
4) Giveaway contest is open to all Singapore residents with a valid Singapore mailing address
5) The organiser (ourparentingworld.com) is not responsible for inaccurate prize details supplied to any entrant by any third party connected with the giveaway contest by the sponsors.
6) Winners will be notified by email /Facebook/Instagram after the contest has ended. If the winner cannot be contacted or do not claim the prize, we reserve the right to withdraw the prize from the winner and or pick a replacement winner. 
7) The organiser reserves the right to cancel the contest if circumstances arise outside of its control.
8) The sponsor's and the organiser's decision in respect of all matters to do with the giveaway contest will be final and no correspondence will be entered into.
9) Other terms & conditions applied.