Are you craving for Korean food?
Now you don't have to look forward to VTLs or spend a hefty price to treat your loved ones to delicious and authentic Korean cuisine! SBCD Korean Tofu House is on a mission to introduce Korean delicacies to everyone in Singapore and continue its heartland expansion to Punggol after a successful opening in Ang Mo Kio. Buk Chang Dong Soon Tofu (BCD Soon Tofu) has recently opened at 671 Edgefield Plains on 1 March 2022, after its debut at Blk 721 Ang Mo Kio Ave 8.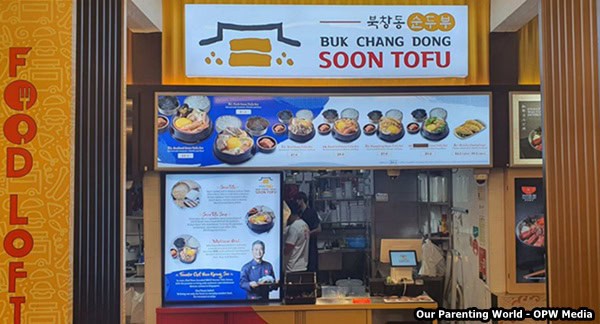 BCD Soon Tofu will serve authentic and wholesome Korean cuisine just like SBCD Korean Tofu House, with a specialisation in soft tofu soup (or Soon Tofu) made from a 10-ingredient secret recipe soup paste. The soup paste is the product of five months of research and development and required six hours to make. The stew gets its flavours from a combination of fish and prawn powders, garlic, spring onion, and other aromatics.
The silken tofu used is specially imported premium soybean from Paju, South Korea, a city near the Korean Demilitarised Zone (DMZ), which is known for its pristine produce due to its isolated location.
Six Types Of Soft Tofu Sets
Look forward to select from six types of soft tofu sets, all of which comes with kimchi, rice and a pack of Korean seaweed.
● Pork Soon Tofu Set ($7.00), a hearty soup served with succulent pork slices
● Seafood Soon Tofu Set ($8.00), filled to the brim with prawns, clams, and mussels
● Beef Soon Tofu Set ($7.00), a belly-warming meal with beef slices
● Assorted Soon Tofu Set ($8.00), a delightful mixture of seafood, pork, and beef
●Dumpling Soon Tofu Set ($7.00), a filling dish with BCD's own pork, kimchi and vegetable dumplings
● Vegetable Soon Tofu Set ($6.00), a healthier option with broccoli and other assorted vegetables
The new outlet also offers Korean dumplings in three delicious flavours (Pork, Kimchi and Japchae), sold at $4.50 for three pieces and S$6.50 for five pieces.
Chef Nam Kyoung Soo, Chef and Co-founder of SBCD Korean Tofu House shared that "My dream is for BCD Soon Tofu to be available everywhere for everyone to enjoy. In our SBCD Korean Tofu House's outlets, I always find it heartwarming to see customers from all walks of life come together to enjoy a piping bowl of Soon Tofu soup. I especially enjoy seeing three generations eating together, and it is my wish for the express outlets to cater to close-knit families. My team and I are looking forward to serve Korean cuisine lovers in Punggol."
Address
671 Edgefield Plains #01-01
Singapore 820671
Blk 721 Ang Mo Kio Ave 8
Singapore 560721
Opening Hours
Monday to Sunday: 11am-9pm
Social Media
Instagram: @soontofusg
Facebook: Soon Tofu Singapore
Payment Modes Accepted
Cash only
Delivery Platforms
FoodPanda and Grab Food