This year-end school holidays, we went on a fun and unique staycation at SG Hotel On Wheels (SHOW). This is Singapore's first-ever roving concept container hotel that is set to dock at various exciting locations around Singapore! Currently, the container hotel is located at Downtown East's Begonia Open Air Carpark. There are a total of 10 colourful shipping containers which have been converted into a "pop-up" hotel site until 20 March 2022.
There are two different types of container rooms, the five larger 40-foot containers can host up to 4 guests and the other five smaller 20-foot containers can host 2 guests each. Each of the containers also known SHOWroom is uniquely themed and designed, for example, the 40-foot container which we stayed overnight has the theme "Resort Retreat", the room is styled with paintings such as coconut trees and beaches. Other themes rooms are "Street Punk Studio", "Pop Art Room", "Safari Paradise", "Peranakan Suite" for the larger containers and "Resort Living", "Industrial Chic", "Modern Country", "Minimalist Classic" and "Retro Mambo" for the smaller containers. We can't wait to check out our ultimate SHOWroom!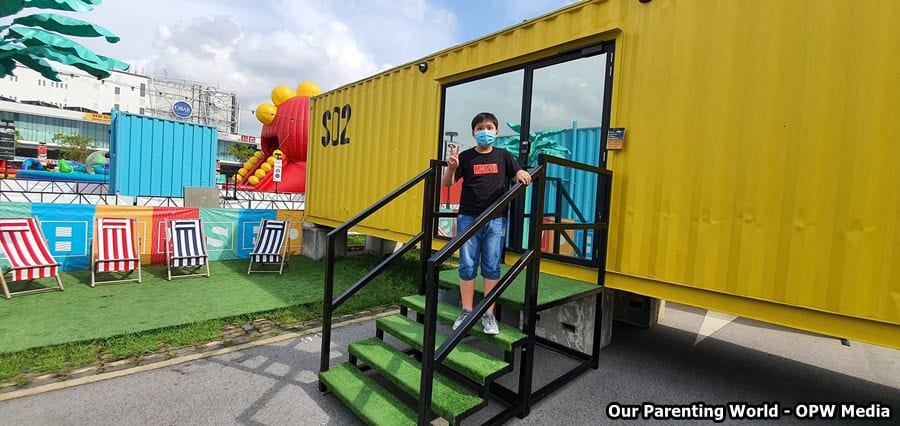 The larger 40-foot container hotel room for 4 guests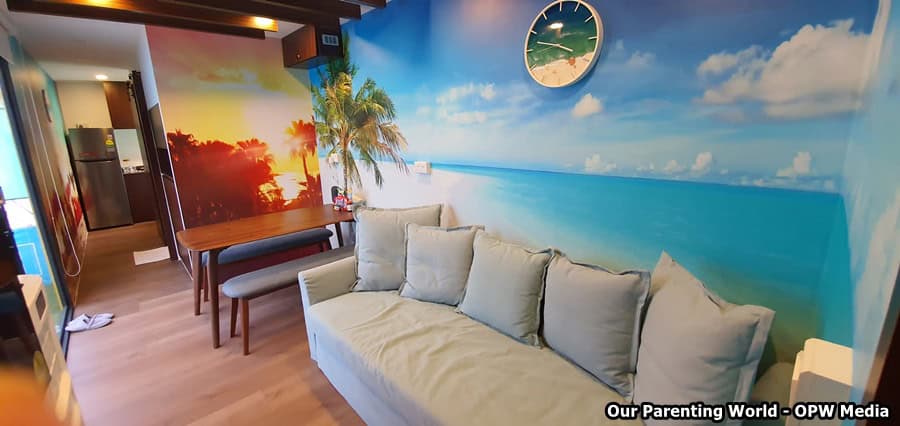 Resort theme living room, the sofa can be converted to a night bed for two  
While from the outside, a 40-foot container may not appear to be big, but on the inside, we found the layout of the bedroom, living room, bathroom, and kitchen to be space-efficient, roomy enough for the four of us. Our earthy, tree-inspired SHOWroom is nicely decorated with forest retreat theme featuring natural elements, leafy backdrop and modern mid-century design that is cosy, warm and homely! 
This 4-persons larger container has a bedroom for 2 persons, and a sofa bed for another 2 persons in the living room section. There is also a dining table for 4 persons, a toilet with hot/cold water facilities, and a kitchen for cooking. It felt like a luxury one-bedroom suite on wheel. There are also 2 TV sets, one in the bedroom and one in the living room for the guests.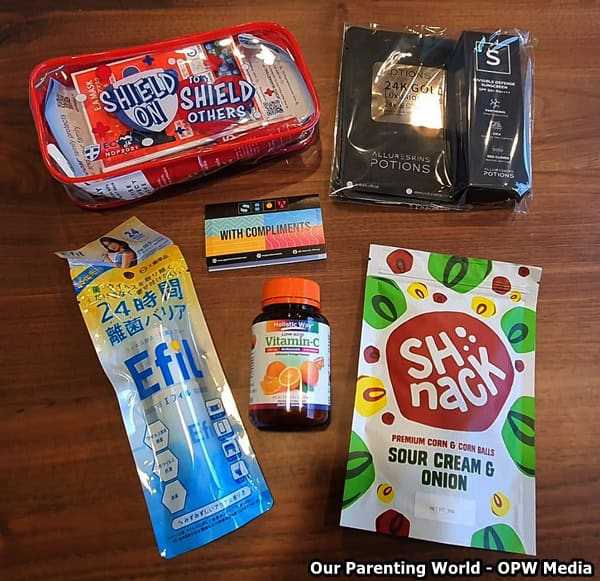 Guests will receive a SHOW Stay Safe Welcome Kit consisting of ECOM Travel Size EA Mask Filter and Bion Spray, Allureskins Potions Invisible Defence Sunscreen, SPF 50+ PA++++ and 24K Gold Luxurious Mask, a handy EFIL Disinfectant Spray, Holistic Way Low-Acid Chewable Vitamin-C 500mg and Healthier snacks from Shnack.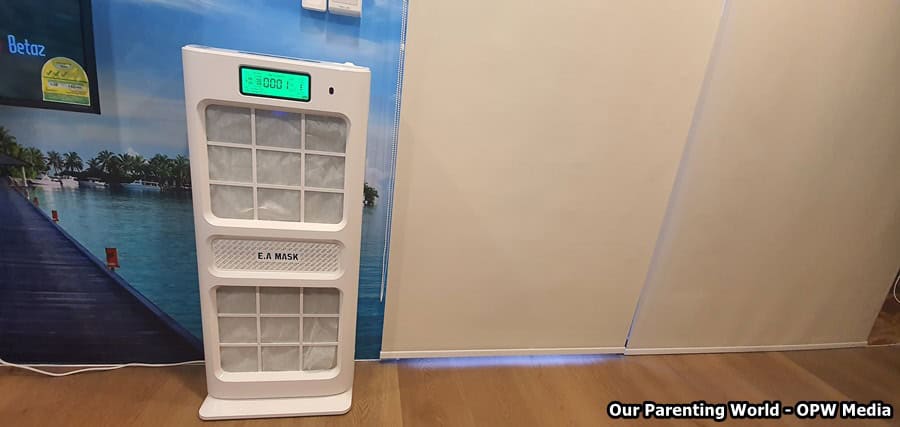 An air purifier in the living room next to the full floor to ceiling blind for privacy
In addition, each SHOWroom comes with ECOM® MASK 030+ air purifier which can kill 99.9% of bacteria and ensure the environment safe for guests especially during the current Covid pandemic. It operates quietly so that you can have a good night sleep while being protected. 
To keep guests safe further and to reduce contact points, the soap dispensers and bins are activated by motion sensors. That is so thoughtful of SHOW to provide all the necessary COVID-resilient amenities. 
The  SHOWroom is also equipped with smart home technologies like Google home system, Daikin smart aircon, Smart TVs with Netflix, remote access lock and more to make your stay more comfortable.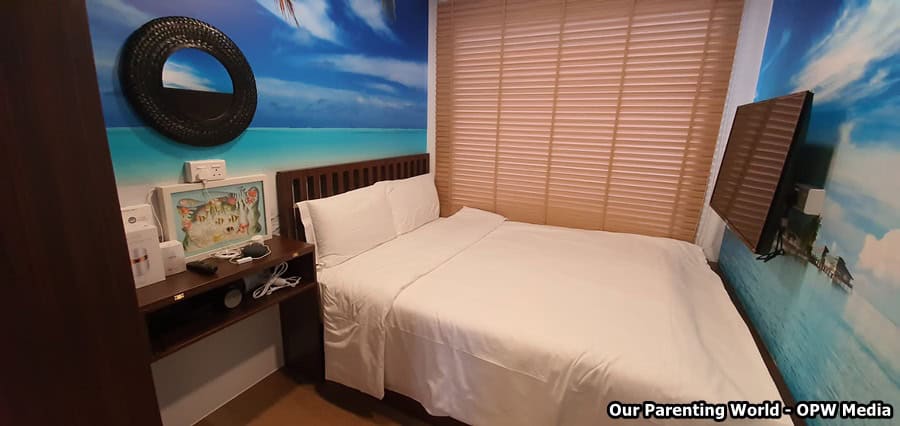 Queen size bed and TV in the bedroom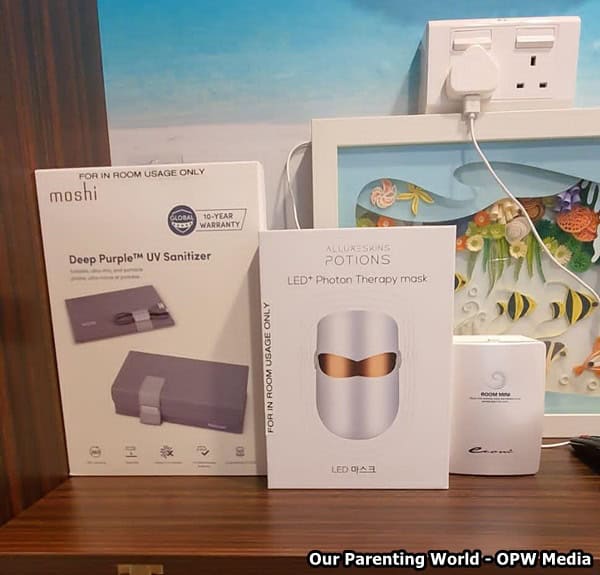 You can try out the Spa-like facial treatment with the LED Photon Therapy Mask provided at the comfort of your bedroom.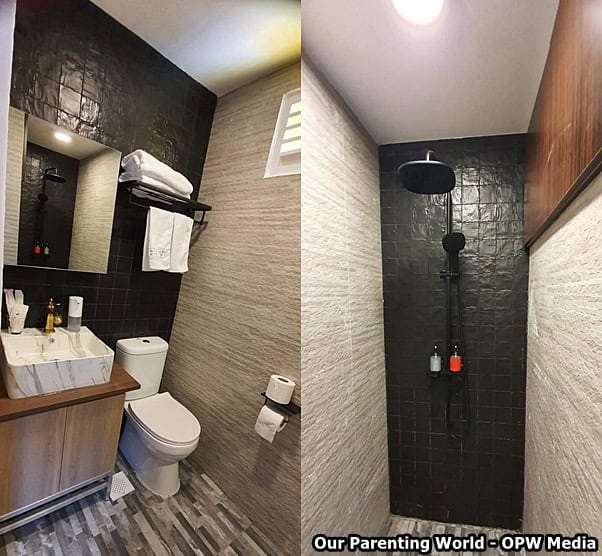 The shower room is spacious comes with all the necessary amenities, toiletries, towels and hairdryer are provided. 
A fully-equipped kitchen with a fridge, Nespresso coffee machine, microwave, induction stove, kitchen utensils and more, you can easily whip up a meal during your stay.  
While we can opt for food delivery to our SHOWroom, we preferred to take a short walk to Downtown East mall where there are a variety of different food outlets for us to dine-in or takeaway. Check-in at the hotel was a breeze, and from the check-in office (also in a container), it's only a minute walk to our assigned SHOWroom. No waiting for lifts like other conventional hotels.
Outdoor private area with a furnished setting
To ensure privacy in the SHOWroom, the glass door and windows are tinted and reflective, so that passers-by would not be able to see the guests inside their room during the day. At night, we can pull down the blinds inside for privacy when we switched on the lights in the living room or bedroom. There is a private area with furnished outdoor setting for guests to relax and chill-out if they wish to spend time outside. If you would like to do BBQ, you can rent a BBQ grill free of charge with a refundable deposit of $50. 
For those who enjoy going to carnivals, there is an Uncle Ringo Carnival just next door to the SHOWroom, where there are different exciting carnival games for the young and old. When the sun sets, the SHOWrooms are transformed into beautiful neon lighted structures in the carpark.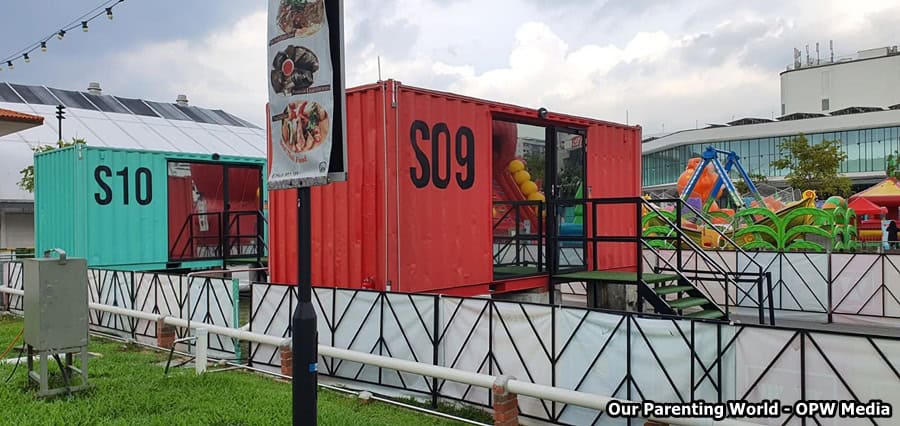 The smaller 20 ft container hotel room for 2 guests, with reflective privacy glass door and windows.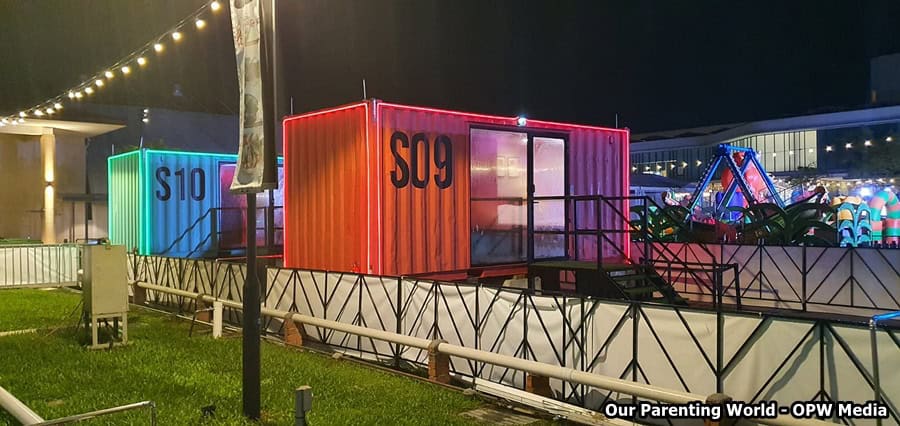 Colourful neon lights at night
Other activities that guests can participate include attending art and craft workshops by Fara Design in one of the containers. Guests of SHOW will have a 50% off from their fees. For guests who would like to cycle, as there is a park connector nearby, you can put a refundable deposit of $20 to borrow a bicycle to cycle around the area.
The prices are very reasonable for SHOWroom. The room rate ranges from $188 per night onwards for 20-footer rooms (for 2 pax, inclusive of a pair of Wild Wild Wet day passes), to $308 per night onwards for 40-footer rooms (for 4 pax, inclusive of a pair of Wild Wild Wet day passes). You can have a splashing good time with the complimentary Wild Wild Wet day passes!
To find out more and to make a booking at SG Hotel On Wheels (SHOW), please go to https://sghotelonwheels.com/booking/. You can even specify the theme SHOWroom you want to book from the website, subject to availability.
Thank you SG Hotel on Wheels for the memorable staycation! It has been an interesting and enjoyable experience doing a staycation in a container hotel during this holiday period and we look forward to future hotel sites around Singapore with SG Hotel on Wheels!