From now to 31 October 2023, bring home the cute and lovable Hello Kitty collectible pouches by Sanrio with the purchase of any two 946ml F&N Magnolia pasteurised milk products in a single receipt, while stocks last.
Globally iconic and ubiquitous, Hello Kitty is instantly recognisable and appeals to all ages with a bow on her left ear and expressive eyes.
The pouches are available in four totally adorbs designs with Hello Kitty spotting a pink blush and lovely poses, bringing endless charm and joy to all. Collect all four designs while stocks last.
For more than 85 years, F&N Magnolia has been a staple at breakfast tables in many Singaporean households. Families and milk lovers have also been delighted by the range of flavours, serving their mornings and throughout the day, with tasty goodness and nourishment. There is also a variant for lactose intolerant individuals. Today, F&N Magnolia remains one of the most trusted homegrown brands for dairy products that promises to provide nutritious, delicious and wholesome goodness for everyone.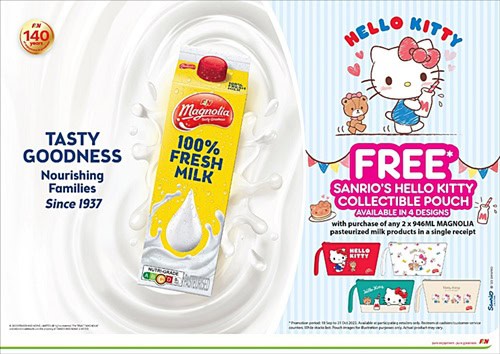 Milk is regarded as an excellent source of calcium and phosphorus essential for maintaining strong bones and teeth. Vitamin D found in dairy products is crucial for the effective absorption of calcium, which is important for everyone across all age groups. Milk also contains water, high-quality protein and carbohydrates, making it uniquely suitable as a post-exercise recovery drink for fitness enthusiasts and those who lead active lifestyles.
A glass of F&N Magnolia a day goes a long way. One serving (250ml per serving) of F&N Magnolia 100% Fresh Milk provides 9.5 grams of protein – equivalent to about 1.5 eggs, and 300mg of calcium, slightly more than one-third of the recommended dietary allowance for an adult between 19 to 50 years old, according to Healthhub.sg.
F&N Magnolia, which is Halal certified, is available at all leading supermarkets, hypermarkets, and convenience stores at the following Recommended Selling Prices:
1. F&N Magnolia 100% Fresh Milk
○       946ml – $3.50
○       475ml – $2.42
2. F&N Magnolia Chocolate Flavoured Milk
○       946ml – $3.50
○       475ml – $2.42
3. F&N Magnolia Low Fat Fresh Milk
○       946ml – $3.50
○       475ml – $2.42
4. F&N Magnolia Lactose Free Milk
○       946ml – S$4.55
5. F&N Magnolia Low Fat Hi-Cal Milk with Oats
○       946ml – S$3.50
6. F&N Magnolia Low Fat Hi-Cal Milk with Omega
○       946ml – $3.50
140 Years of Enjoyment and Goodness 
F&N celebrates its 140th anniversary this year. Over the years, the different brands under the F&N umbrella have touched the lives of people from every walk of life, and have been a part of many memories and milestones. In the years to come, the F&N brand will continue to stand for quality and most importantly, pure enjoyment and goodness.
For more information, please visit www.magnolia.com.sg or https://sg.fnlife.com/magnolia. Follow F&N Magnolia on Facebook or @fnnmagnolia on Instagram for more updates.
Photo Credits: F&N Foods