Tom's Palette, the iconic gelato artisan, is set to dazzle its patrons with a fresh, vibrant, and exciting look this September as it reopens its doors. From its humble beginnings at Shaw Tower on Beach Road in 2005 to its current home on Middle Road, Tom's Palette has left an indelible mark on Singapore's dessert scene, attracting a dedicated following of gelato enthusiasts who appreciate its adventurous flavours and lively atmosphere.
What sets Tom's Palette apart is not just its commitment to crafting exceptional gelato but also its knack for infusing fun into every scoop. This dynamic blend of flavour innovation and playful vibes has cemented its reputation as a must-visit destination for anyone with a sweet tooth.
At Tom's Palette, variety is the spice of life, and this philosophy is evident in its ever-evolving menu. With a staggering selection of 36 flavours available at any given time, there's always something to cater to every palate. What's truly impressive is that this array is constantly changing, drawing inspiration from the gelateria's extensive library of over 200 unique flavours. Tom's Palette is committed to quality and freshness and every spoonful of Tom's Palette's creations is bursts with pure goodness and is completely devoid of preservatives and artificial flavourings. This dedication to crafting gelato in its truest form is a testament to the brand's passion for the craft and its desire to bring a smile to every customer's face.
Eunice Soon, co-founder of Tom's Palette shared that "We are immensely grateful to our dear customers who have supported us since the beginning and especially over the pandemic. They have always been part of our journey as we consistently create flavours that push the boundaries like Pipagao and Nasi Lemak. We would not be where we are without their honest feedback and love for the brand."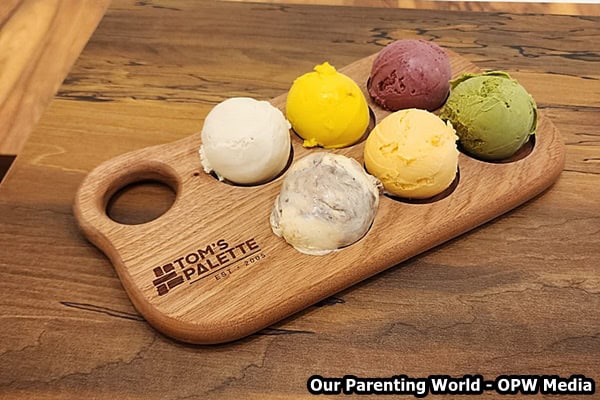 The Latest Selection at Tom's Palette
The newest inclusion, Maple Pecan, beautifully embodies the essence of autumn with its delightful combination of pound cake soaked in pure maple syrup, delightfully crunchy toasted pecans, and creamy fior di latte gelato.
Tom's Palette, ideal for sharing offers a set of six mouthwatering flavours, which rotate in sync with the daily gelato selection, all for just $29.80.
The Merchandise
To enhance the sweet experience, patrons have the option to acquire Woodpecker Organic Maple Syrup, exclusively crafted for Tom's Palette, starting at $6.90 for a 50ml bottle. This syrup is meticulously crafted from the essence of Quebec's maple trees and is elegantly presented in a finely detailed glass container shaped in the likeness of a maple leaf, rendering it a superb choice for thoughtful gifts.
The Space
Nestled on Middle Road, the refreshed and inviting setting at Tom's Palette ($29.80) takes cues from a vibrant artist's studio. It's adorned with teak accents and showcases captivating artwork by talented local artists. This welcoming environment accommodates up to 40 patrons and offers a variety of seating options, including comfortable sofa arrangements for intimate gatherings. Additionally, an organically designed table serves as both a functional workspace for gelato-making workshops and an eye-catching display area.
Signature Flavours
Among the nine timeless selections, you'll find perennial favourites like Granny's Favourite – a delightful blend of Chocolate Malt gelato, Cookie Dough, and Chocolate Chip. There's also the sumptuously smooth Rum & Raisin, featuring a homemade rum paste perfectly complemented by the delightful chewiness of raisins soaked in rum for a month, along with the irresistible Salted Caramel Cheesecake.
For those on the lookout for dairy and egg-free alternatives, the exquisite Italian Dark Chocolate, meticulously crafted with water, sugar, and 56% dark chocolate, promises indulgence in every spoonful.
And, if you're a fan of refreshing flavours, the eagerly awaited return of Kochi Yuzu is scheduled for October.
Innovative Flavours
Tom's Palette pushes the boundaries of tradition by introducing creative flavours, like the comforting Pipagao, which entices with its blend of sweet, minty, and herbal notes. Another noteworthy creation is the eyebrow-raising Nasi Lemak, which features a base of coconut, lemongrass, and pandan-infused glutinous rice gelato, elevated with the addition of peanuts and white chocolate meticulously combined with finely ground anchovies, curry leaves, and chili flakes.
For those seeking a "cool" and unconventional treat, the White Chocolate Nori stands out with its sweet and savoury profile, adorned with white chocolate-coated almonds.
Asian-inspired flavours
Patrons can embark on a delectable journey across Asia, savouring flavours that draw inspiration from a rich tapestry of Asian desserts, beverages, fruits, and blooms.
Indulge in the revitalising sweetness of Hangzhou Chrysanthemum, meticulously crafted with premium chrysanthemum buds steeped in custard. For a wholesome delight, don't miss the Taiwanese Black Sesame, featuring top-tier roasted Taiwanese black sesame paste. And experience the essence of an iconic traditional breakfast combination in a scoop with Soya Bean Youtiao.
Other noteworthy flavour offerings encompass Chempedak, Hainanese Kaya, Kueh Dadar, Salted Coconut, and Luo Han Guo, each a delicious testament to the diverse culinary traditions of Asia.
Tom's Palette
Address 51 Middle Road #01-01, Singapore 188959
Email [email protected]
Operating Hours Tuesdays to Sundays: 12pm to 10pm
Mondays: Closed
Seating Capacity 40
Website www.tomspalette.com.sg
Instagram @tomspalettesg
Hashtag #TomsPalette