Our Parenting World Interview Series: Exclusive Interview with Grace Kalaiselvi, Director, Actor & Writer
Our Parenting World (OPW) is pleased to announce that Ver Theatre is proud to present Mother I (2), a multilingual devised performance directed and produced by Grace Kalaiselvi (My Magic, Tanglin, Theatreworks' Mixed), on growth, journey and turbulence as a mother. The show will be held at the Goodman Arts Centre Black Box from 10th to 13th August 2017.
We are pleased to be able to interview Grace Kalaiselvi to find out more about her and the coming Mother I (2) presented by Ver Theatre. 
1) Can you share with us more about your background and how did you get started in your acting and directing career?
I started acting since I was 17. Did mostly Tamil language theatre for 10 years before trying English language theatre in Singapore. There were hardly any auditions for Indians to act in a role from the major companies so it was not easy. I did lots of community theatre and other genres of acting, radio, film & television.  Finally I pursued theatre education when I was 35 at Intercultural Theatre Institute.  Since then, besides doing my television role of Lathika in Tanglin,  I pursue my Theatre acting dreams. As for directing, it started with SYF Directing for two schools end eventually to commissioned programme by Esplanade and now for theatre shows. 
 2) Please tell us more about Mother I (2)?
Mother I (2) is about the journey and the unexpected turbulence a mother might face as children grow. The first part staged last year May was about birth, issues surrounding birth,  weight gain,  post natal depression etc. There would be a part 3 next year on death, coping and hoping. 
It is a devised piece using interviews done with almost 20 people. The play would have verbatim and physical theatre components in it. 
3) What are the key messages that Mother I (2) want to convey to the audience?
In this digital world where one is always on their phone, notebook, laptop etc, there is a lack of face to face human interaction and connection.  Perhaps by connecting and rekindling memories of the very first human connection one creates in Mother, one can remember to be human again.
4) What are some of your favourite scenes from Mother I (2)?
My favourite scene would definitely be Mother Archetypes. We all have scene different faces of our mum, the angry, sarcastic, passive aggressive, sensitive and even the blackmailer kind. It is interesting because the audience need to view it as a child listening to their mother nagging at them.  And while doing so how one may zone out or even imagine their mother to be doing other things but when in reality she is just nagging at you. 
The other favourite would be how one grief over the loss of a child. That was tough to portray and yet powerful.
5) What are some of the challenges that you faced as a director?
I am also an actor in this play. So, it was very tough being actor and director at the same time.  I felt I could not give my 100% to both roles because as an actor you need to concentrate on your journey through the play but as a director one needs to see the full picture of the whole play the entire time.  So,  I had to bring in Lewin Bernard,  my assistant director to be my 3rd eye, the external eye,  to view and note the finer details needed for correction. 
6) Can you tell us more about your cast of Mother I (2)?
All three of us are connected through Intercultural Theatre Institute. Catherine Ho and I graduated in 2016 and 2014 respectively. Hilmi Shukur studied for 1.5 years before he had to drop out. Having a common basic training was important because I wanted to  fuse the qualities of the traditional forms that we had learned in school in creating this play.
Catherine and Hilmi are relatively new to Singapore's acting scene.  But they are both very hardworking and creative, offering lots of suggestions in the structuring process. And they adapt very well to the many changes given throughout the devising process.
7) Do you have any advice to children who aspire to develop a career in acting and or being a director?
Stay true to the dream and pursue an education in that field to be successful at it. In the meantime, keep a notebook with you all the time and jot down details like mannerisms, voice type, posture etc about people that pull your attention. Best way to start our own bag of characters.
8) Lastly, do you have anything you would like to add on and share with our readers about Mother I (2) and what can audience expect when they come and watch the show?
Some stories may trigger a memory and some may inspire. Just be prepared  to have a renewal of love and respect for your mother. You never know, broken relations can also be mended.
Thank you Grace Kalaiselvi for taking our interview!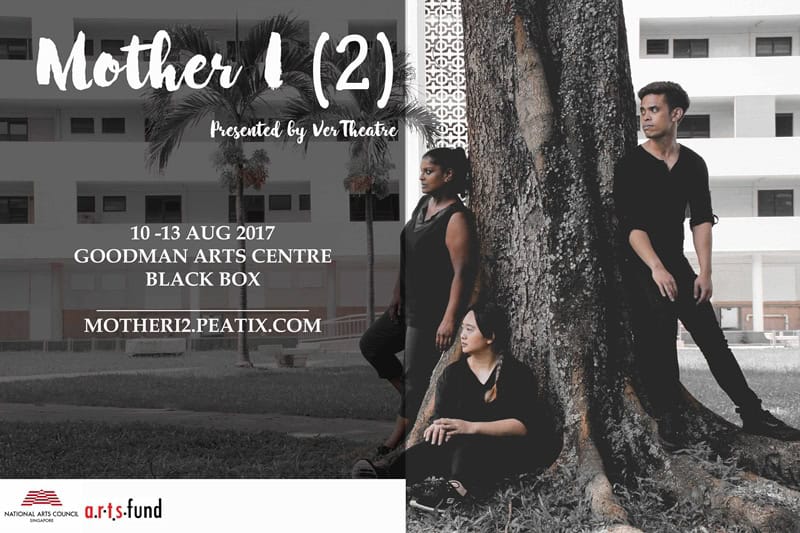 Following up from a successful Mother I: Amma Naan: Ibu Aku last year, which was about birth babies and not, this production will move the narrative forward and rediscover what being a mother means in this new age of change.
Ver Theatre hopes to share varied experiences from mothers separated from children to mothers bringing up a challenged child to mothers going through the journey of their child's sex change. As our nation celebrates her 52nd year, let's look at the women who have always been there.
WHEN
10th August 2017 (Thursday) to 12th August 2017 (Saturday) at 8pm
Matinees at 3pm on 12th (Saturday) and 13th (Sunday) August 2017
WHERE
Goodman Arts Centre Blackbox
90 Goodman Road, Goodman Arts Centre, Singapore 439053
TICKETS
$30/- for standard tickets
$25/- for NSF, senior citizens & students
$50/- for two tickets for 1 parent accompanied by a child
$75/- for three tickets for both parents accompanied by a child