Village Hotels by Far East Hospitality has always been known as one of the best family staycation hotel group in Singapore, due to their value for money packages, good services and the hotels' unique locations. 
We visited the Village Hotel Katong recently for staycation as the hotel group has rolled out their Discovery Package, offering guests the best value-for-money staycation experience.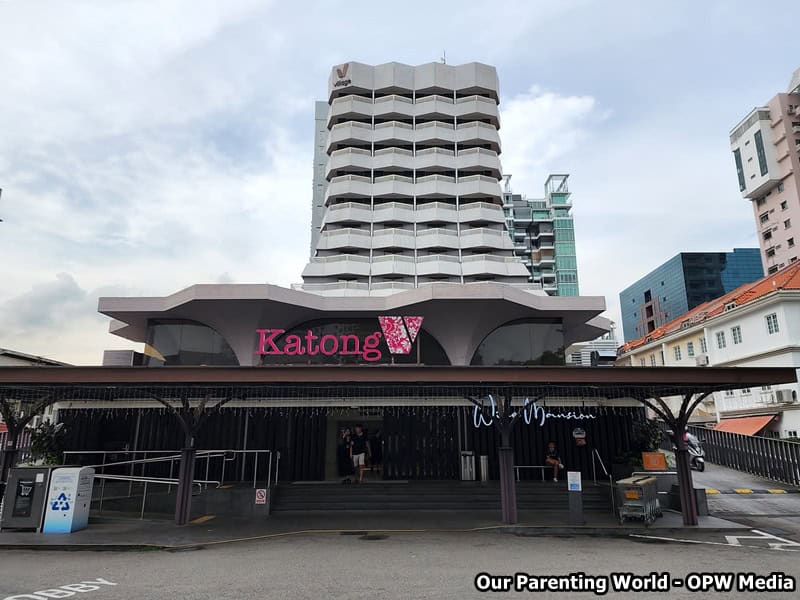 Village Hotel Katong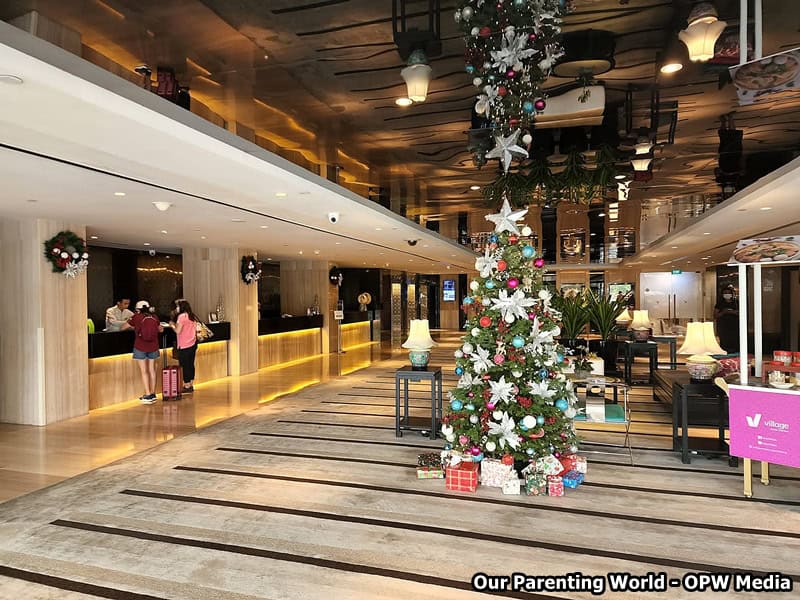 Village Hotel Katong Lobby
We arrived at the Village Hotel Katong for our staycation, the lobby is so spacious and elegantly decorated.
The staff was very friendly and professional, checking in was easy and fast during our visit.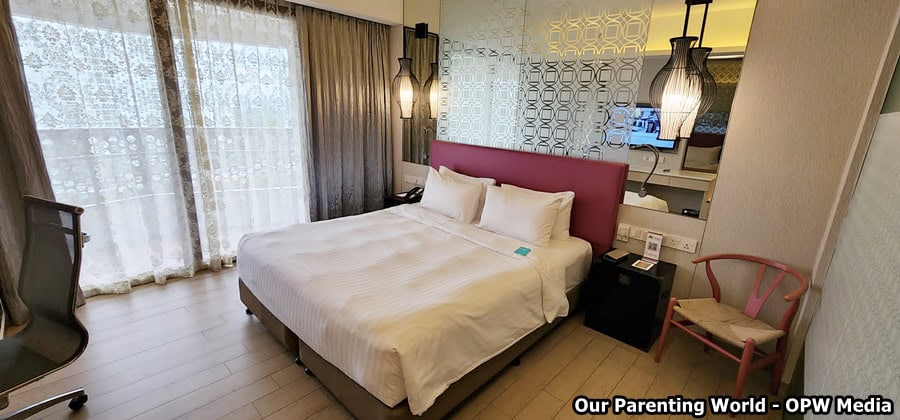 Parents' room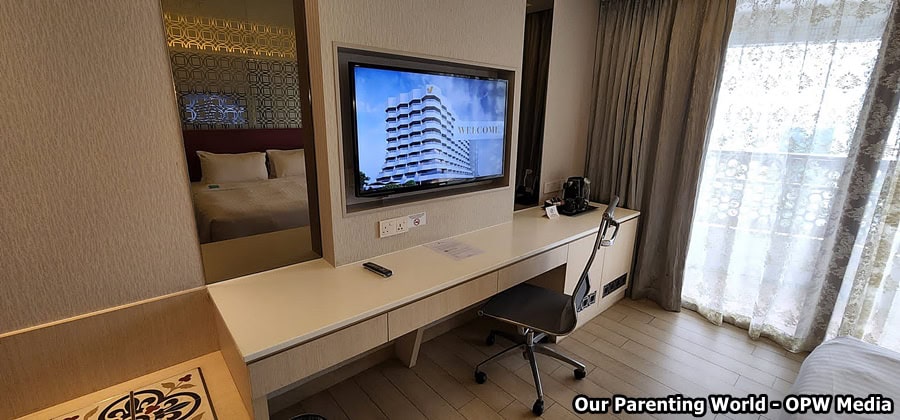 Huge TV and spacious workstation with complimentary Wi-Fi and in-room entertainment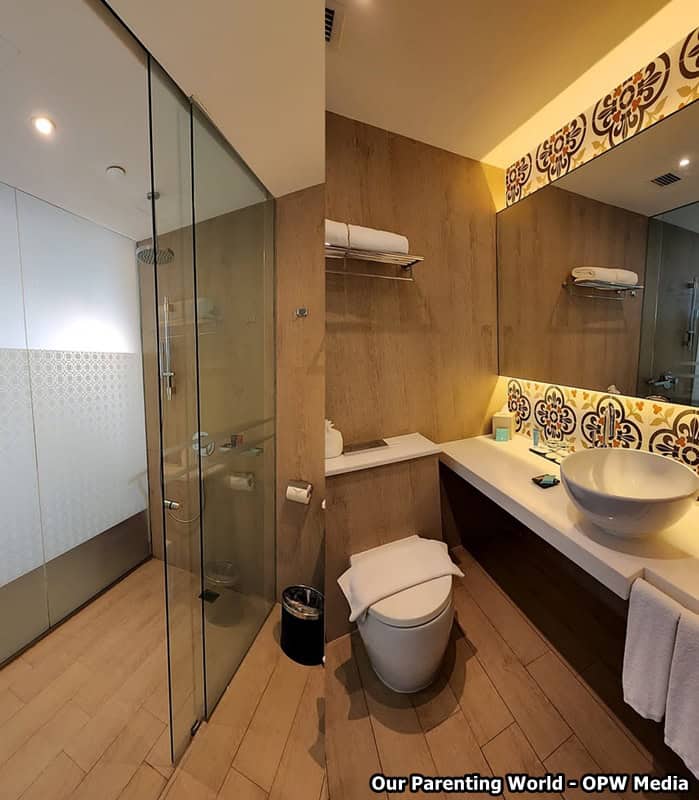 Spacious bathroom with Rain shower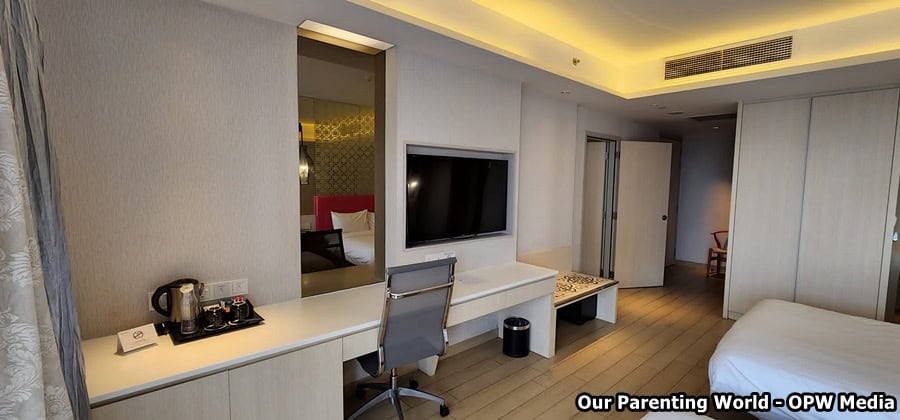 Connecting the parents' and the kids' rooms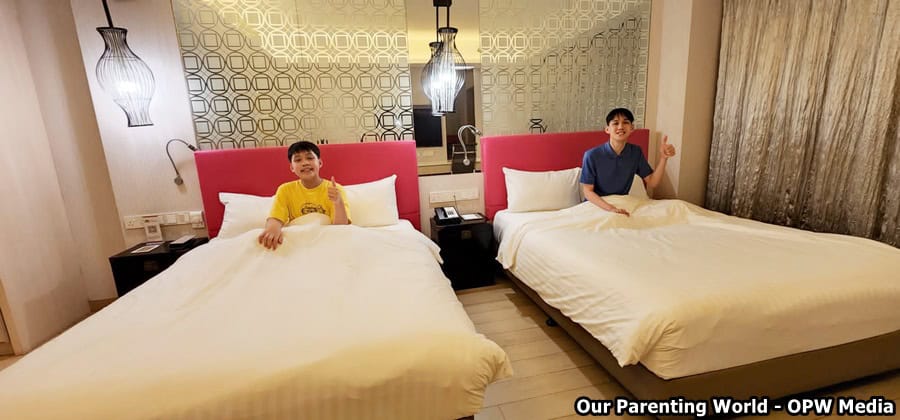 The kids love their rooms. The beds are so spacious and comfortable
We were so excited! We can't wait to check out our rooms at Village Hotel Katong and yes, we were so impressed upon entering our rooms! The rooms are huge, airy and very cosy with beautiful and stylish Peranakan-inspired interior.
For families with children, you can book two adjacent rooms with connecting door, which we find very useful as parents and children can have their own rooms for privacy and the connecting door resembles an apartment with 2 rooms. 
The bathrooms for both rooms are big enough for us to move around comfortably and come with stylish motif, high quality bathroom fixtures, essential amenities and great rain showers for us to have a good, relaxing bath.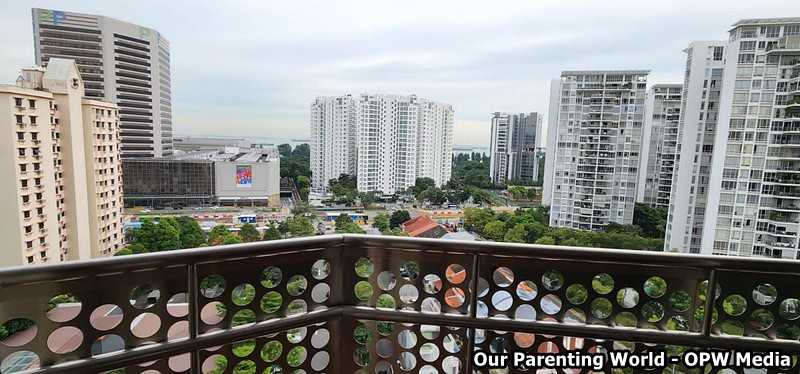 Accessible balcony for both rooms
There is even a sea view from our rooms as our rooms are located at level 12 of the hotel. The balcony is spacious for us to sit, chill and enjoy the view together.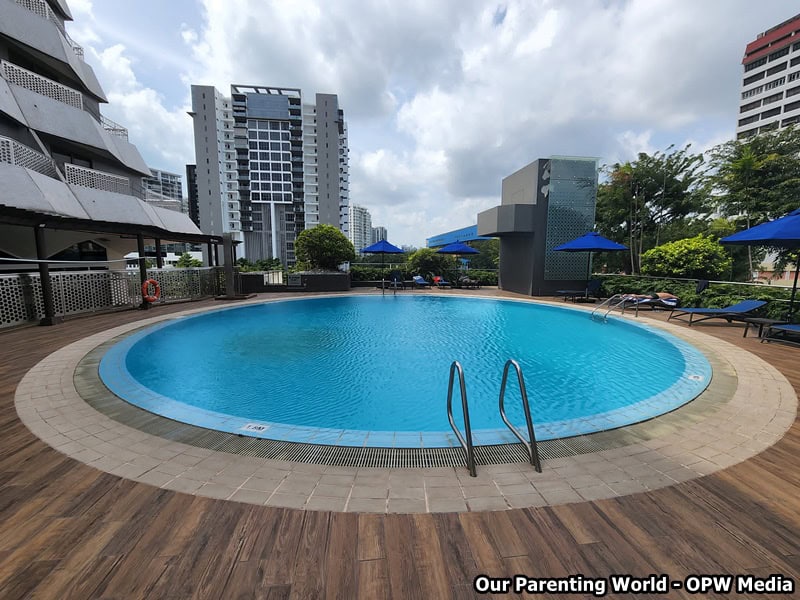 Outdoor Swimming Pool – Relax and enjoy swimming at the hotel's patio-style pool and chill at the deck loungers, parasols, opens daily from 7am to 10pm. Pool towels and botted water are provided.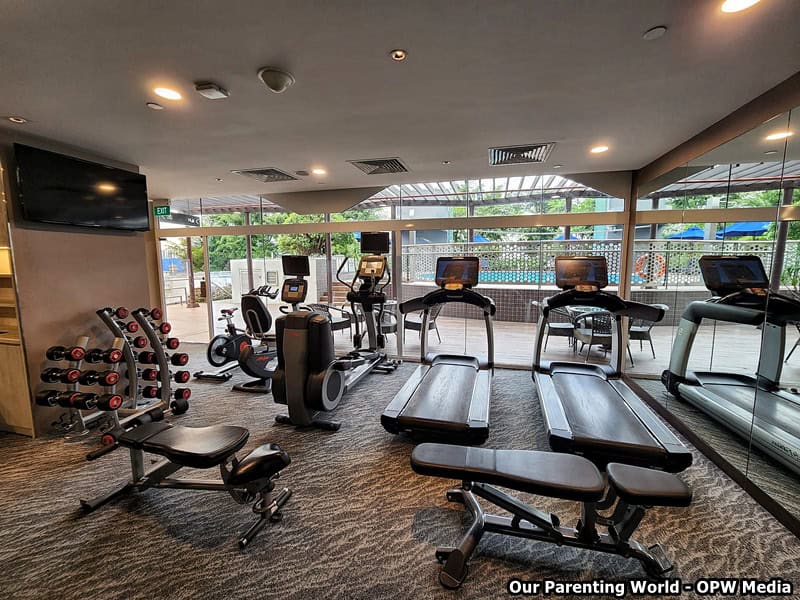 Gymnasium – Stay fit and exercise at the well-equipped hotel's gym with the latest fitness equipment, opens 24 hours daily.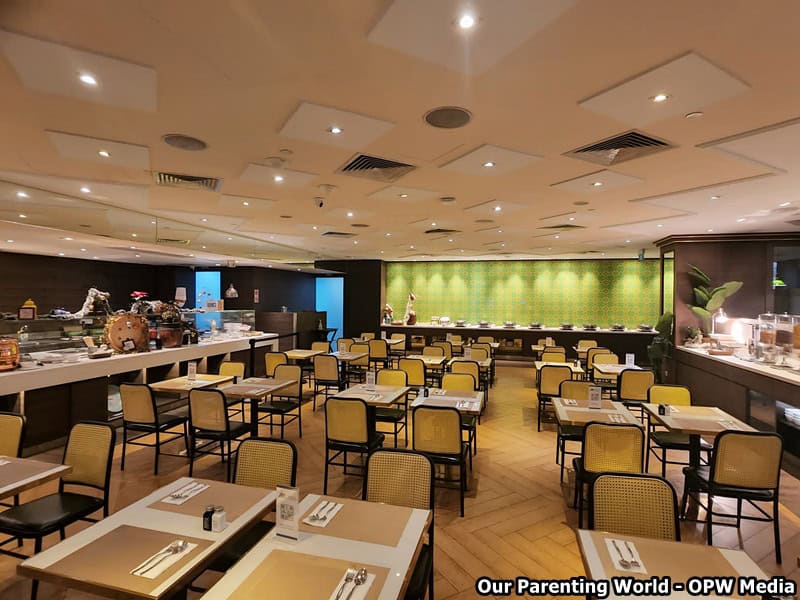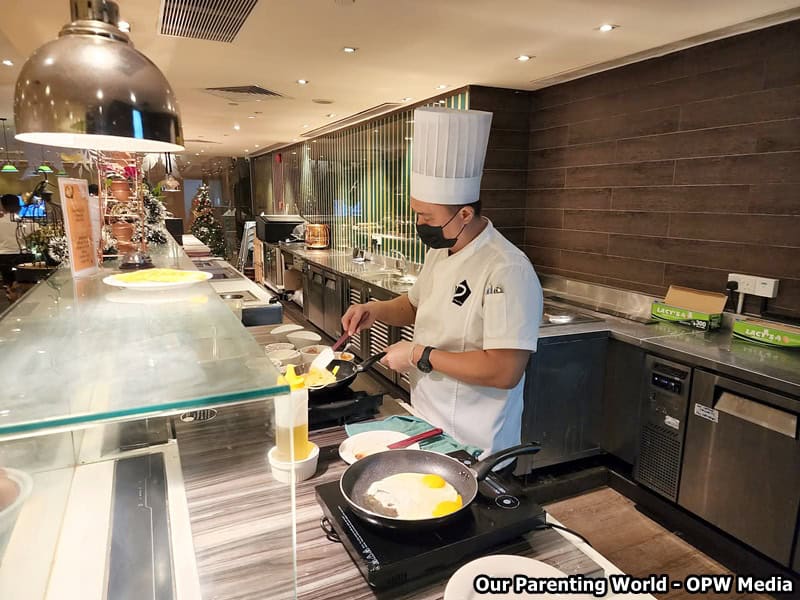 Rise and Shine! Breakfast is served from 7am to 10am at the hotel's restaurant at Level 4, which is also the same level as the outdoor swimming pool and gymnasium.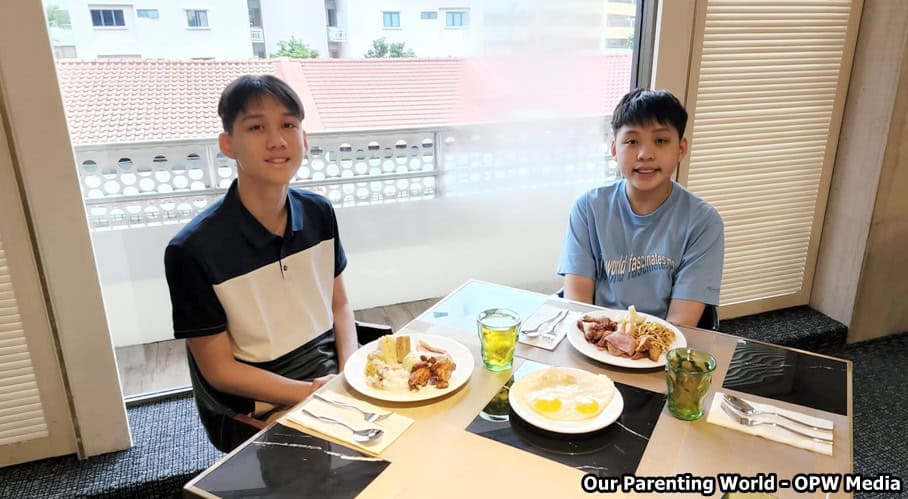 The breakfast buffet has a good variety of Asian food like dim sum, porridge, fried noodles and Western food like ham, fried chicken, sausages etc. There is even a live egg station where you can order your eggs freshly cooked in different ways, like omelette, sunny side up etc. We enjoyed a hearty and delicious breakfast at the hotel's restaurant to kickstart our day!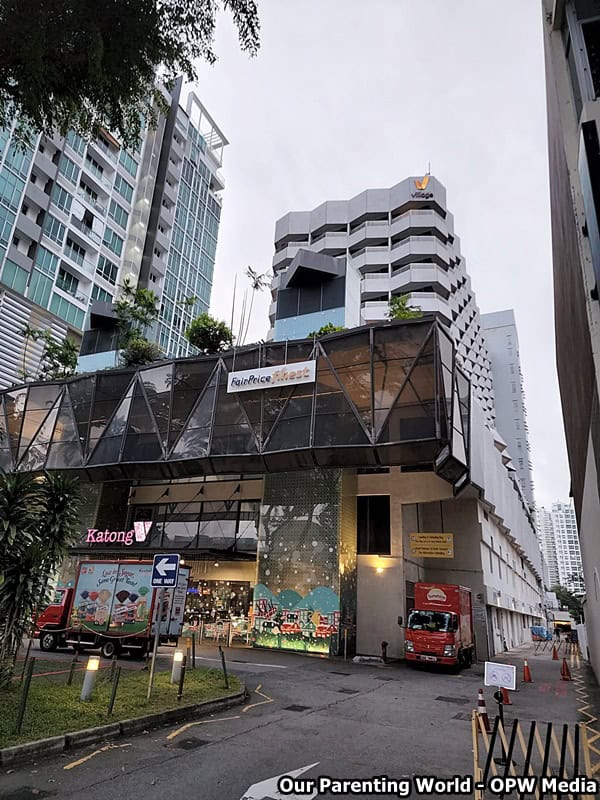 The hotel is connected to Katong V Mall where you can shop, dine and even get your groceries at Fairprice Finest.
The Village Hotel Katong is located right in the heart of the Katong district, with lots of great food options like Katong Laksa and Peranakan food within walking distance of the hotel.
The hotel is connected with Katong V mall, which has Fairprice as one of the anchor tenants. In the mall, there are several cafes and restaurants available, this is very convenient especially during the rainy season if guests do not want to walk out of the hotel for meals.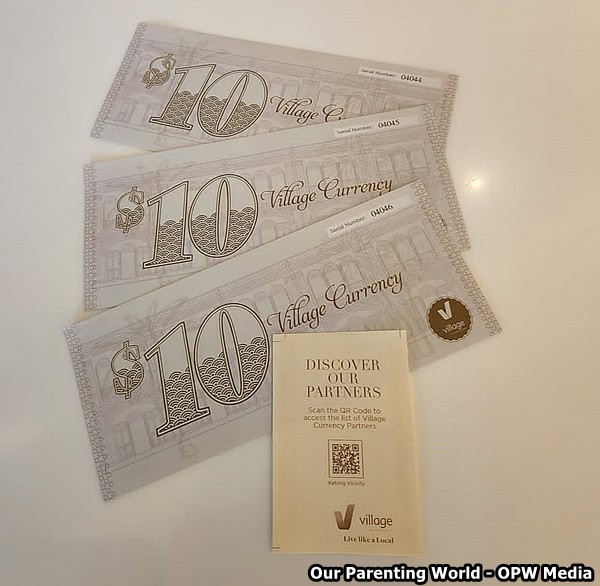 Village Currency (worth $30) for guests to enjoy dining and other privileges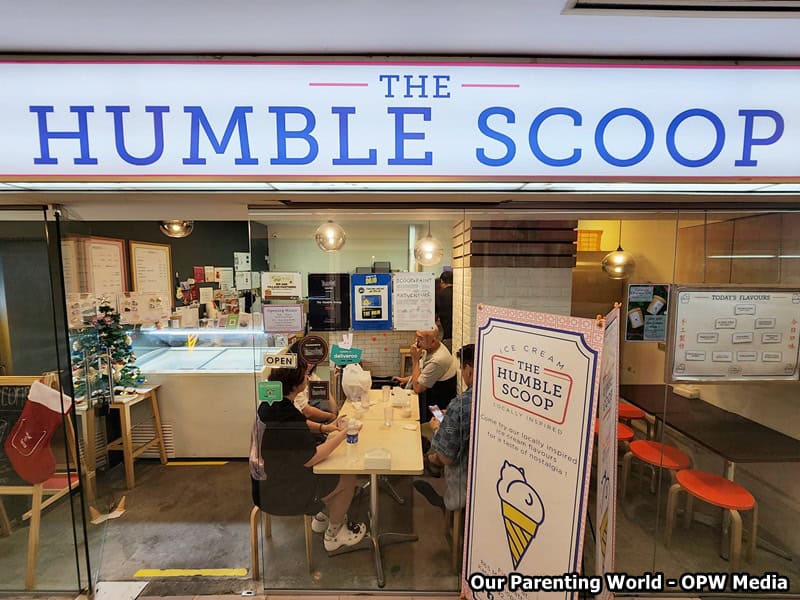 The Humble Scoop café at the Katong Shopping Centre
As part of Village Hotels' ongoing efforts to support local communities in the area, guests will be rewarded with Village Currency (worth $30) to enjoy dining and other privileges for each room booked and these vouchers can be used like cash at some of their partner establishments.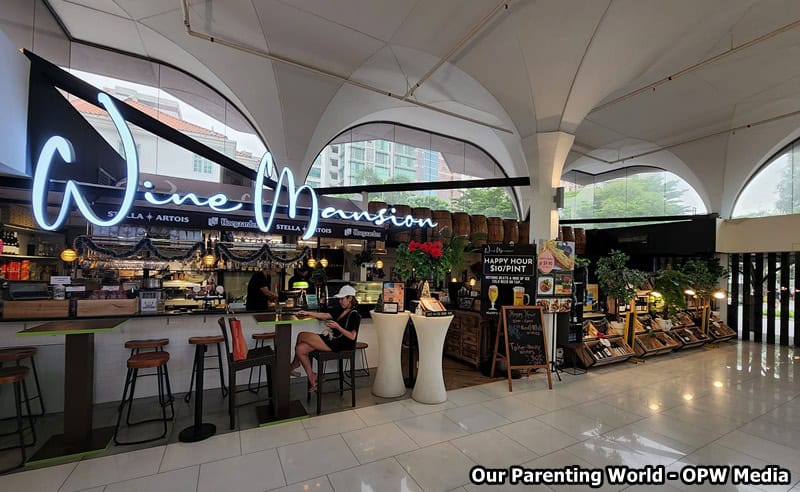 Wine Mansion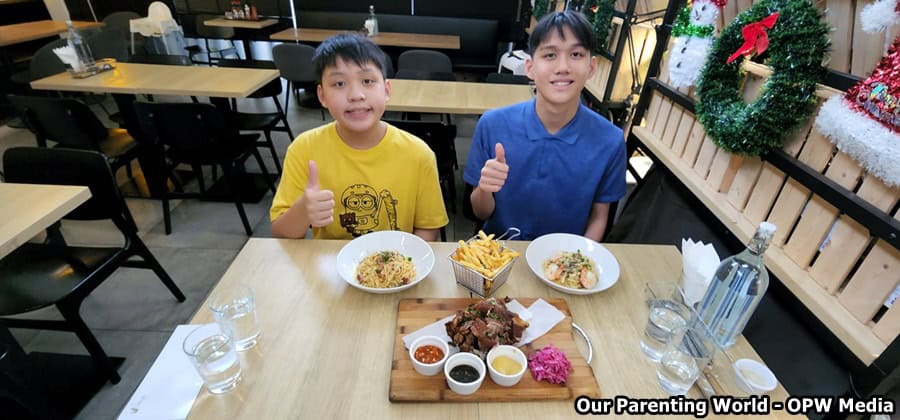 Their partner establishments include places such as The Humble Scoop, Wine Mansion, 328 Katong Laksa. Some of these establishments even offer additional discounts from the normal price if guests use the Village Currency to pay for their food or products. In addition to the currency vouchers, each room has a complimentary waffle with one scoop of ice-cream, redeemable at The Humble Scoop café located at the Katong Shopping Centre near the hotel.
Overall, it has been a fun and enriching experience staying at Village Hotel Katong, not just staying in the hotel, but also enjoying the privileges provided by the hotel though the use of the complimentary Village Currency as hotel guests. Village Hotel Katong is certainly one of the best family-friendly staycations in Singapore for families to relax, bond and have a great time together! 
Now is the good time to visit Village Hotels! Experience the Discovery Package when you book the Deluxe Room at Village Hotels through Village Hotels and Residences, Far East Hospitality, or overseas travel agents' online platform.
The Discovery Package is priced at S$238 Nett from 1 January 2023, per room per night depending on the property selected and it includes:
Complimentary upgrade to the Deluxe Room
Breakfast for two adults
Complimentary late check-out at 3pm
SGD30 NETT Village Currency per stay (Click here for their partners' list)
Complimentary desserts
Village Passport with local recommendations
Interactive LocoMole Precinct Trail
Participating Village Hotels: Albert Court, Bugis, Changi and Katong
Book Period: From now till 30 December 2023
Stay Period: From now till 30 December 2023
To find out more and for booking, please visit https://www.villagehotels.asia/en/deals/Discovery-Package
Follow Village Hotels & Residences on Social Media:
Facebook: www.facebook.com/StayVillage
Instagram: www.instagram.com/StayVillage