F&N has partnered the renowned Raisio Group from Finland to launch VITAPLUS Benecol® in Singapore. F&N has been at the forefront of advocating the importance of living a healthy lifestyle and Benecol® is a globally well-known cholesterol-lowering functional food brand owned by the Raisio Group of Finland. Benecol® products have been launched in almost 30 countries on five continents. 
Plant stanol ester which is the key active ingredient in all Benecol® products, was acknowledged as one of the ten greatest discoveries in nutrition. According to leading nutritional researchers, plant stanols are among the few nutritional components that can truly lower cholesterol, a risk factor for coronary heart disease. There are more than 80 independent clinical studies published in scientific peer-review papers offering evidence that plant stanol ester, the active ingredient in VITAPLUS Benecol®, can reduce cholesterol. While plant stanols can be found naturally in some edible plants, mainly in grains but also in corn, fruits and vegetables, most of these foods contain only trace amounts of it, which means one would have to consume massive amounts to have any effect on cholesterol levels.
Plant stanols reduce the absorption of cholesterol in the digestive tract and this leads to a reduction in LDL cholesterol. The unique plant stanols in VITAPLUS Benecol® partially block cholesterol, both cholesterol entering the digestive tract with the bile solution and the cholesterol in the consumed food, from entering into the blood.
Each bottle of VITAPLUS Benecol® delivers 2g plant stanols which have been shown to reduce cholesterol, when consumed with a meal. This is supported by studies which have shown that plant stanols in VITAPLUS Benecol®products have the greatest effect on lowering cholesterol when consumed with meals rather than on an empty stomach. This means that individuals now have an additional choice beyond a recommended diet and an effective means to lower elevated total or low-density lipoprotein (LDL) cholesterol levels. The recommendation for optimal lowering of cholesterol is one bottle of VITAPLUS Benecol® to be consumed with a meal every day.
Benecol® products with added plant stanols have a history of safe use since 1995. This is backed by clinical studies, including studies on long-term effects of plant stanol esters conducted for 12 and 18 months durations. Specific safety studies with plant stanol esters have confirmed the safety of this ingredient. Plant stanols are virtually not absorbed into the body. They are excreted rapidly in their intact, unchanged form. 
VITAPLUS Benecol® is dairy and preservative free and halal certified. It does not have any added sugar and comes in two flavours, Strawberry and Orange. VITAPLUS Benecol® Orange is suited for vegetarians and is also vegan friendly. The product should be stored in the fridge between 2 and 5 degrees Celsius and should not be frozen.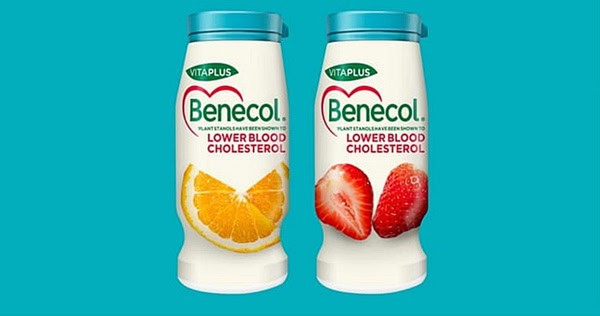 Photo Credits: F&N Foods
VITAPLUS Benecol® is at selected FairPrice stores. VITAPLUS Benecol® is sold in packs of four 70ml bottles, at the Recommended Selling Price of S$7.95.
VITAPLUS Benecol 20-day Challenge
Interested in the VITAPLUS Benecol 20-day challenge?
Purchase 20 bottles of VITAPLUS Benecol from FairPrice and email [email protected] with the following information from now till 31 October 2021:
Last 4 digits of your NRIC/Passport:
A trial voucher that entitles you to ONE cholesterol level check at participating Raffles Medical Clinics will be mailed to you.