If you prefer to have home-cooked meals rather than dining out or take out, WMF has launched the Perfect Premium Pressure Cooker that will help you to whip up delicious, nutritious, healthy and hearty meals while only spending a few minutes putting them together! 
The motto "The perfect meal — one pot and just a few minutes" describes the cooking method of Perfect Premium, perfectly. Pressure cooking can reduce cooking time by up to 70%. A WMF pressure cooker can do in a quarter of an hour what a normal pan needs 40 minutes for — a culinary lifesaver when you're in need of a quick meal. If you're really short of time, even frozen food can be prepared in WMF pressure cookers. From cooking soups and stews to frying or steaming vegetables, fish or poultry, WMF Perfect Premium pressure cooker brings extra zest into the modern kitchen to produce varied delicious dishes in next to no time. Vitamins, minerals and nutrients are largely retained during gentle cooking on a low setting. You can tell by the way the food keeps its colour. Pressure cooker is a versatile all-rounder that you can use to prepare virtually all kinds of food: vegetables, meat and fish, grains, legumes and even brownies and cheesecake. This one-pot wonder can do it all!
We recently attended a fabulous 4 course media lunch at Chef's Table by Chef Stephan Zoisl, best known on the gastronomy scene for his seasonal ingredient-inspired omakase menu.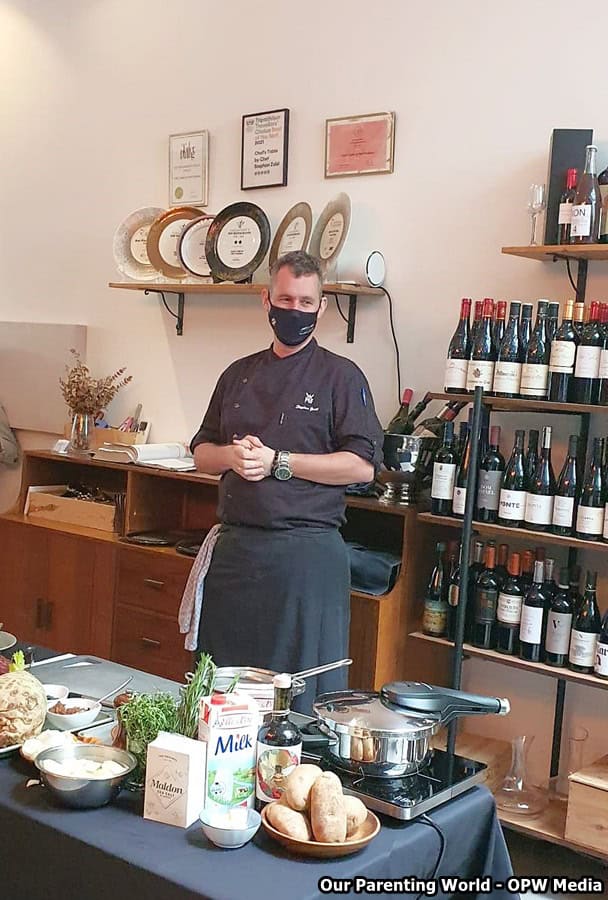 Chef Stephan Zoisl did a demonstration on how we can use the WMF Perfect Premium pressure cooker to prepare the dishes from appetizer to dessert.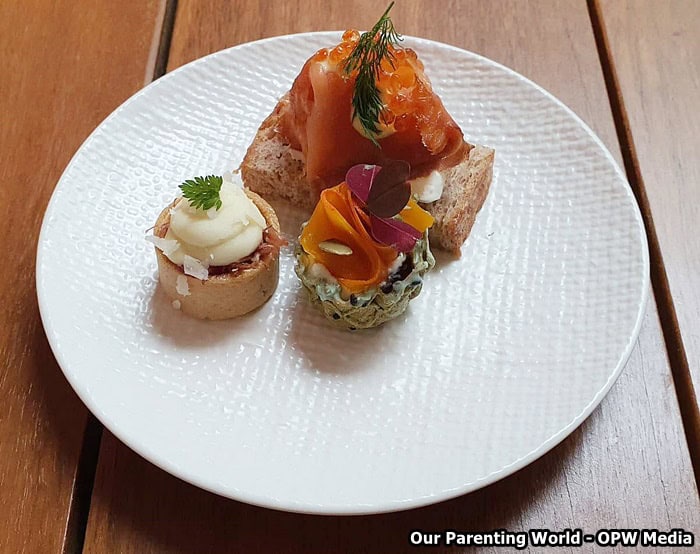 We started off with Canapes consisting of mini Christmas pie, burrata & pumpkin textures, smoked salmon.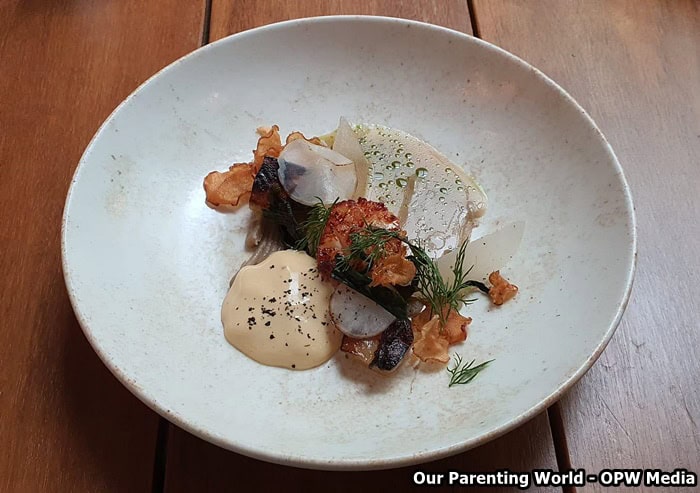 Hokkaido Scallop with Hokkaido scallops, sunchoke, brown butter sabayon, kombu seaweed.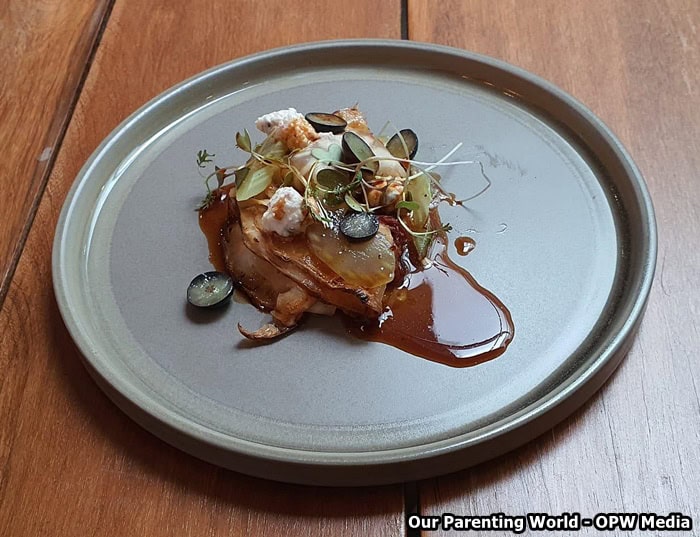 Venison Ossobuco Ravioli consisting of braised venison, ossobuco in whole baked celeriac, spiced ricotta, celery salad, juniper infused venison jus, blueberry.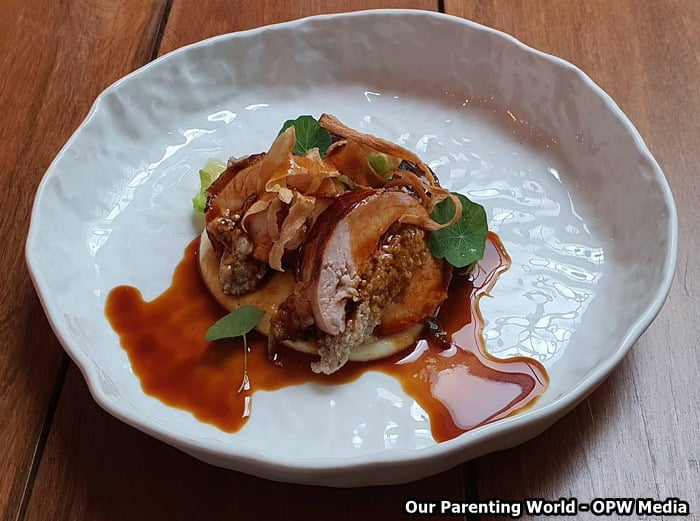 Juicy Turkey with turkey breast wrapped in speck, brussels sprouts & leeks, pommes puree, cabbage with miso, nasturtium leaves.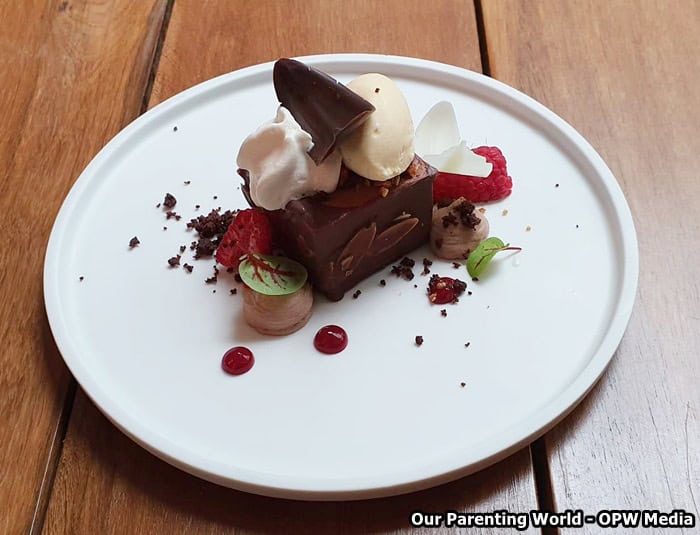 Chocolate & Gingerbread consisting of chocolate gateau, hazelnut, whisky ice cream, gingerbread creme. 
We enjoyed the specially curated Modern European dishes prepared with pressure-cooking techniques. The dishes are so delicious and we are impressed that the dishes can be easily prepared using the WMF Perfect Premium pressure cooker in no time. This is really a time-saving for busy parents and working professionals!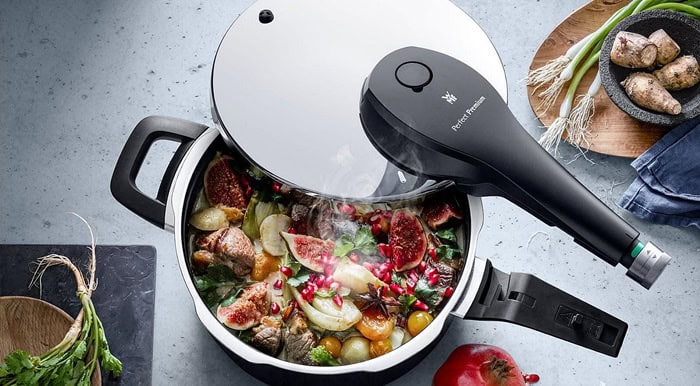 Image credit to WMF
The All-In-One control knob
The handle of the Perfect Premium pressure cooker range – PerfectControl© – houses all the technology, and a practical and intuitive All-In-One control knob that is used to operate the pressure cooker. With one hand, you can open and close the pressure cooker with just a click, choose a cooking setting and release the steam.
Simple and Safe
WMF pressure cooker is easy to use and is safe. Designed with the bayonet lock and positioning aid, it will be firmly locked and sealed airtight to reliably build up pressure inside the pot to cook at high heat and extreme pressure. WMF pressure cooker can only be opened once the cooking time is over, and the pot is completely depressurised. Whether you're new to the kitchen or a seasoned chef, rest assured that the WMF Perfect Premium pressure cooker has been continuously tried and tested since 1927.
WMF Perfect Premium Pressure Cooker With PerfectControl© Handle – The one-pot wonder that can do it all! WMF is retailing the Perfect Premium Pressure Cooker starting from $499.00 online at Lazada and Shopee, and in-stores at Takashimaya, Metro, BHG, TANGS, OG and Isetan.
In addition, check other WMF's cookware and kitchen gadgets to help you in your cooking especially for the coming festive season. These are great as gifts too!
Baric Sommelier set, 5-piece ($209)
Timeless by design, the set consists of a corkscrew, foil cutter, bottle opener, pouring stopper, and bottle stopper. The foil cutter and corkscrew aren't just easy to get a firm grip on; they also help you open a wine bottle clean like a professional — all to preserve the quality of the wine. Cheers!
The sommelier set is also available as a 3-piece set, consisting of a foil cutter, corkscrew, and bottle stopper nestled in a wooden walnut box, at $109 until 25 December (U.P.$149).
KITCHENminis® 2-egg cooker ($119)

Boil your eggs exactly as you want them — hard, soft, or anything in between — using the space-efficient mini egg cooker. Built with an integrated measuring mug, add water according to the egg size and how well-cooked you like your eggs. You'll know your eggs are ready when you hear the acoustic signal.
The Baric Sommelier set, KITCHENminis® 2-egg cooker, and more are available online at the WMF Official Store on Lazada and Shopee, and in-stores at Takashimaya, Metro, BHG, TANGS, OG and Isetan.
Steak cutlery set, 12-piece ($99)
At Christmas, the spread can be extravagant: WMF Steak cutlery set adds a tasteful touch to the festive table for an authentic steak-eating experience.
Crafted with WMF's Cromargan® 18/10 stainless steel, the steak knives have a specially designed serrated edge to stay sharp for a very long time to cut easily through barbecued meat with a crispy crust. It glides through thick meat like butter. Thanks to Cromargan®, the steak knives and forks are hygienic, acid-resistant, and dishwasher safe. The set comes in a beautiful, gift-ready wooden box for secure, convenient storage.
Clever & More bar set, 4-piece ($119)
After eating one's fill, it's officially cocktail o'clock, with WMF's cocktail bar set to round off the festive menu. The exquisite set includes a shaker with an integrated strainer to hold ice and fruit, a cap that doubles as a measuring cup, toothed ice tongs, and a wooden pestle.
When not in use, the stunning pieces can be stowed away inside the shaker for clever, space-saving storage.
WMF is available online at the WMF Official Store on Lazada and Shopee, and in-stores at Takashimaya, Metro, BHG, TANGS, OG and Isetan. Festive promos are ongoing until 25 December 2021.
To find out more about WMF, please go to https://www.wmf.sg/