Latte Parents, the official distributor of Doddl and Tidy Tot products in Singapore and Malaysia, is excited to present two highly-anticipated products: the 'Baby Weaning Starter Kit' and 'Junior Mealtime Essentials which were launched on July 1st, 2023, to celebrate National Baby-Led Weaning Day.
Catherine Dodd, the founder of Doddl in 2013, completely transformed children's cutlery based on her own experiences and unwavering determination. Motivated by a desire to foster independence, provide optimal support during every child's weaning process, and simplify the lives of parents, Catherine created something extraordinary. After a decade, Doddl has amassed over 10,000 5-star reviews from satisfied parents and received numerous prestigious accolades, including the recent significant achievement of winning the King's Award for Enterprise in Innovation.
Jennifer, a determined mother, established Tidy Tot with a mission to address the challenges of weaning using innovative solutions. Starting with a modest prototype made from chopsticks and muslin square, Tidy Tot has evolved into a successful global enterprise. Their range of acclaimed bibs, wash mitts, and snack bags offer practical and mess-free options, enabling children to freely explore and relish their meals while simultaneously simplifying the lives of parents.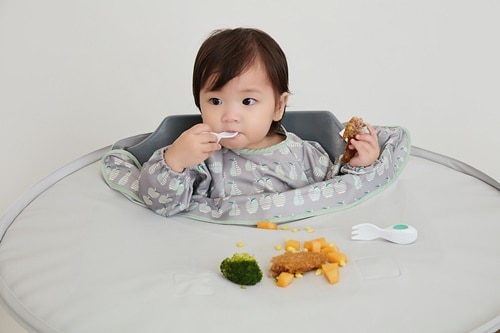 Baby Weaning Starter Kit SGD 77 (Regular Price: $90.80):
1) Doddl's Baby Cutlery Set: A certified safe, and expertly designed cutlery set to facilitate your baby's mealtime adventures, encouraging self-feeding and exploration of foods.
Review: As parents, the Doddl's Baby Cutlery Set, has been a game-changer for us. First and foremost, safety is a top priority for us, and this certified safe cutlery set gives us a peace of mind. It is expertly designed to meet the needs of babies over six months old, ensuring a safe and comfortable feeding experience. The set includes a spoon, fork, and a convenient case, making it perfect for meals on the go.
What sets this cutlery set apart is its focus on promoting coordination and cutlery skills with both hands. The short, ergonomic handles are designed to help our little one to develop a basic palmer grip, an essential milestone for their motor skills. The incorporation of soft touch areas also aids in the development of a more advanced pincer grip, which is crucial for their independent feeding journey. The ends of the cutlery are smooth, providing a comfortable experience for our baby. This feature ensures that mealtime is associated with positive feelings and builds a healthy relationship with cutlery. It's wonderful to see our little one exploring different textures and tastes while enjoying their meals.
Doddl's Baby Cutlery Set has been particularly helpful during our baby-led weaning journey. It encourages our baby to independently explore foods, fostering their curiosity and self-feeding skills. The set is perfectly suited for their little hands, allowing them to grasp and manipulate the cutlery confidently.
2) Tidy Tot's Bib & Tray: A revolutionary kit offering complete protection for your baby during weaning, keeping them and their surroundings clean and mess-free.
Review: The Tidy Tot's Bib & Tray is a revolutionary solution for parents navigating the messy world of weaning. Its thoughtful design includes a long-sleeve, coverall bib that attaches securely to the tray, leaving no gaps for food to escape onto the baby's lap or clothes. The bib provides excellent coverage, protecting the baby from head to toe, and is easy to clean. The food-safe tray is spacious, preventing items from falling onto the floor and accommodating various weaning methods, including baby-led weaning. It promotes self-feeding skills, allowing the baby to explore and discover food independently.
One of the standout features of the Tidy Tot's Bib & Tray is the convenience it offers to parents. It significantly reduces the time and effort spent on washing and cleaning up after each meal. With this kit, mothers can focus on enjoying precious moments with their babies rather than constantly stressing about the mess. The kit's efficiency in containing spills and preventing food from falling onto the floor brings convenience and peace of mind to both baby and parent.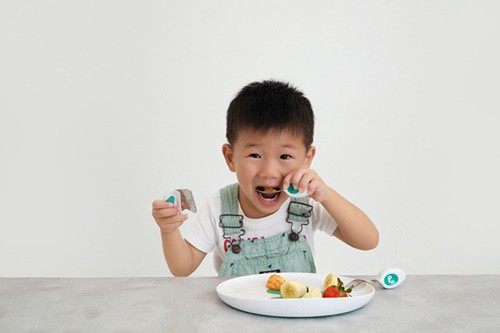 Junior Mealtime Essentials SGD 65 (Regular Price: $76.70):
1) Doddl Toddler Spoon, Fork & Knife Cutlery Set: Meticulously designed to make self-feeding a breeze for children aged 12 months and above, promoting confidence and independence.
Review: As a mother, finding the right cutlery set for my toddler has been quite a challenge. That's why I was thrilled to discover the Doddl Toddler Spoon, Fork & Knife Cutlery Set. From the moment I introduced it to my 12-month-old, it revolutionised our self-feeding experience. The meticulous design of this set truly stands out, providing an ergonomic and comfortable grip for my little one. The soft-touch areas and expertly crafted elements promote finger coordination and enhance the pincer grip, an essential motor skill for self-feeding. 
What sets the Doddl cutlery set apart is its exceptional attention to detail especially the knife. With its unique design, my child has effortlessly mastered the art of chopping. It's truly remarkable to see my little one gain confidence and independence at such a young age. The certified safety and endorsement from experts provide peace of mind, knowing that I'm using a product that has been thoroughly tested and approved. Doddl has empowered my child to take charge of their meals, fostering a sense of accomplishment and a positive attitude towards food.
The Doddl Toddler Spoon, Fork & Knife Cutlery Set has truly been a blessing in our household. Not only does it make self-feeding easier, but it also fosters a sense of autonomy for my child. The well-thought-out design and superior quality of the set have exceeded my expectations. As a mother, seeing my little one confidently and independently feeding themselves is a joyous sight. Doddl has undoubtedly become an essential tool in our kitchen, not only making mealtime a breeze but also supporting my child's development along the way.
2) Doddl Children's Plate: Transitioning to a 'grown-up' plate made easy with this practical and environmentally friendly option.
Review: The Doddl Children's Plate has made transitioning from a bowl to a plate effortless for our child. Its gentle curve keeps food neatly contained, while the lower front and sides allow easy access for cutlery. This design promotes independent eating and fine motor skills development, giving us peace of mind during mealtime.
The plate's practical features are exceptional. The non-slip base ensures stability, minimising spills and accidents. It's especially helpful for children learning to use utensils. The eye-catching splat design adds a fun element to meals, capturing our child's attention and making eating an enjoyable experience.
The Doddl Children's Plate is also environmentally friendly. It's biodegradable and dishwasher safe, reducing our environmental impact. The plate's durability and easy cleaning make it a convenient choice for busy parents. Overall, it provides functionality, style, and peace of mind during mealtimes.
3) Doddl Children's Cutlery Case: A functional and stylish case to keep your child's cutlery safe and easily accessible on the go.
Review: The Doddl Children's Cutlery Case is a must-have for on-the-go parents. It is specifically designed to perfectly fit Doddl's spoon, fork, and knife set or the spoon and fork set, ensuring a secure fit and preventing any loose cutlery from causing damage or mess in your bag. The sleek and stylish design adds a touch of sophistication to our child's mealtime setup.
Practicality is a key feature of this case. It is incredibly easy to clean and dishwasher safe, saving valuable time and effort for busy moms. The case's durability withstands daily use and accidental drops, maintaining its reliability over time. Additionally, the handy clip allows you to attach the case to any bag or backpack, ensuring that our child's cutlery is always within reach and eliminating the hassle of searching through a cluttered bag.
The Doddl Children's Cutlery Case also prioritises safety and hygiene. It effectively protects the utensils from cross-contamination by separating them from other items in your bag. This feature gives parents peace of mind, knowing that their child's cutlery remains clean and safe to use, even when on the go.
Latte Parents provides shipping services to Singapore, Malaysia, Indonesia, Thailand, Vietnam, and South Korea. If your order exceeds $60, shipping to Singapore will be free of charge. For Malaysia, Indonesia, and South Korea, there is a fixed international delivery fee ranging from $6 to $9, which can be estimated by adding items to your cart. All orders are typically processed within 1-2 working days, excluding weekends. If you require urgent delivery, you can inquire about same-day delivery with our express courier partner, subject to an additional fee. If you reside in a different country, please contact Latte Parents to explore shipping options ([email protected]). 
To find out more and stay informed about exciting news and updates, please follow @latteparents and @doddl.sgmy on Instagram. For convenient shopping, explore Doddl's offerings here and Tidy Tot's products here. 
Explore the range of baby weaning, educational play, and essential baby products available on Latte Parents' website.