Are you experiencing skin irritation or flare-ups? Ever since the pandemic had started in 2020, there has been an increase in skin-related problems such as dryness and sensitivity due to routines in the new norm like mask-wearing, for instance, has exacerbated skin irritation symptoms.
Introducing BELVEA, the local clinical skincare brand has just the right solutions, especially for the elderly and children with sensitive skin. BELVEA thrives in helping its customers to alleviate their symptoms of sensitive skin through its affordable and simple clinical dermatology range. This range (that consists of a wash and a moisturiser) is not only 30% – 40% lower in price point as compared to similar brands in the market, but is also formulated with simple and low-irritation-index ingredients, ensuring that consumers are reaping the benefits of the essential ingredients, without potentially harmful enhancers like fragrances and colouring that can be easily found in similar skincare products.
We have Mitch Loo, Managing Director of Capsule Pharma (BELVEA) to share with us more about BELVEA clinical dermatology range as follows: 
1. What really is "low-irritation-index", and how does it play a part in affecting or triggering the sensitivity of the skin?
The raw material used in the formulation of cosmetics are ranked for skin irritation potential, on the basis of a 'primary irritation index'. The higher the irritation potential of a chemical, the higher it will rank on the "primary irritation index".
In the formulation of BELVEA's skincare range, we pay attention to the ingredient's irritation index score and select a combination of ingredients that are known to be "lower" in the "primary irritation index", for our formulations. With the use of lower sensitivity ingredients, therefore, the final product's incidence of skin sensitivity would be greatly reduced. Do note that, we do not claim our products are irritation-free because even the mildest ingredients, there will still be users who can develop sensitivity towards them.
2. What are the challenges involved when it comes to formulating simple clinical products using simple ingredients with low-irritation-index?
There are a whole host of factors to consider when developing any product. Factors such as formulation stability, aesthetics and commercial viability are just a few examples. The challenge would be amplified, when developing products for sensitive skin. Example, one of the bigger challenges was on the masking of the smell of the ingredients. Because we are against the use of fragrance or perfumes in our products, therefore we have to find ingredients that are "mild" in scent, both before and after combining with other ingredients. In cosmetics, the easier way would be, of course, being able to use whatever ingredient combination and mask the final formulation's smell with a perfume. But because perfumes are known irritants, therefore we avoid using them, which leaves us with a challenge of only a limited range of ingredients to choose from.
We attempt to keep our formulations simple with limited number of ingredients because the more ingredients a formulation contains, the higher would be the risk of a user developing skin sensitivity towards the final product. In so doing, we are left with limited alternative options for ingredients, hence we do face the difficulty of containing the final product costing because some of the "lower" sensitivity ingredients tend to be more costly.   
3. How does BELVEA keep its prices at an affordable range compared to other bigger competitors in the market?
In pharmaceuticals and healthcare products manufacturing, the raw materials, which are commonly known as active pharmaceutical ingredients (APIs), are primarily produced in only a handful of countries. Most global manufacturers are procuring the same APIs from possibly the same few suppliers, globally. On the aspect of manufacturing site validations, the manufacturers are governed by the same set of manufacturing guidelines for example Good Manufacturing Practice (GMP), ensuring compliance and consistency in production. So, in a simple analogy, if you procure from the same API manufacturers and produce them under the same GMP conditions, theoretically, the product difference of an identical formulation, will be minimal, regardless of the location of the manufacturing site. It is just like baking a cake. If every ingredient and method of baking is followed precisely, you will have the same identical cake, whether you bake it in Singapore or you bake it in the USA.
This is the logic behind how we address the cost factor in our production. We do our R&D in New Zealand and produce the final product closer to our market. The dermatology range are manufactured in Malaysia under GMP conditions.
We attempt to address two fundamental concerns by shifting the manufacturing site to Malaysia:
1) Lower manufacturing cost with good GMP conditions.
2) Reduction in the carbon footprint of our products, by producing them closer to the consumers.  
Consumers are increasingly becoming aware of the carbon footprint of the products that they use and of course, in recent times; economic challenges brought about by Covid-19, have made cost consideration an important part of the purchase criteria, when making a purchase decision. Of course, the product itself must also be up to the mark, encouraging repeat purchases. We are pleased to see a high rate of repeat purchase for all our products. The BELVEA range came into the market later, therefore it allowed us to understand the shortcomings of some of our competitor's products and building those shortcomings considerations, into our product features. In fact, some of our product features exceeds that of our bigger competitor's products.
Best way to test the pudding, is of course, in the tasting. Give the BELVEA skincare range a try and witness the product in action, for yourself.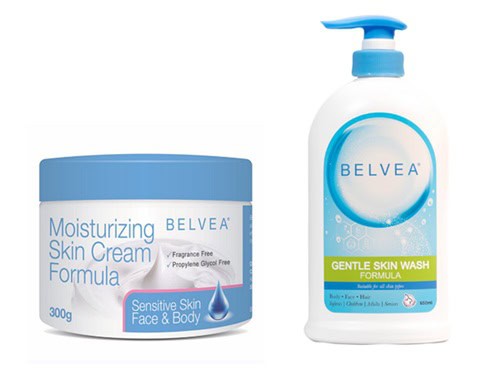 BELVEA Moisturizing Skin Cream Formula (left) and BELVEA Gentle Skin Wash Formula (right)
Image Credit: BELVEA
BELVEA Moisturizing Skin Cream Formula 300g (S$20) contains only six active ingredients without any unnecessarily complex ingredients. The cream forms a humectant effect to prevent moisture loss and hydrate skin. It is best applied on dry and fragile skin after showers whilst skin is still moist, and is suitable for infants, children, adults and seniors. For patients undergoing steroid cream therapies, this cream formulation can be applied as an adjunctive moisturiser in between steroid cream applications.
After applying the BELVEA's Moisturising Skin Cream Formula on our skin, skin looks more hydrated and feels very smooth. It is a really good and effective moisturiser.
BELVEA Gentle Skin Wash Formula 650ml (S$20) is a versatile full-body wash that can be used as a facial wash, body wash and shampoo, those with sensitive skin can count on as it does not contain the common soap agent Sodium Lauryl Sulphate (SLS) which irritates sensitive skin. Unlike other soap-free cleansers, this product lathers well, and at the same time, effectively moisturises the skin.  
We enjoy using the BELVEA's Gentle Skin Wash Formula which is very gentle and does not cause any irritation. A wonderful wash that keeps our skin clean, supple and soft to the touch.
BELVEA is distributed by Capsule Pharma, a licensed pharmaceutical, medical device, cosmetics and healthcare product distributor in Singapore.
BELVEA Moisturizing Skin Cream Formula (S$20) and BELVEA Gentle Skin Wash Formula (S$20) are available for purchase on the e-commerce platforms Shopee, Qoo10 and selected clinics in Singapore.
For more information on BELVEA, please visit http://belvea.com/ or log on to the BELVEA Facebook page at https://www.facebook.com/belvea.