Bosch has launched the new Unlimited 7 Vacuum Cleaner – its most flexible and convenient multi-use handstick vacuum cleaner – enabled by German technology. The new vacuum cleaner enables cordless vacuum cleaning without compromises with more than 99.9% dust pickup.
Now you can say goodbye to dreadful household chores, as they've just become fun and hassle-free with the new Bosch Unlimited 7 Vacuum Series that allows you to keep the house clean and focus on things that matter.

Maximum performance thanks to the battery, motor, and nozzle
In order to achieve outstanding performance, Bosch has focused on the development of the three main performance drivers: battery, motor, and nozzle. Thanks to a reliable and long-lasting Bosch battery, a powerful 66,000 rpm motor, and a motorised nozzle with LEDs, the new Bosch Unlimited 7 is as strong as a corded vacuum cleaner.
The AllFloor DynamicPower Brush has been specifically designed for the Unlimited 7 and enables more than 99.9% dust pickup. Whether tiles, carpets or parquet: The motorised floor nozzle is suitable for all floor types and enables the pickup of 30% more dust from carpets. Integrated floor lights make the dust visible in hard-to-see places or dark corners.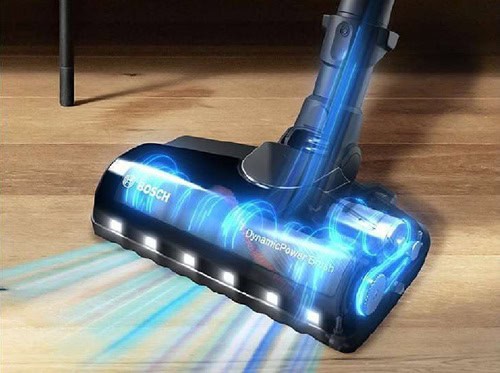 Bosch engineers have created a lightweight, high-performance, and long-life motor that is highly efficient, 21% faster, and 31% lighter. The brushless TurboSpin motor is the result of 80 years of Bosch experience in vacuum cleaner motor development and comes with a free ten-year motor guarantee.
Extendable runtime – thanks to an exchangeable battery pack
A strong motor and optimised nozzle can only contribute to a powerful vacuuming experience if perfectly integrated into a system powered by a high-performance battery. The new 3.0 Ah battery with 20% more energy6 is sufficient to vacuum for up to 40 minutes in one go. Additionally, users can easily extend the runtime by exchanging the battery in seconds. The battery pack is part of Bosch's Power for All battery system.
Power can be intelligently adjusted to consumers' and floors' needs
The new Bosch Unlimited 7 offers a three-step power mode control to cover all cleaning situations. Besides the Eco mode for maximum runtime and extensive cleaning, and the Turbo mode in which the appliance provides maximum power for the most challenging tasks, the Unlimited 7 also offers the Auto mode which automatically adjusts all settings optimally. The device detects the floor type, adjusts the airflow automatically according to the surface, and provides the optimal balance between cleaning power and runtime. No need to manually change between a carpet or hard floor setting anymore.
Effortless cleaning workflow – easy dirt removal in every nook and cranny
Thanks to its extraordinary flexibility and convenience, the new Bosch Unlimited 7 enables an uninterrupted cleaning workflow – whether one needs to reach underneath furniture, switch between floor- and mid-level cleaning or go from floor to overhead vacuuming, for example in the corners of ceilings or on top of picture frames.
● Thanks to the new Flex Tube with 90° bendable hinge, users can reach underneath low-lying furniture without the need to kneel.
● In an instant, one can make use of the Quick Stand and switch easily from floor to mid-level cleaning with the handheld device while the tube and nozzle stand by themselves.
● Simply operating the new Nozzle Foot Release to detach the nozzle makes bending down unnecessary.
● In case one needs to park the appliance during a short break in the cleaning process, the Easy Parking Clip keeps the appliance safely on the back of a chair or the edge of a shelf or table.
Accessories allow flexibility
As there are hard-to-reach spots in every house – be it drawers, bookshelves, or small gaps inside the car – the Unlimited 7 offers different accessories that can be directly attached to the multi-use handstick. With the drawer and keyboard nozzle, for instance, users can pick up fine dust while leaving bigger items like pens and cutlery in place. The long flexible crevice nozzle enables cleaning in narrow gaps behind furniture or heaters, and the flexible extension hose helps to reach hard-to-access spots – not only at home but also inside the car. You can't get more flexible than this.
The new features have been specifically developed to fulfill consumers' needs in every situation relating to the cleaning process. Gone are the times of having to bend down when vacuum cleaning, lifting the device on top of furniture, or not being able to reach that one spot behind the sofa. The Unlimited 7 enables a powerful and convenient cleaning experience with unlimited flexibility, complemented by its ergonomic design and lightweight (handheld = 1.4 kg).
The Unlimited 7 is readily available in Bosch's e-store and all major electronic stores in Singapore from 1 October 2022.
Make use of their exclusive Trade-in Special available only at Courts Megastore, Courts Causeway Point, and Courts Nojima Heeren – trade in any handstick cordless vacuum cleaner to receive a $400 discount off any Unlimited 7 vacuum cleaner and a free quick charger (worth $78). The Unlimited 7 starts from $799 after discount. Promotion ends on 31 October 2022.
Alternatively, check out the Unlimited 7 Launch Promotion applicable to all major retailers to receive a $300 discount and a free quick charger (worth $78) with any purchase of Unlimited 7 vacuum cleaner. The Unlimited 7 starts from $899 after discount. Promotion ends on 31 October 2022.