Disinfection has become an essential part of our lives especially since the global pandemic outbreak and to disinfect effectively is a very important step in protecting and safeguarding our health and well-being. 
In response to this new norm, Taiho Pharma Asia Pacific Pte. Ltd., a subsidiary of Taiho Pharmaceutical, a Japanese pharmaceutical company that researches and develops innovative medicines for the treatment of cancer, is launching Efil, its first-ever consumer household disinfectant product in Singapore this September. "Efil" which is "Life" spelt in reverse, was named with the wish/desire to turn people's lives around. This release marks Efil's inaugural launch outside of Japan. Designed to disinfect and kill 99.9% of bacteria and viruses, including SARS-CoV-2, within seconds, Efil also provides 24-hour protection against bacteria and viruses.
Efil can be used in high-touch areas at home and/or away from home as well as on clothes, bags and face masks. Formulated using an original technology that combines ethanol with silver and zinc ions, Efil provides a powerful germ-isolating barrier that keeps the bacteria and viruses at bay, while continuing to remove germs throughout the day. It is also anti-mold and can be used as a deodoriser.
Developed with a fresh aqua scent, Efil is free of any unpleasant ethanol or chlorinated scent and delivers a germ-eliminating and deodorising effect for carpets, bedding mattresses, towels and more. It is also effective in cleaning kids' items such as baby carriers, strollers, blankets, play mats, and toys that children sleep or play with. Parents are encouraged to sanitise their electronic devices with Efil before handing them to children to play, to minimise any accidental transmissions of harmful elements.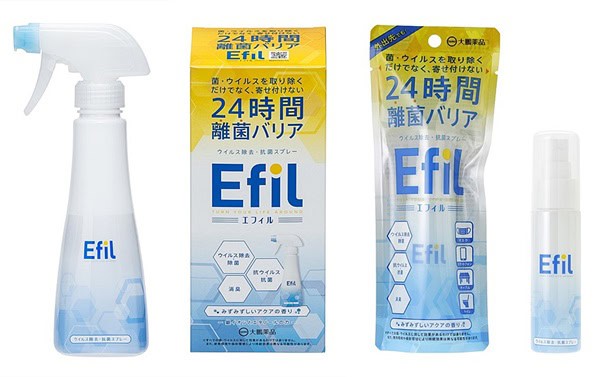 Image credit to Efil
Efil is made in Japan and developed with the promise to "turn your life around". Efil offers a reliable protection against pathogens and is a safe and effective product suitable for everyone. Efil comes in two sizes, a 300ml disinfectant spray bottle suitable for households (S$24.90) and a 50ml travel-friendly spray bottle (S$13.50) that keeps one protected wherever they go.
It is good to have a fast-effective disinfectant spray that works well and able to provide long-lasting protection. Efil comes with the power of ethanol combined with silver and zinc ions to create a 24-hour germ-isolating barrier, is convenient to carry around, and easy to use, just spray especially on frequently touched areas such as door handles, remotes, table tops, kitchen counters etc. to protect against bacteria and viruses. It has no unpleasant odor, and safe to use on cloth and metal products. 
The Efil disinfectant line is available at the following retailers: Efil 50ml (S$13.50) and Efil 300ml (SS$24.90) at all Welcia-BHG stores, Lazada and Shopee. 
Exclusive Promotion: Get 10% off Efil 300ml and 50ml and get a free Efil antibacterial reusable face mask with silver ions (worth $12) with a minimum nett spend of $20 on Efil products. Valid till 30 September, while stocks last! (Terms & Conditions applies)
To find out more about Efil, please visit: https://www.taiho.co.jp/chc/brand/efil/en/