Indulge in a mouth-watering Malay cuisine feast by Executive Chef Chua Yew Hock of Atrium Restaurant and Celebrity Chef Siti Mastura this May and June.
For food enthusiasts and lovers of Malay cuisine, Atrium Restaurant is offering an unparalleled gastronomic experience as Executive Chef Chua Yew Hock, well-known for his culinary skills, has teamed up with renowned Chef Siti Mastura to bring a unique and exquisite Malay cuisine to your table. 
Chef Chua Yew Hock shared that "We were blown away with the food Chef Siti prepared for us at a tasting event. Her Ayam Masak Merah Kerisik has just the right blend of spice, sweet and savoury flavours and as usual, her dessert was the icing on the cake. It combines the sweet, ripe flavour of banana with the rich, caramel-like taste of gula melaka butterscotch. But what sealed the deal was her Lamb Rendang; tender, aromatic and flavourful. It captivated the hearts of many that day and we can't wait to share this delicacy with everyone."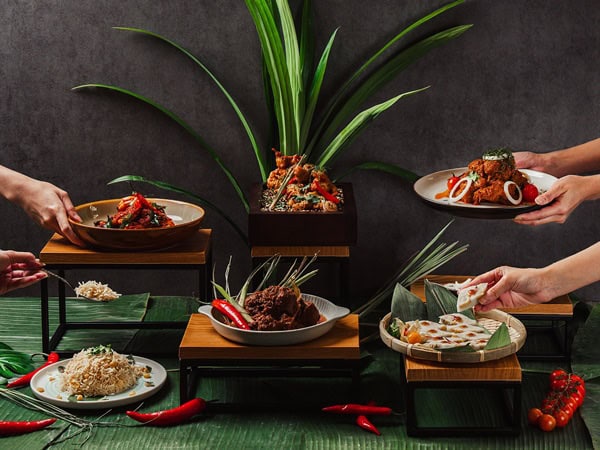 Chef Siti will be presenting 5 stellar dishes which are popular with her family and friends. These delectable dishes are Cucur Udang (Wholemeal Prawn Fritters), Sambal Ikan/Udang Malbari (either prawn or fish), Lamb Rendang, Ayam Masak Merah Kerisik and Banana Nagasari with Gula Melaka Butterscotch.
Chef Siti Mastura shared that "I love sharing good food with friends and family so when Chef Chua brought up the idea of a collaboration, I was elated. It's akin to a Raya open house where everyone can enjoy my signature dishes and a wide variety of restaurant quality food at a spacious hotel restaurant environment."
Chef Siti's spread will be available at the Halal-certified Atrium Restaurant from 2 May to 2 July 2023 as part of its International buffet spread.
Buffet Prices
Date: 2 May – 2 July 2023
Buffet Promotion: 50% off for adults
Price:
• Lunch, 12pm – 3pm (last order: 2:30pm)
• Mon – Fri: $46++ per adult (U.P. $92++) | $25++ per child (6 – 12 y/o)
• Sat – Sun: $49++ per adult (U.P. $98++) | $25++ per child (6 – 12 y/o)
• Dinner, 5.30pm – 9.30pm (last order: 9:00pm)
• Mon – Thurs: $55++ per Adult (U.P. $110++), $30++ per child (6 – 12 y/o)
• Fri – Sun: $60++ per Adult (U.P. $120++), $30++ per child (6 – 12 y/o)
Location: Holiday Inn Singapore Atrium, Level 4
WhatsApp: +65 9114 0258
Tel: +65 3138 2530
Email: [email protected]
For more information on Atrium Restaurant's buffet menu, please go to https://singaporeatrium.holidayinn.com/atrium-restaurant-buffet-details.