Are you thinking of how to keep your kids occupied while staying safe at home especially now as we are facing the Covid-19 outbreak? Decathlon has the perfect solution for you!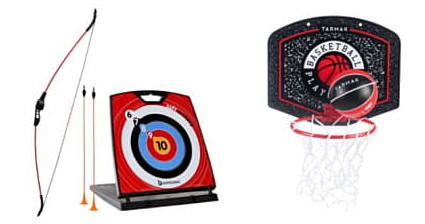 L-R: SOFT ARCHERY ARCHERY SET ($60), KIDS'/ADULT MINI BASKETBALL HOOP SK100 PLAYGROUND ($10)
This is a good time to introduce a variety of sports to your kids! Unleash your child's potential by getting the Archery Set and train the little one to become their favourite characters like Robin Hood and Hawkeye. Archery is not only fun but also helps to improve one's hand-eye coordination, focus and concentration. It could also be a great way to help relieve stress!
Calling all basketball fans! Have you always dream of having the scoring prowess like NBA stars – LeBron James and Stephen Curry? If you do, wait no further! Get your kids started young with our Mini Basketball Hoop!

CAMPING SHELTER – 2 SECONDS ($40)
For adventurous families, satisfy your wanderlust and quell your thirst for adventure by having an indoor camping party with the Camping Shelter! Haul out some camping gears and snacks and spend the night with the kids in the tent. Set up the place with some fairy lights, storybooks, board games and most importantly, camping food like marshmallows, hot dogs, cup noodles and some chips!
L-R: KALEIDOSCOPE VELCRO DARTBOARD ($9), DARTBOARD PLASTIP ($20)
Looking to introduce your kids to the game of darts? Get your hands on the Kaleidoscope Velcro Dartboard for the kiddo and the Dartboard Plastip for the adults. Create some family bonding time with your kids as they safely discover how to throw darts and potentially turn this into a friendly family competition as they master the dart throwing skills.
Decathlon has more than 60 sports to choose from, great for your kids to pick up some new and fun sports for your kids to play while staying safe at home! To find out more and to purchase, please go to Decathlon's website at https://www.decathlon.sg/
In addition for more opportunities to try new sports, check out Decathlon's Sports Fest 2021! From 24 July to 8 August, challenge you and your family to discover new sports with Decathlon's first-ever virtual sports carnival. Every registration entitles you to a free event pack! Decathlon has extended their early bird signup period for Sports Fest 2021 to end on 11 July instead of 30 June. Hurry, don't miss it, sign up now! To register and for more information, please go to https://www.decathlon.sg/content/95-decathlon-sports-fest-2021