Ka Car Hunt 2021 returns this year and has ups the ante on its inaugural run in 2020 with more engagement, higher stakes and more attractive prizes to be won!
The second instalment of the Ka Car Hunt uses the concept of a puzzle in the form of a Ka 4in1 laundry capsule, where participants will collect all 3 pieces of the Ka Puzzle ("A", "B" and "C") between 1 and 27 November, so as to qualify for the Car Hunt finale on 28 November 2021 to search for a mystery car to win the grand prize of a brand-new Mercedes-Benz A-Class Saloon!
Ka Puzzle pieces "A" and "B" are found inside Ka 4in1 laundry capsules tubs that participants can purchase at major retailers such as Cold Storage, Giant, NTUC FairPrice or Sheng Siong. These puzzle pieces give you a chance at instant win of up to $100 gift set!
To encourage stronger consumer engagement, Whealthfields Lohmann (S) is bringing this game into the downtown area and heartlands, where Ka Roadshows will rove across four CapitaLand malls – Bugis Junction, IMM, Junction 8 and Tampines Mall – during the campaign period.
The Ka Roadshows will deploy the claw machines, where participants who present Ka Puzzle pieces "A" & "B" will get two chances to claw for Ka Puzzle piece "C". In addition, participants stand to win the bonus $10,000 cash and other attractive prizes at these claw machines!
With a complete Ka Puzzle comprising pieces "A", "B" and "C", participants can register on the spot at the roadshows to qualify for the final stage of the game – the Ka Car Hunt – where participants embark on a search for a mystery car: the first person who finds it wins the grand prize of a brand-new Mercedes-Benz A-Class Saloon! This event will kick off from 10.00 a.m. on 28 November 2021, when clues on the mystery car's location will be released throughout the day on Ka Singapore Facebook and Instagram pages.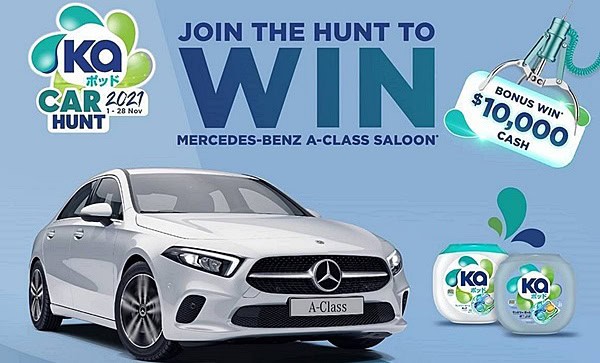 "Ka Car Hunt 2021 is part of our multipronged approach to promote our latest Ka 4in1 Anti-Dust Mite variant. We created this inclusive game that welcomes people from all walks of life to participate with assurance of instant wins. Ultimately, we desire for our fans to embrace Ka as being more than just a household staple, but as a brand that injects fun and convenience into their lives!" enthused Ms Sharie Lim, Head of Singapore, Whealthfields Lohmann (S).
Last year's Ka Car Hunt offered the grand prize of Lexus UX200 Executive and cash prizes for three winners, and garnered an overwhelming response that saw a 10-fold increase in sales – evidenced by the public sweeping away tubs of Ka 4in1 laundry capsules off the racks. In fact, participants requested Ka Singapore to bring back the Hunt this year!
HOW TO PLAY KA CAR HUNT 2021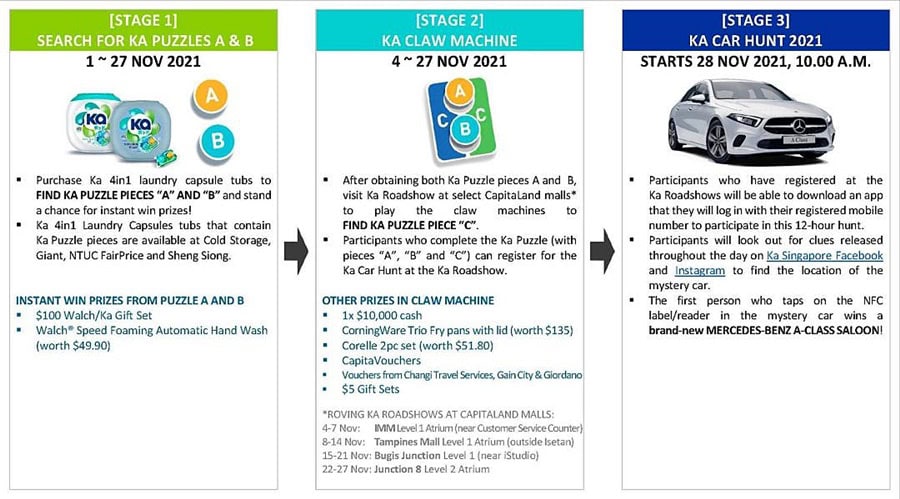 KA 4IN1 ANTI-DUST MITE LAUNDRY CAPSULES
The new Ka 4in1 Anti-dust mite Laundry Capsules ($29.90, 42s) is Japan's No.1 Ultra-Concentrated
Formulation and boasts a wide range of innovative USPs that will help to ease the burden of laundry care at home, making this product an ideal staple to improve the quality of life among consumers leading a busy work life.
The new Ka 4in1 Anti-dust Mite variant offers 99% anti-dust mite and 99.9% anti-bacterial properties, 10x cleaning power, colour protection, softener, sanitiser and deodoriser and, last but not least, compatibility for both top and front load washers.
The Dust-mite Deterrent
Dust mites are known to cause health issues, allergies or respiratory problems, such as runny noses, nasal congestion and red or watery eyes. They are also invisible to the naked eye and therefore not easily detected. As such, Ka 4in1 Anti-Dust Mite Laundry Capsule's 99% anti-dust mite property is perfect for eliminating these pests that bring a host of health problems.
Easy to use
Using a Ka 4in1 Laundry Capsule is easy, convenient and makes laundry life fuss free! Just pop a capsule into the empty washing machine drum, load the laundry, hit wash – you save time from pouring and measuring different detergents and avoid a mess from accidental spillages.
For more information on Ka Singapore online and on social media, please visit the following: 
Instagram: https://www.instagram.com/kasingapore/
Facebook: https://www.facebook.com/KaPodoSingapore
Website: https://shop.wlcentralin.com.sg/
Official Hashtag: #KaSG #KaSingapore #KaCarHunt2021