Netflix recognizes that every family is different. That is why there is a wide variety of kids and family films and TV shows from all over the world on the service. On 8 April 2020, Netflix brings 2 updates to the Kids and Family World: 
UPDATED PARENTAL CONTROLS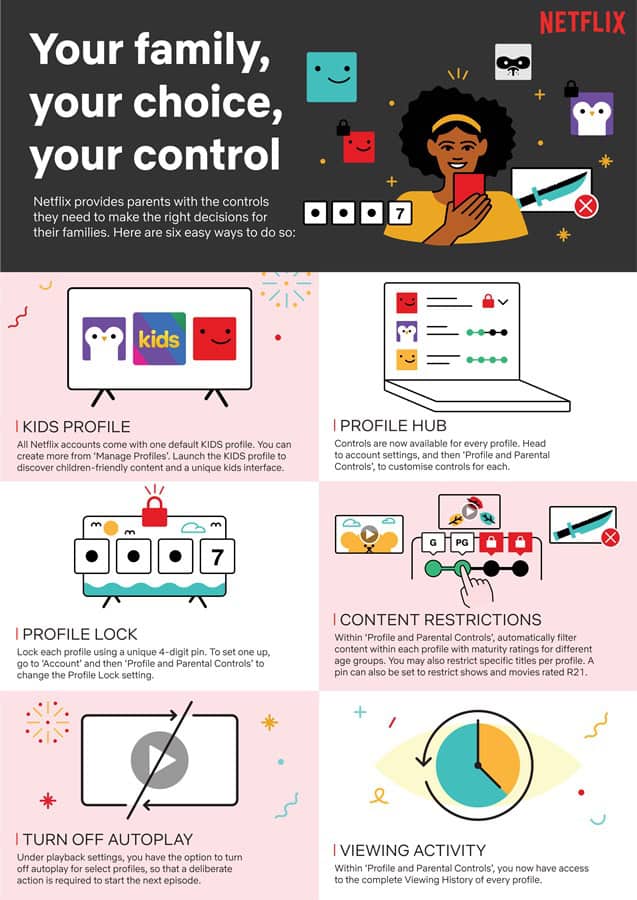 Netflix is updating and improving parental controls, based on feedback from members from 8 April.
Below are a summary of the new updates:
KIDS profile – All Netflix accounts come with one default KIDS profile. You can create more from 'Manage Profiles'. Launch the KIDS profile to discover children-friendly content and a unique kids interface.
Profile hub – Controls are now available for every profile. Head to account settings, and then 'Profile and Parental Controls', to customise controls for each.
Profile lock – Lock each profile using a unique 4-digit pin. To set one up, go to 'Account' and then 'Profile and Parental Controls' to change the Profile Lock setting.
Content restrictions – Within 'Profile and Parental Controls', automatically filter content within each profile with maturity ratings for different age groups. You may also restrict specific titles per profile. A pin can also be set to restrict shows and movies rated R21.
Turn off autoplay – Under playback settings, you have the option to turn off autoplay for select profiles, so that a deliberate action is required to start the next episode.
Viewing Activity – Within 'Profile and Parental Controls', you now have access to the complete Viewing History of every profile. 
Netflix and ViacomCBS International Studios (VIS) announce Sharkdog, an animated series from Singaporean creator Jacinth Tan.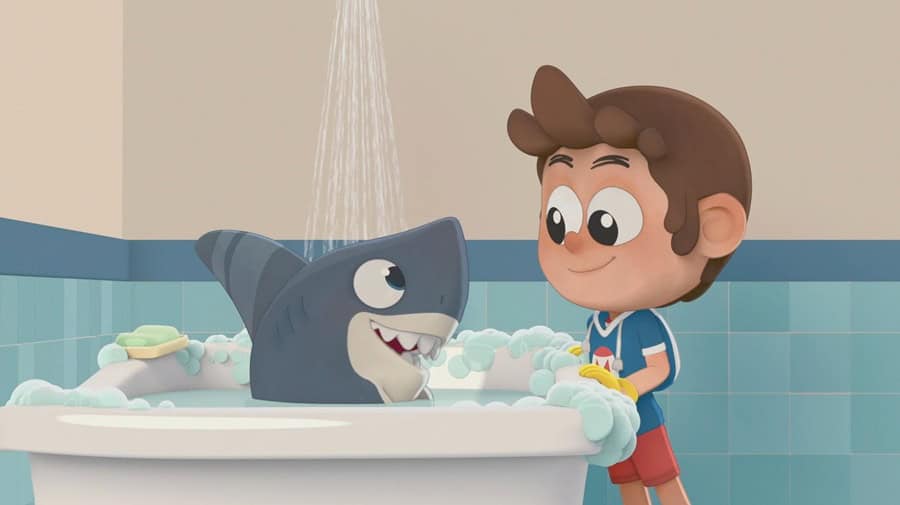 SHARKDOG
The 20 x 7 minute episode animated series is produced by ViacomCBS International Studios, in partnership with Singaporean based CGI animation studio One Animation, and will premiere in 2021. Sharkdog is VIS' first internationally originated global animated series for Netflix. It is also the first animated series from Singapore to come out of Nickelodeon's Global Animated Shorts Program, designed to identify and develop long form original comedy-driven content for kids globally.
Logline: The series follows 10 year old Max and his best friend Sharkdog – half shark, half dog, all appetite. Blissfully unaware of his own strength, stealth and general sharkiness, Sharkdog often leaves a trail of chaos in his wake. But, like all good half-dogs, he's Max's BFF and Max is his.