Get ready for an oinktastic journey with Peppa Pig and her pals! Childhood is a time of imagination, exploration, and endless possibilities. Embark on a journey of imagination and play with Peppa Pig and her delightful playsets!
Introducing Peppa's Cruise Ship, Peppa's Waterpark Playset, and Peppa Pig Peppa's Town Tour Maze – three interactive play companions that will transport your child into a world of endless excitement. But it's not just about the toys; it's about the precious moments shared between parent and child that truly make them shine.
Join Peppa Pig and her friends as they inspire your child's imagination and encourage cooperative play. Let Peppa Pig playsets be your family's choice for creating engaging, laughter-filled memories.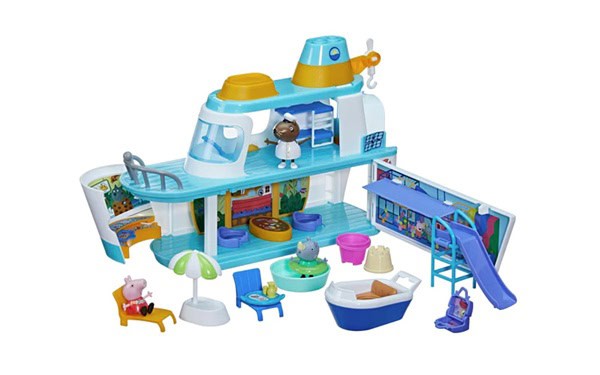 PEPPA'S CRUISE SHIP (RPP $119.90) 
An Oinktastic Gift Idea for preschoolers and Peppa Pig fans ages 3 and up.
• Peppa's going on a cruise! The multi-level toy ship playset opens up to reveal lots of imagination possibilities, with 3 levels, lots of play areas and accessories, and 3 posable figures (Peppa Pig, Rohan Rhino, and Captain Otter)!
• Lots of play areas, with a jungle themed dining room and theater, cafeteria, ball pit play space, working elevator, and sleeping quarters with fold out bunk beds, kids can imagine lots of cruise adventures!
• This Peppa Pig set includes 3 poseable figures, including Peppa Pig, Rohan Rhino, and Captain Otter, and 13 accessories like a pool and lounge chairs, a slide, and a dinghy boat toy that fits a figure add to the storytelling fun.
• The cruise ship folds up to store the figures and accessories inside, and the ship has wheels for on-the-go play.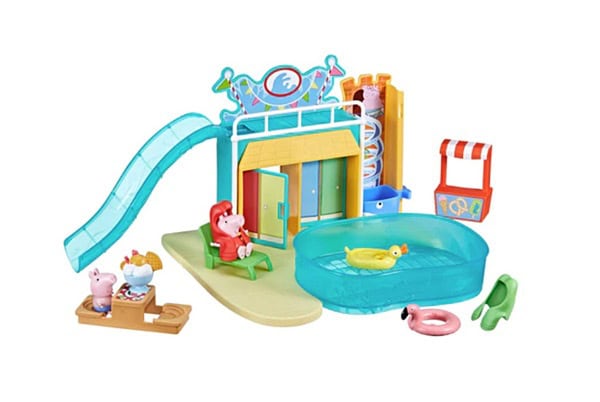 PEPPA'S WATERPARK PLAYSET (RPP $64.90)
• An Oinktastic Gift Idea for preschoolers and Peppa Pig fans ages 3 and up.
• Imagine a day at the waterpark with Peppa! This Peppa Pig toy set includes a 2-sided playset, 2 figures, and lots of waterpark-themed accessories.
• The 2-sided playset has a pool deck, changing room doors, a working whale-shaped elevator, and a slide that comes down from the second floor!
• This Peppa Pig set comes with multiple storytelling accessories such as a pretend pool, lounge chair, concession stand, floaties, a picnic table and pretend sundae, and 2 towels that the figures can wear, with poseable Peppa and George figures ready for waterpark fun in their bathing suits!
Please note that the above 2 products are not intended for water.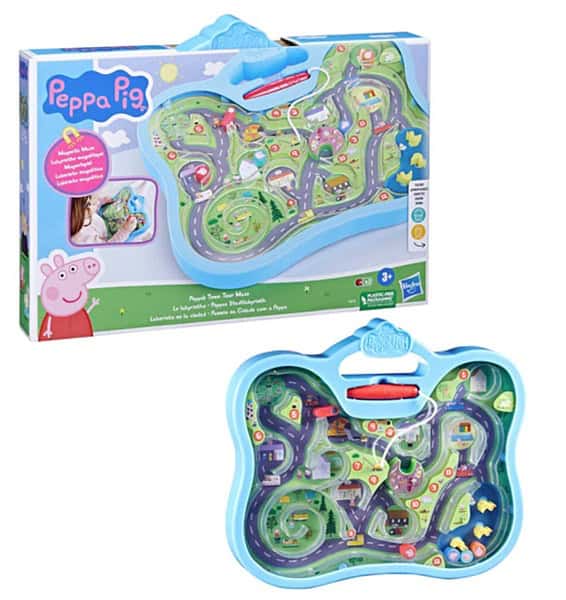 PEPPA TOWN TOUR MAZE (RPP $44.90)
• An Oinktastic Gift Idea for preschoolers and Peppa Pig fans ages 3 and up.
• Explore Peppa's town! Use the stylus to help Peppa Pig and her family find their way around town with this fun magnetic maze toy.
• Start at the Peppa Pig house and visit Peppa's favorite places, including the school, the farm, and the playground! Places are numbered, so kids can practice counting as they go.
• Kids can use the attached stylus to move obstacles out of the way and drag the little magnetic disks featuring Peppa, George, Mummy, and Daddy Pig around the maze.
• Help kids thrive both now and in the future through the power of purposeful play with Peppa Pig! Toys like Town Tour Maze can help teach them about maps, landmarks, and fine motor skills through hands on, wholesomely fun play.
From 12th August – 31st August 2023, head down to Toys'R'Us for Peppa Pig special in-store promotions & take pictures with the life-sized Peppa Pig Cruise Ship exclusively at Vivocity outlet only!
Let your kids imagine and have fun in the cruise ship, one of Peppa's favourite places!
For those prefer to shop online, use the promo code "HASB3051" on the Hasbro Official Shopee store for 30% OFF from now till 31st August 2023.