DoDo's fish balls and fish cakes that boast the nostalgic taste of surimi (fish paste) have always been the perfect companion for steamboat gatherings to the heartwarming taste of grandma's delicious soup. Embarking on a journey into a new era, the beloved household brand is stepping into a new generation. 
Aligned with this year's National Day theme, "Onward as One," DoDo proudly introduces its latest line of products in collaboration with Disney – "Mickey Loves Singapore"! Honoring its origins while embracing innovation, Mickey Loves Singapore showcases a reimagined twist on traditional offerings. This collection presents low-sodium fish balls and crab-flavored sticks, boasting a 25% reduction in salt content compared to other surimi products. Notably, these items contain no added preservatives and have certified as a healthier choice by the Health Promotion Board (HPB).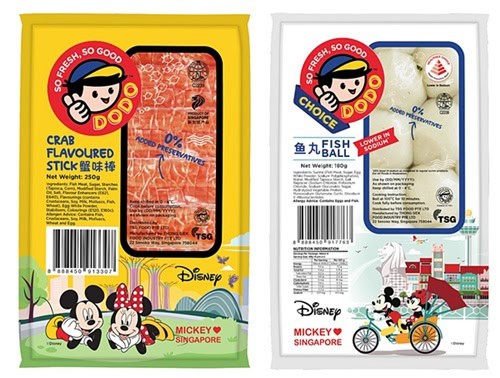 Above: DoDo's Crab Flavoured Sticks and Low-Sodium Fish Balls with the special edition Mickey Loves Singapore packaging. 
This comes as part of DoDo's rebranding strategy to cater to growingly health-conscious consumers and a younger demographic, with a refreshed packaging featuring their new logo and the adorable iconic Mickey Mouse – something for the young and young at heart.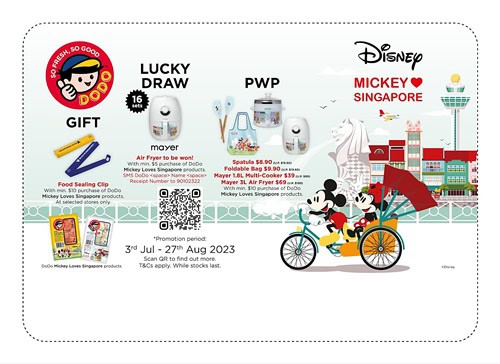 Above: The various promotions for DoDo's Mickey Loves Singapore campaign
Fish ball lovers (and Mickey fans) can expect a jolly month filled with promotions to make every meal magical which include:

Lucky Draw Mechanics: Customers stand a chance to win a Disney X Mayer Air Fryer (worth $199) with a minimum spend of $5 on DoDo Mickey Loves Singapore products.

Purchase With Purchase (PWP) Mechanics: Every $10 spent in a single receipt for DoDo products purchases will entitle shoppers to purchase their limited premium items below:
MLS Spatula at $8.90 (U.P. $18.80)

MLS Foldable Bag at $9.90 (U.P. $19.80)

Disney X Mayer 3L Air Fryer at $39 (U.P. $99)

Disney X Mayer 1.5L Multi-Cooker at $69 (U.P. $199)
Gift with Purchase Mechanics: Spend a minimum of $10 on DoDo MLS products to redeem a free MLS Food Sealing Clip.
We speak to Novelle Lim, CEO of Thong Siek Global to share more about the inspiration for DoDo's latest collaboration with Disney as part of the brand's rebranding strategy, how DoDo aims to stay relevant and appealing to the younger generation and more. Keep reading to find out. 
Interview with Novelle Lim, CEO of Thong Siek Global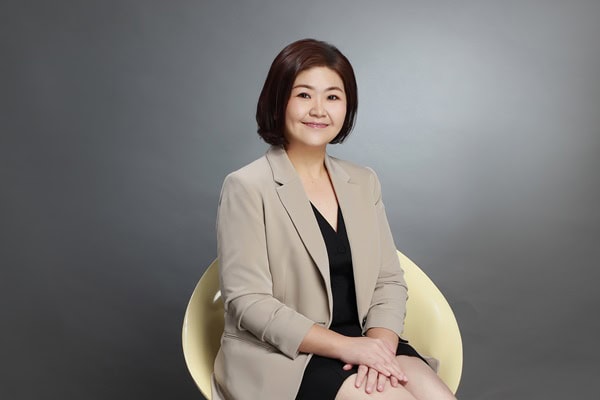 1. Can you share with us the journey of how DoDo evolved from its humble beginnings in 1976 to becoming Singapore's preferred brand of fish balls today? What were some key milestones in this journey?
Novelle Lim: In the beginning, my family was involved in crafting the fish balls in the backyard of our family home in Changi. As time progressed, DoDo evolved into a 150,000 square-foot factory in Senoko Way and another in Malaysia. We now have a workforce of more than 300 employees strong, producing over 60 varieties of surimi(fish)-based products that are distributed globally.
Joining the Neo group in 2015 is one of our biggest milestones. Under Mr Neo's support, Thong Siek grew to become more technologically advanced in our manufacturing processes, allowing us to become who we are today. 
We are also proud to have attained the highest level of AA grade for BRCS certification – a testament to our world class standards in food safety. 
Recently, we also launched our Mickey and DoDo collaboration which our team worked very hard to materialise.
2. DoDo offers a wide range of fish-based products. Could you elaborate on how the company ensures the nutritional value while still delivering on taste?
Novelle Lim: We are committed to sourcing high-quality, fresh ingredients as the foundation of our products. 
One of the challenges we face is balancing the need for low sodium/healthier choice products while maintaining customer experience in terms of the taste and texture. 
Salt is one of the ingredients to produce fish balls with a springy texture. By reducing the salt content, texture is affected, and reformulation would be required to produce a lower sodium fish ball but with the same springy texture. 
Now, we use salt replacement which contains lower sodium to allow our fish balls to maintain taste and texture while lowering the sodium content. For us to reach this stage, our RnD team trialed many different salt alternatives and at differing quantities to achieve the sweet spot.
3. What can consumers expect from DoDo's latest collaboration with Disney? Are there any other similar collaborations in the pipeline?
Novelle Lim: With this collaboration, consumers can look forward to more than just delicious products.  We hope this will be a delightful experience not just for Disney enthusiasts, but also for the young and young at heart as Mickey is a familiar figure from most people's childhood. The iconic Mickey Mouse and his friends are making their appearance on our limited-edition packaging as part of our Mickey Loves Singapore campaign. On top of the new packaging designs, we also have limited edition merchandise such as spatula, cooker, carrier bag and air fryer with our collaboration design as part of the collaboration. Customers can also get these items from our website https://shop.enjoydodo.com/, and discounts on these limited merchandise with S$10 spent on Mickey Loves Singapore products.
We have also just launched mickey fish nuggets recently on the  8th of August. They come in this cute mickey head shape and are lower in saturated fat.
There are many more Disney campaigns that we are planning down the line that consumers can look for such as for Christmas and CNY. Our partnership with Disney will run for 2 years but we are looking forward to renewing the partnership.
4. What was the inspiration for your latest collaboration with Disney? How does this collaboration play into the brand's rebranding strategy?
Novelle Lim: Disney is celebrating its 100th birthday and we are doing our rebranding after 20 over years. In line with this, we took this opportunity to explore the partnership. The collaboration with Disney also allows both brands to leverage each other's strength, and expand our reach to a broader audience range. Furthermore, Disney's values of innovation, quality and storytelling also resonate with us.
Mickey mouse has been around for 100 years, thus it is a familiar character from most people's childhood which is a refreshing but nostalgic take on Dodo's heritage brand. Mickey, and by extension, Disney, has a dynamic age audience which can appeal to a wider demographic.
5. Besides rolling out low-sodium fish balls, do you have any plans to introduce more healthier options for consumers who are increasingly health-conscious these days?
Novelle Lim: In recent years, there are emerging trends on consuming healthier food such as lower sodium. Hence, in line with HPB's direction for consumers to eat better, we are currently looking at ways to make our products healthier, and lowering in sodium is our start.
Some of our products that are undergoing RnD at the moment are
• Low sodium fried fish cake
• Healthier version of fish cocktail sausage without the use of nitrite.
6. DoDo is a well-established brand with a rich history spanning more than 47 years. What are your future plans for the business, and how does DoDo aim to stay relevant and appeal to the younger generation?
Novelle Lim: We invest heavily in automation for the manufacturing of our products. Currently, we are looking at sustainability with plans to implement a solar energy farm on our premises and exploring converting our logistic fleet from fuel base to electrical base.
In terms of better attracting the younger generation, we are taking small steps to achieve this. For example, we have our DoDo Kido's series – our line of breaded fish nuggets. We are also engaging younger audiences via trending platforms such as TikTok. Also, we came up with new packaging designs to better attract the younger crowd.
7. Sustainability is a growing concern in today's business landscape. How does DoDo approach sustainability in its operations, considering both environmental impact and the long-term viability of the business?
Novelle Lim: We are now working on several initiatives such as replacing our diesel usage with liquefied petroleum gas (LPG) which is recognised as a clean burning, low carbon alternative fuel. In comparison to other conventional fuels, the use of LPG results in lower emissions of greenhouse gases.
We are also actively working towards reducing the environmental impact of our packaging and being more sustainable. For example, we are looking into having an organic coating for our box packaging to replace the current PE coat. Not only that, we are sourcing sustainable materials for the box itself, such as compostable materials. We are also exploring the use of mono-materials, which are easier to recycle than multi-material packaging.
In terms of supporting the local community, we have been partnering with SG Enable to hire persons with disabilities since 2017. We started by hiring persons with hearing impairment in office administration support roles. Today, we hire persons with intellectual disabilities in our food manufacturing assembly line, providing them with simple tasks such as working on handmade products and cartoning. This allows them to earn a living and experience being independent. Additionally, we pledge to have fair employment practices with MOM to ensure an inclusive working environment.
8. Looking ahead, what is your vision for the future of DoDo? How do you plan to continue the brand's growth, maintain its reputation for quality, and address new challenges in the ever-changing food industry?
Novelle Lim: We are currently working towards "truly local-made" fishballs where our raw material, fish, is bred here in Singapore. The potential partnership with a local fish farm is something we are looking forward to. This direction that we are heading towards is in line with Singapore Food Agency's '30 by 30' goal to build up our agri-food industry's capability and capacity to sustainably produce 30% of our nutritional needs by 2030.
At Thong Siek, we strive for continuous improvement and innovation. For example, we have invested in a nitrogen freezing tunnel for our factory operations. We are the only fishball manufacturer in South East Asia to use such technology to produce surimi products. This nitrogen freezing tunnel helps us to reduce our freezing time from 2 hours to just 45 minutes, and importantly, helps us to maintain the bouncy texture of our products.
About DoDo
Established in 1976, DoDo started as a small operation in the backyard of the family home but has now grown to become Singapore's preferred brand of fish balls. With its consistent taste and quality over the past 47 years, this family business now oversees a workforce of over 300 producing more than 60 varieties of fish-based products to distribute all around the globe. All of DoDo's products are rich in protein and contain low cholesterol, aiming to provide customers with a healthier option to add to their meals. DoDo stands as the guiltless choice; Singaporeans say it's "So Good, So Enjoy".