The Idea Co, a for-impact organisation co-founded by community builder and TEDxSingapore's lead curator, Vivian Lim, announced the launch of Generally Speaking, a deck of statement cards aimed at facilitating thought-provoking conversations around gender issues. Generally Speaking is The Idea Co's inaugural project under GEN that champions equality and inclusivity within communities.
Curated and consolidated through meaningful conversations facilitated by Vivian and her team since 2017, Generally Speaking has 40 statement cards containing phrases like – 'I associate colours and/or fashion items with gender', 'I often associate life skills with gender' and 'I am conscious about gender stereotypes, and I try to live up to it'. The players need to use an action card that allows them to engage with the statement by debating, roleplaying and sharing their experiences with other players, or even attempting to apply a generational perspective.
Vivian Lim shares her insights with us on Generally Speaking, how the card game can tackle notions with empathy and curiosity-driven conversations, ways to drive difficult yet important conversations, their experiences in creating the game as well as her aspirations on bringing people together through the game. Read on to find out more. 
Exclusive Interview with Vivian Lim, Co-Founder of The Idea Co. and GEN
1) What are some of the major gender-related issues / stereotypes that you and the team has observed over the years in Singapore?
Vivian Lim: In our pursuit towards gender equality, we sometimes overlook that gender related issues need to be contextualised. Some of the gender stereotypes that occur in our daily lives and households are assuming gender-binary roles and life skills within families and homes, associating colour or fashion items with gender and passing down gender-affirmative roles between generations. Before passing these stereotypes onto someone, we need to understand the cultural context and recognise the plurality of lived experiences in our community. This way, we can start bridging differences or even overcoming stereotypes.
That is why we started GEN, one of the brands under our for-impact organisation, The Idea Co. The organisation strives towards curating meaningful conversations with the community through activation programmes and its communities, and GEN is an extension of what we do.
2) How does the card game tackle gender-stereotype notions prevalent across corporate settings, public and private schools, public libraries, universities, etc?
Vivian Lim: GEN's Generally Speaking has 40 statement cards containing phrases like – 'I associate colours and/or fashion items with gender', 'I often associate life skills with gender' and 'I am conscious about gender stereotypes, and I try to live up to it'. The game hopes to bring and bridge diversity by bringing awareness to current norms and exploring our perspectives, perceptions, and assumptions. It is a safe space for participants to share their reservations, questions and ideas around gender-related topics through a series of questions and action-oriented cards.
The questions serve as triggers to ignite thoughts, share them and other experiences, discuss reactions to the experiences. Participants may share freely their point of view and be willing to listen to others'. Thus, to nudge the conversation, the game challenges the participants to explore different perspectives, (e.g. someone from a younger or older generation) and discuss how one would understand or react to a particular gender stereotype. The aim of this card game is to socialise and normalise gender conversations, allowing participants to reflect on lived experiences, rethink different points of view, and relook at how our community is understanding gender norms.
We are heartened to see people learn through the game — earlier last month, during our Generally Speaking Launch, we had someone who did not know the difference between sex and gender and later engaged in meaningful and in-depth conversations with a group of strangers. This kind of interaction motivates us to continue driving conversations about gender in Singapore, and we are excited to hear others' experiences playing Generally Speaking with their colleagues, classmates, friends and more.
3) What are according to you some of the biggest challenges that prevent people from changing their perspectives on gender-related topics in Singapore and even the region?
Vivian Lim: One of the biggest challenges is that such discussions happen more often in selected communities or circles, causing an echo chamber effect. We need conversations to be socialised in diverse settings where different points of view can be reflected, heard and empathised in order to achieve meaningful change in how they view gender related topics.
For example, in some settings, we observed a persistence to stick with existing stereotypes and maintaining status quo of gender stereotypes, and limited understanding of how exclusionary gender-binary and gender-affirmation societal roles can be. Overall, there seems to be a lack of access to deeper conversations about gender equality and a lack of exposure to personalities outside the scope of gender-binary role models. Through GEN and Generally Speaking, we want to enable access to deeper conversations that touch upon such less discussed topics.
4) What are your aspirations on community-building in Singapore and ways to bring people together through the game?
Vivian Lim: I've been in the community building space for more than a decade, and I still find myself learning new things through our team's initiatives. To me, a community is made out of people who share a common purpose, lifestyle preference, or inherited customs. Singapore is as diverse as any urban city gets, and as its generations evolve, there needs to be more channels and opportunities for us to get together purposefully, with empathy and curiosity-driven conversations. If I am to be truly aspirational, I would love for the community-building process in Singapore to be "always-on", and for no denominations or groups of people to ever be excluded. It is, and needs to be, a work in progress.
5) What are the three main gender stereotypes that you hope young parents can get rid of when looking after young kids?
Vivian Lim: We hope that young parents do away with assuming gender-binary roles, associating life skills with gender, and passing down gender-affirmative roles in the household. This prevents stereotypes and misconceptions being handed down from one generation to the next.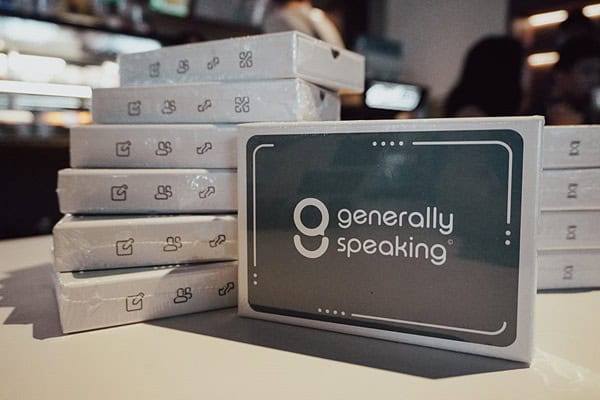 6) What are the three main gender-related discussions that you hope families at large can imbibe through Generally Speaking?
Vivian Lim: We hope for families to share the notion that everyone would benefit if there were greater gender quality in the world. Everyone should be encouraged to explore all types of careers regardless of sex and gender and explore possibilities to grow beyond gender-based life choices and expectations.
7) How does Idea Co plan to facilitate further conversations with Generally Speaking among wider audiences?
Vivian Lim: Our next collaboration is with NUS Baba House that is running a series of programmes titled Around the Tok Panjang. By looking at the lives and stories of Peranakan women, we seek to open up conversations surrounding gendered norms and practices in the Straits Chinese culture. This will hopefully prompt reflections on roles and norms in contemporary times.
This collaboration is brought together by university-based heritage organisation NUS Baba House and GEN, aiming to bring together artistic practices and academic research to ground communities. Through this partnership, we strive to normalise and socialise conversations on gender and social identities through different lenses and promote it widely.
In the next few months, we also hope to involve corporate companies into conversations about gender equality and gender diversity, to address workplace gender issues through the Generally Speaking card game. Moving forward, we will continue holding such events to reach wider audiences.
8) What next after Generally Speaking?
Vivian Lim: GEN will soon launch a bilingual educational programme aimed towards young children. This programme is meant to tackle generational stereotypes and biases that often prevent authentic and honest communication within families. We hope that people will look forward to this announcement in the coming months.
While the Generally Speaking card game is currently limited for partnering organisations running gender equality-related initiatives, The Idea Co plans to make it available for wider audiences in the near future. To learn more about Generally Speaking or explore collaborations with GEN and The Idea Co, visit their Instagram page here.