Cetaphil®, a leader in clinically-proven sensitive skincare, now ups its ante by including a dermatologist-approved blend of Niacinamide (Vitamin B3), Panthenol (Vitamin B5) and hydrating Glycerin to its classic formulation for their iconic best sellers – Gentle Skin Cleanser, Oily Skin Cleanser, Moisturising Cream, Moisturising Lotion and DailyAdvance Ultra Hydrating Lotion. Its packaging now sports a modern and sleeker silhouette, a logo upgrade as well as colour coding to identify products for specific skin types.
This evolution of Cetaphil® is introduced under the auspices of its Clear Skies initiative, a long-term commitment to supporting a healthier environment and brighter futures for all. This sustainability effort outlines the journey of Cetaphil®, and its parent company Galderma, to embed responsible practices across their businesses. Over the past decade, they had made great strides to reduce its environmental footprint.
"As we celebrate 75 years of successes, we also chart a new milestone in our illustrious heritage with an unprecedented reformulation to exceed our customer's expectations and also an up-to-date packaging to delight loyal and new users. Our new Clear Skies initiative, which prescribes the use of smarter and recyclable materials, demonstrates our commitment to sustainability and care for the environment. We are confident that these significant developments will elevate the reputation and appeal of Cetaphil® among sophisticated and informed consumers," announced Ms Agnes Tan, Country Manager of Galderma Singapore.
NEW AND IMPROVED BEST-SELLING CETAPHIL® PRODUCTS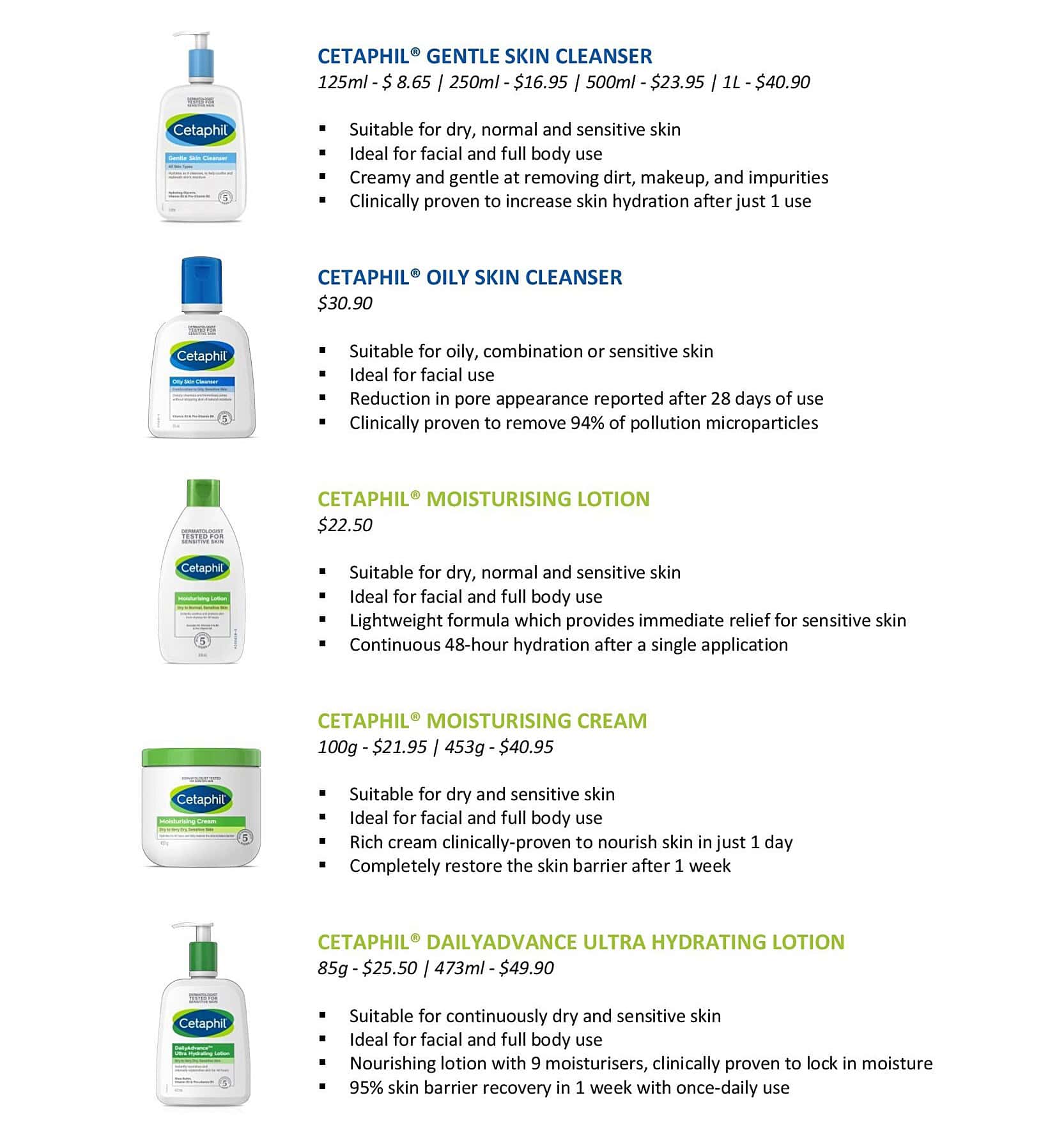 The five Cetaphil® products mentioned above now offer a cleaner formulation that provides more benefits and better care to customers troubled by sensitive skin. Its proprietary dermatologist-backed blend of hydrating and skin-strengthening ingredients – Niacinamide, Panthenol and Glycerin – are clinically proven to improve the overall resilience of sensitive skin and defend against the 5 Signs of Skin Sensitivity, which include irritation, roughness, tightness, dryness and weakened skin barrier.
The products are free of parabens, sulphates and animal origin ingredients. They are not tested on animals at any stage of the product innovation, development or manufacturing processes. The packaging is in part recyclable at most facilities and is now made with biodegradable materials.
"The addition of new ingredients to the iconic Cetaphil® products are proven to bring benefits to users and complement perfectly with the existing formulation, which has been trusted for generations. Niacinamide helps boost the natural defense of our skin against damage from the environment; Panthenol helps the skin build up a barrier against irritation and water loss; and Glycerin acts as a humectant that supports the skin in retaining moisture. These ingredients work together harmoniously to strengthen the skin barrier function, improve skin hydration and reduce skin inflammation thus benefitting users with sensitive skin," beamed Dr Sheila Chua, Board Certified Dermatologist and Head of Medical Affairs, Galderma Japan & Asia Pacific Region.
The new formulations were subjected to rigorous consumer trials and clinical testing to verify an enhanced consumer experience and improved product efficacy. Their mission to advance the science behind sensitive skincare resulted in dermatologist-endorsed products that are backed by over 550 clinical studies with no less than 32,000 sensitive skin subjects conducted over the years. Today, Cetaphil® products are trusted for their efficacy and sensitive skin tolerability that surpass industry standards.
CLEAR SKIES INITIATIVE
Under the Clear Skies initiative, which is their long-term sustainability effort, Galderma (Cetaphil®) is committed to setting and achieving goals to continue to reduce the impact on the environment and contribute to strong communities. Currently, the company aims to achieve 100% renewable electricity in its current factories by 2022 and become carbon neutral in its production facilities.
Clear Skies will support the company towards being more sustainable by using fewer resources and creating less waste. The science-based approach is based on comprehensive research from the Greenhouse Gas Protocol and aligned with the United Nations' 2030 Agenda for Sustainable Development.
Clear Skies is set against four key areas in which the organisation can make an impact:
1. Reducing environmental impact,
2. Formulating with cleaner ingredients,
3. Using smarter packaging, and
4. Serving its communities
CETAPHIL CONSUMER ROADSHOW 27-29 MAY 2022
This event space will be opened to the public from Friday 27 May till Sunday 29 at ION Orchard B4.
Timing: 11 am to 9 pm every day
Activity booths include Skin Analysis, Tester Bar, Claw Machine, Vending Machine Q&A, lenticular wall and product information wall.
Come, visit the roadshow and find out more about Cetaphil at ION Orchard B4! 
For more information, please visit Cetaphil® Singapore online:
WEBSITE
SOCIAL
§  Youtube: www.youtube.com/user/shareCetaphil
§  Facebook: www.facebook.com/CetaphilSG
§  Instagram: www.instagram.com/Cetaphilsg
§  Hashtags: #CetaphilSG | #No1DermSkincareSG