Are you experiencing sensitive skin? Is your skin prone to dryness, irritation, tightness, inflammation or adverse reactions due to chemical irritants, environmental conditions and others? 
Cetaphil, the No.1 dermatological skincare brand in Singapore, has been taking care of sensitive skin for over 70 years. To combat skin sensitivity, Cetaphil has identified the 5 Signs of Skin Sensitivity to make caring for your skin even simpler after consulting and working with leading dermatologists, scientists and healthcare professionals to develop and test their products. Through rigorous clinical testing Cetaphil's gentle cleansers and moisturizers support the natural skin barrier and skin hydration, with proven effectiveness against The 5 Signs of Skin Sensitivity.
Identifying The 5 Signs of Skin Sensitivity
1. Dryness
Dry skin is commonly both a visible and sensorial indicator of sensitive skin. A weakened skin barrier creates an ineffective seal on the skin's surface which leads to the loss of water and skin dehydration. The right sensitive skin products restore the natural skin's hydration and sustainably hydrate the skin over time.
2. Irritation
Redness, itching, burning, stinging, sensitive skin can be prone to all sorts of unpleasant sensations. Irritation is one of the most frequently reported and bothersome signs of sensitive skin. Skin irritation can be prevented and reduced by using the right skincare products. 
3. Roughness
Flaky, dull, patchy, and uneven skin texture is a visible sign of sensitive skin. Such irregularities affect overall skin quality and can lead to discomfort and distress. Roughness usually goes hand in hand with dryness.
4. Tightness
The sensation that your skin is taut, stretched and strained is a feeling those with sensitive skin know all too well. Tightness is an indicator that your skin lacks moisture and hydration and is uncomfortable if left untreated.
5. Weakened skin barrier
People with sensitive skin often have a thinner or damaged barrier layer of skin that allows irritants to penetrate more easily, and skin dehydrates more easily. Fragile or damaged skin barrier can also cause skin discomfort like stinging or burning sensations. 
Cetaphil Defends Against 5 Signs of Skin Sensitivity
Cetaphil's range of gentle cleansers and nourishing moisturizers support the natural skin barrier while boosting skin hydration and soothing sensitivity.
Scientifically formulated using natural ingredients like soothing pro-vitamin B5, glycerin, and nourishing lipids like shea butter, sunflower seed oil, and almond oil, Cetaphil can help you take control of your sensitive skin needs and improve your skin condition, promoting healthier and happier skin.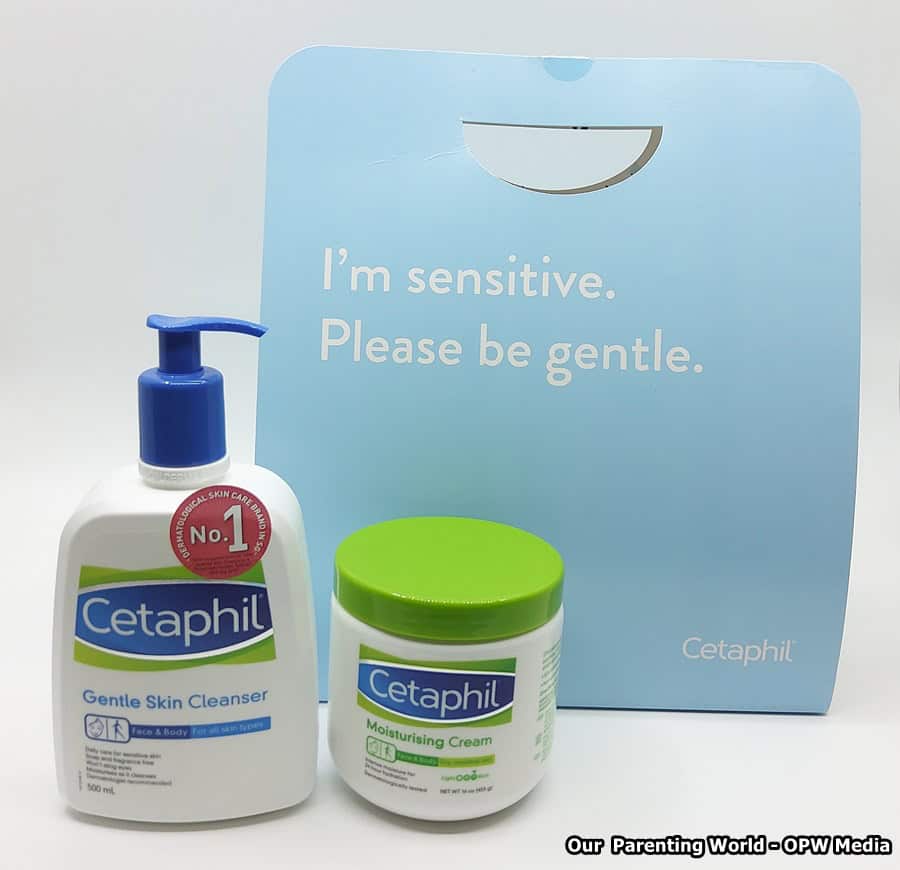 Cetaphil Gentle Skin Cleanser $39.50 (1L)
Defends against the 5 Signs of Skin Sensitivity by gently cleansing the face and body, while actively hydrating the skin. 
Cetaphil Moisturizing Cream $38.50 (453g)
Defends against the 5 Signs of Skin Sensitivity by providing intense hydration with its 24 hour Moisture Lock technology. It is clinically proven to fully repair the skin barrier in just one week.
To find out more about Cetaphil, please go to https://www.cetaphilfriends.com.sg/