IHG Hotels & Resorts in Southeast Asia have gathered their top mixology and culinary talent to share the most recent developments that are revolutionising people's drinking and dining habits and how these trends are influencing their menu creations.
Some of these exciting trends include:
Locavores coming to the fore: Growing desire for locally-sourced produce
Mixing spirits and stories: Narrative-led cocktails for a more immersive experience
Sip on guilt-free indulgence: Low or zero alcohol options on the rise
In order to provide individuals with the opportunity to experience these trends and enjoy the latest culinary and beverage experiences offered by culinary talent across Singapore, IHG One Rewards is introducing a dining promotion called "Eat Out with IHG Hotels & Resorts." This promotion presents exclusive offers at 19 participating IHG restaurants and bars in Singapore. From now to 30 June 2023, IHG One Rewards members can relish in limited-time menus and receive additional dining rewards, all without the need to be a hotel guest.
Chef Shannon Batten an accomplished executive chef with a remarkable culinary journey spanning over 21 years. With a wealth of experience gained from renowned establishments and luxury hotels worldwide, Chef Shannon currently oversees the R&B concepts at voco Orchard Singapore. As the Executive Chef, he leads a team of talented chefs and manages all culinary aspects of the hotel, including its innovative dining outlets such as Opus Bar & Grill, D9 Cakery, and II Cielo, as well as large banquet and catering events.
Throughout his career, Chef Shannon has been driven by a passion for challenging himself and expanding his knowledge, which has led him to work in five different countries, acquiring inspiration from diverse cultures and transmitting his expertise to others. His extensive international experience has honed his skills in executing culinary techniques and creating exceptional dishes in various cuisines. Notably, Chef Shannon is committed to sustainable practices and ensures that his restaurants serve responsibly-sourced ingredients. His dedication to excellence has been recognised through numerous accolades, including winning TripAdvisor Maldives' 2019 and 2018 Best Restaurant, 2019 Best Italian Restaurant, 2019 Best Health Spa Restaurant as well as being named a finalist for the Executive Chef of the Year at the World Gourmet Awards in 2021 and 2022, ultimately claiming the prestigious award in 2022. With his unwavering passion for the hospitality industry, Chef Shannon continues to lead his establishments to new heights.
We speak to Executive Chef Shannon Batten to share more about his culinary journey, how he oversees the entire kitchen operations as well as the Eat Out with IHG Hotels & Resorts promotions and more. 
Interview with Shannon Batten, Executive Chef, voco Orchard Singapore
1) Can you share with us more about your culinary background and what inspired you to be a Chef?  
Shannon Batten: Growing up, I was always exposed to many forms of cooking. When I was little, my mother owned some cafes in New Zealand and everything on the menu was made from scratch: from pies, sandwiches, burgers and full meals to scones and cakes. Naturally, I gravitated towards the culinary arts and once I started cooking, I wanted to learn everything about it.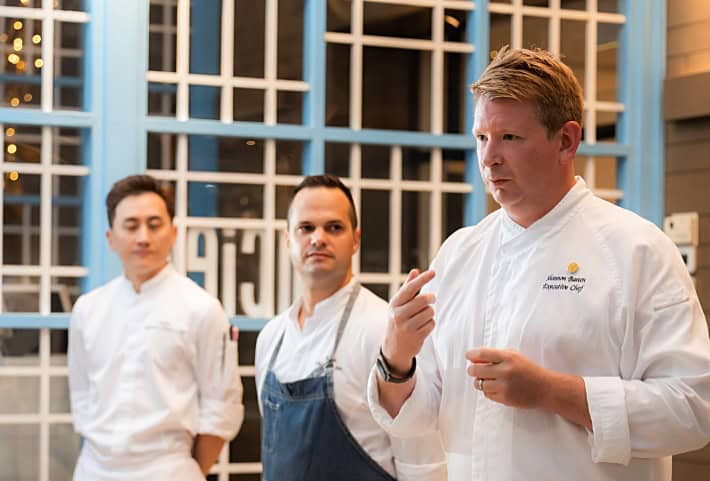 From L-R: Executive Pastry Chef Edwin Leow, Chef de Cuisine Marco Fregnan, Executive Chef Shannon Batten from voco Orchard Singapore
2) As an Executive Chef, you oversee the entire kitchen operation, how do you manage and inspire your team to maintain high standards and deliver exceptional culinary experiences? 
Shannon Batten: I involve as many chefs as possible in the menu-making process across every facet: from the restaurants, and room service to banquet menus for events. As a chef, it is rewarding when you see your guest being served something that you're part of. When you have been involved in the menu conceptualisation and creation of dishes, you care more. It's all about building a good culture and setting high standards within the kitchen, so I enjoy arranging for collaborations with guest chefs from across the world, as another way of gaining culinary and cultural exposure to other cuisines or techniques. On that note, I am humbled to share that Chef Jord Althuizen will be exclusively partnering with our culinary team at Opus Bar & Grill for a special week-long dinner menu from 12 to 16 July, featuring his award-winning signature dishes alongside Opus' signature specialities. Stay tuned for Grills Gone Wild with Chef Jord then! 
3) Innovation plays a crucial role in the culinary world. How do you approach menu development and incorporate new trends while ensuring a balance between customer preferences and expectations? 
Shannon Batten: This can be challenging, but there are two key factors to consider: understanding the clientele of the restaurant you are designing a menu for, and comprehending the skills and dynamics within your team.  
Innovation comes from inspiration, passion and wanting to surprise and delight our guests, and so this is something that I remind, show and push my team to deliver all the time in the kitchen. Just like fashion, food is also about staying updated on trends: you need to research and experience different cuisines and styles regularly to come up with new ideas. 
4) In today's culinary landscape, sustainability and responsible sourcing are gaining importance. How do you integrate sustainable practices into your kitchen operations and ensure the use of quality ingredients? 
Shannon Batten: This is so important and all of us in the hospitality industry could strive to do more. I have long been a big advocate for sustainability and responsible sourcing. As a brand, sustainable practices are in our DNA, and so we have taken significant steps to make our kitchen more sustainable. For instance, voco Orchard Singapore and their restaurants are MSC and ASC certified and we prioritise using locally farmed vegetables, seafood and dairy products in our menu. More recently, we have implemented carbon-neutral beef options to our grill restaurant and are in the process of adding carbon-neutral pork and lamb to the menu to further expand our responsible sourcing practices. 
5) What are some of your favourite dishes to prepare, and what aspects or flavours of those dishes make them stand out for you? 
Shannon Batten: As a chef, fusion food is so appealing as you have the choice of picking your favourite ingredients from various cuisines to work with. I love infusing Asian cuisines such as Thai, Vietnamese, Indonesian and Japanese (just to name a few) as much as I can with my European cooking background. I don't really have any favourite dishes to cook, but I love trying out new dishes and ingredients. I love cooking with seafood because that is what I tend to eat whenever I dine out. My rule of thumb is to keep it fresh, simple and allow the natural flavors and freshness of the seafood to shine through.    
6) Lastly, can you share with us more about Eat Out with IHG Hotels & Resorts promotions that are currently ongoing and how this will appeal to diners?  
Shannon Batten: Our "Eat Out with IHG Hotels & Resorts" promotion by IHG One Rewards Dining Privileges features exclusive offers at 19 participating IHG restaurants and bars in Singapore, including Opus Bar & Grill.  IHG One Rewards members can also enjoy limited-time menus, along with dining rewards from 1 May to 30 June 2023 without the need to be a hotel guest. With these promotions, diners can indulge in the latest food and drink trends by culinary talents across Singapore.  
At voco Orchard Singapore specifically, we are exclusively offering 25% off our bubbly package for Sunday brunch goers – because there's no better way to spend a Sunday than sharing a tipple with good company!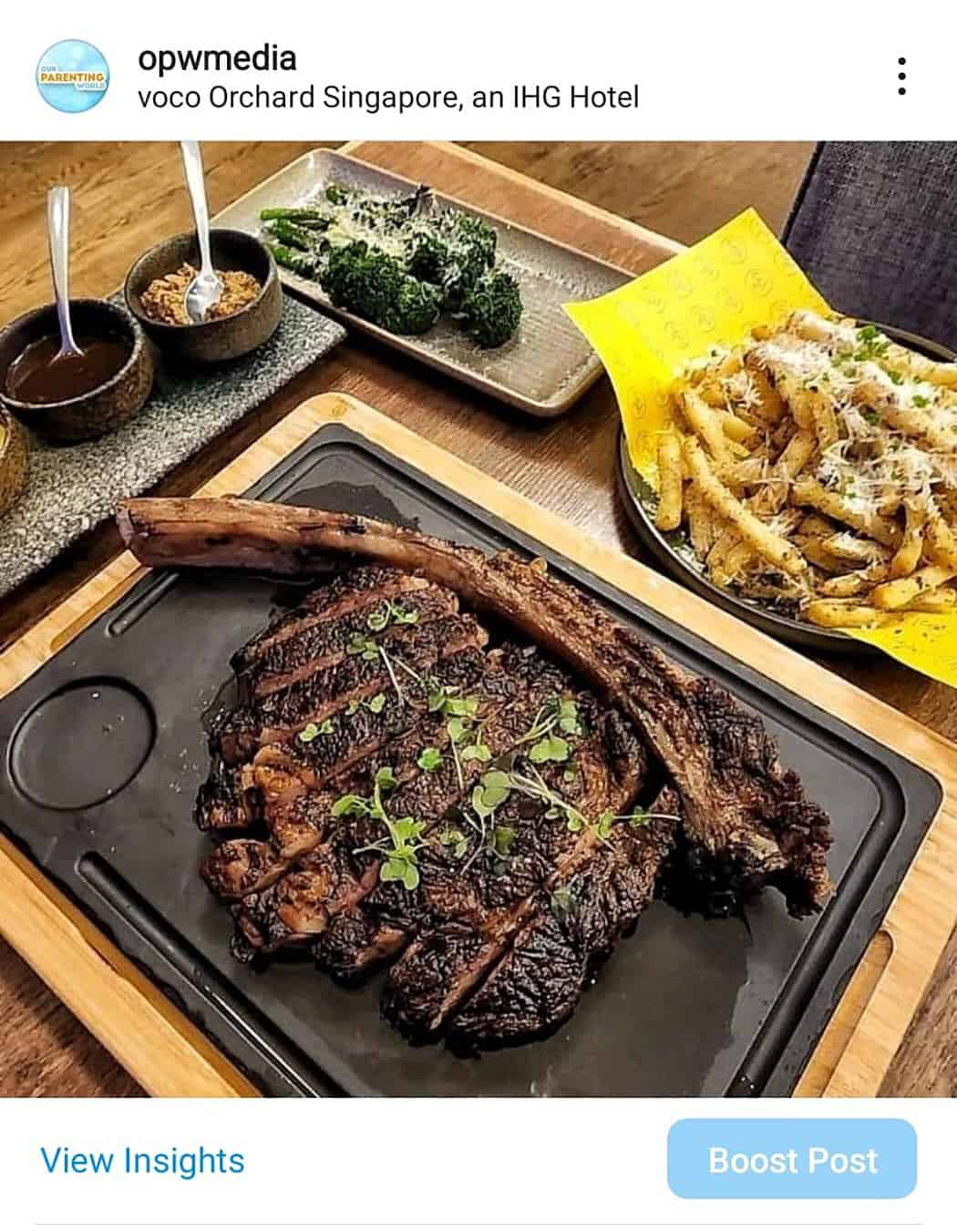 Please move over to our Instagram to see the images and videos of our dining at Opus Bar & Grill and details at @opwmedia 
During our media tasting at voco Orchard Singapore's Opus Bar & Grill, we are very impressed by the exceptional dining experiences and impeccable services offered. Opus Bar & Grill is one of the 19 participating restaurants for IHG One Rewards. 
From the grill, we tried out the Grain-fed Bone-in Rib Eye/Australia – a succulent masterpiece, offering a perfect balance of marbling, tenderness, and mouthwatering flavour that truly indulges the palate. Accompanied by delightful sides such as Opus Over-the-Top Fries and Chargrilled Broccolini with Lemon Zest and Pecorino. For starters, we had Crab Cake and Crustacean Bisque for soup. We conclude our satisfying meal with a delectable selection of desserts such as Deconstructed Strawberry Shortcake and Praline Mille-feuille. Don't miss trying their exquisite and expertly crafted cocktails.
In the realm of fine dining, voco Singapore sets an extraordinary standard, where every aspect of the experience, from the impeccable service to the sensational flavours, culminates in an unforgettable and highly recommended journey for discerning palates.
Right now, Opus Bar & Grill is having a promotion as follows:
Champagne & Prosecco Package for Sunday Champagne Brunch
Details: IHG One Rewards members who dine at Opus Bar & Grill are entitled to 25% off Champagne and Prosecco packages for Sunday Champagne Brunch.  
Promotional period: Now till 30 June 2023
For more information: https://orcharddining.vocohotels.com/dining/opus-bar-grill
voco Orchard Singapore
Venue: 581 Orchard Road Orchard, Singapore 238883
Tel: +65-6737-2233
Opus Grill & Bar
Venue: Ground-floor lobby, voco Orchard Singapore
Email: [email protected]
Tel: +65-6730-3390
To experience the latest trends in dining and hospitality, look no further than IHG One Rewards: IHG Hotels & Resorts' flagship loyalty programme, centred around its guests – giving them greater choice, more valuable points and richer rewards, all powered by leading technology on its new mobile app. By accumulating points earned through dining or stays, guests can redeem them for Reward Nights across 18 brands in over 6,000 hotels globally. Guests can sign up for free as a member to unlock benefits to immediately enhance their next meal or stay with IHG Hotels & Resorts.