Are you looking for an air purifier? 
Filtech is a company that specializes in water filtration and air purification products such as air purifiers, counter tops, faucets, pitchers, shower heads, and many more. With the current pandemic situation, most of us are staying at home. It is crucial to purify the air quality at home as cleaner and better air provides many benefits such as preventing respiratory issues, asthma, reducing allergies, helping to relieve stress, able to relax better and more.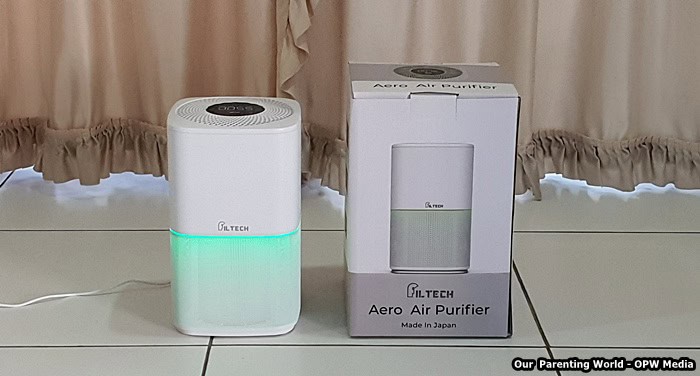 If you are looking for an air purifier, Filtech Aero Air Purifier is a high-efficiency air filter that will provide cleaner air by removing up to 99.98% of allergens, bacteria, virus and pollutants. It is important to have clean air especially now that we are spending more time at home due to the pandemic. Most of us are working from home and kids are doing home-based learning, having cleaner air is beneficial for our health, body and mind.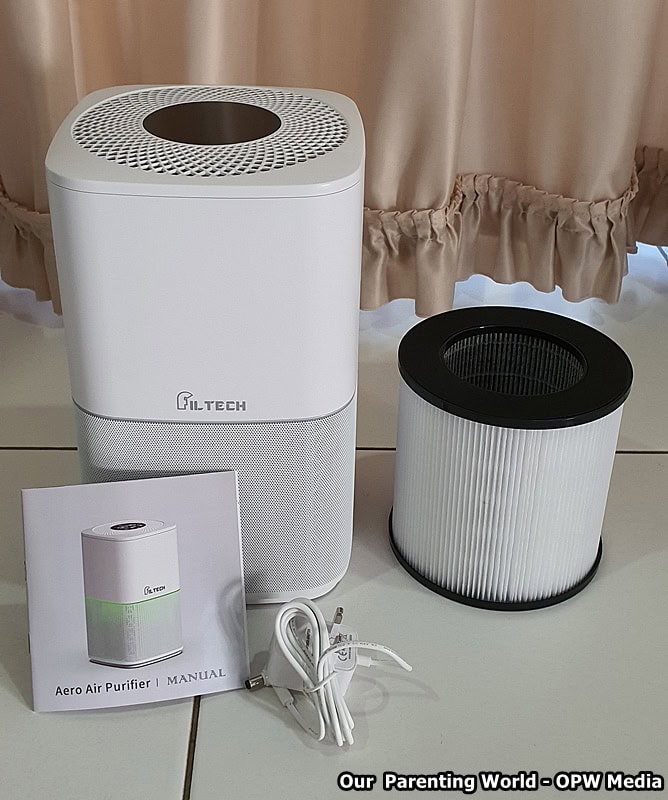 The light-weighted and stylish Aero Air Purifier is designed and manufactured in Japan, comes with the overall dimensions: 215 mm X 215 mm X 335 mm and weighing at 1.45kg. The box contains the air purifier, filter, manual, cable and has a 2-year warranty. Its composite filter element has a long service life up to 1500 hours. It is portable, easy to carry around and with a coverage area up to of 80 m².
This smart design air purifier provides fresh and clean air that is great for families with babies, children and elderly and pet owners. The AEROTECH™ HEPA Filter comes with ultra fine interlaced pores more than 10 times finer than the average HEPA filters. 
This state-of-the-art purification technology is effective for particle removal, able to filters out particles as small as 0.15 microns effectively improving air quality and filters out dust, pollen, smoke, pet hair, dander, mould, odor and large dust particles.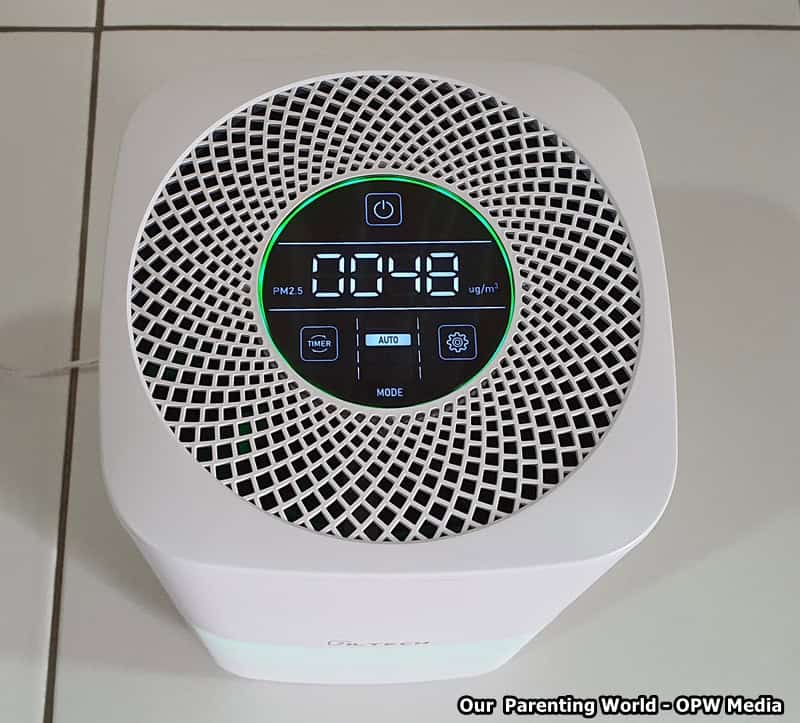 Aero Air Purifier is equipped with ultra intelligent air quality monitoring with PURISMART™. This chic air purifier uses in-house PURISMART™ PM2.5 laser sensor technology that utilises high precision PM laser that will detect any microscopic pollutants in the surrounding air quality in an instant without even a slight bit of delay. Intelligent monitoring of air quality detects any air pollutants including dust, pollen, bacteria and allergens up to 0.15 microns. The multi purification control mode selection has four mode; AUTO, MAX, SLEEP and NIGHTLIGHT as follows:
1) AUTO mode automatically switch gears according to degree of air pollution for efficient and energy-saving purification of ambient air.
2) MAX mode produces maximum air volume and enters high-efficiency purification state using fastest fan speed.
3) SLEEP mode purifies the air at night, ensuring an ultra quiet environment for peaceful sleep.
4) NIGHTLIGHT mode provides night light light function while purifying the air at night.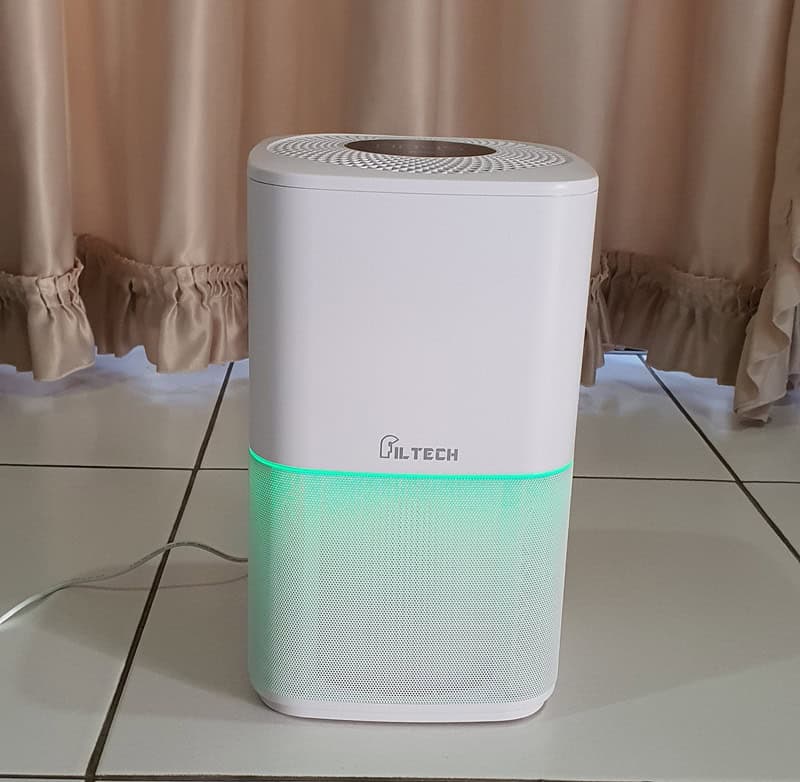 Simply let the purifier will do its work and you can check out the colour change of the air purifier to know the air quality at your home. Green light means excellent air quality, blue light means good air quality while red light means poor air quality.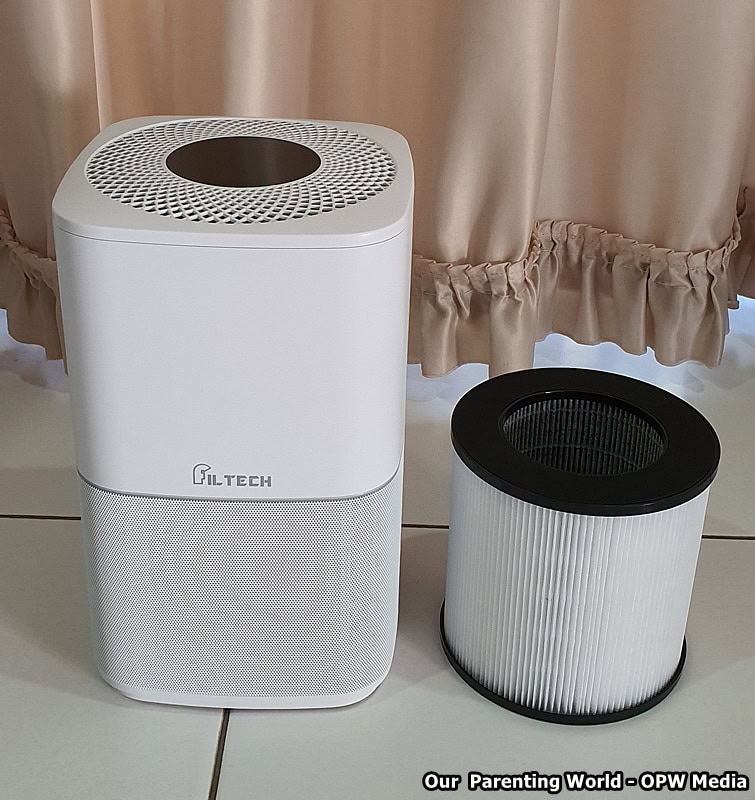 The filter can be easily removed and replaced in three simple steps, simply twist lid in clockwise direction to open, remove air filter and replace with a new one and twist lid in anti-clockwise direction and lock it.
Now you can enjoy superior air quality at your home with Aero Air Purifier! 
We enjoyed using our new Aero Air Purifier, this efficient air purifier is compact in size, doesn't take up too much space and yet powerful in providing cleaner and fresher air for our home. The air purifier operates quietly and with the noise level as low as 20 dBA. This is one impressive air purifier that you should get for your family!
Aero Air Purifier is retailing at $239.90, enjoy free delivery on all orders above $80! Otherwise, delivery will be charged at $8. Filtech also specialises in water filters. Order now and receive your items as early as the following day! More details and purchase your air purifier at https://filtech.com.sg/product/aero-air-purifier/.