Updated on 28 June 2023, KOMYUNITI's Non-Stop Lunch Buffet at YOTEL Singapore is no longer available. 
KOMYUNITI, the flagship restaurant and bar of YOTEL Singapore, introduces its latest offering – the Non-Stop Buffet Lunch, a sensational experience that delivers unbeatable value and boundless enjoyment. Held every Saturday from 12:30pm to 3:00pm, this extravagant lunch affair presents guests with an opportunity to relax, rejuvenate, and kickstart their weekend in style!
For just $99++ per person, the Non-Stop Buffet Lunch presents an unmatched value that includes an all-you-can-eat food extravaganza featuring an array of food stations, along with free-flowing beer, wine, spirits, cocktails, soft drinks, and juices. Adding to the ambience, a live band will perform throughout the lunch, creating the ideal setting to kick off the weekend, enjoy and celebrate with friends!
Head mixologist, As'ad Isnin
At the buffet, diners can look forward to a unique culinary experience with specially crafted cocktail pairings by Head mixologist, As'ad Isnin. Each food station will be complemented by thoughtfully curated cocktails, adding a touch of sophistication to the dining experience. Moreover, for those who prefer non-alcoholic beverages or are watching their alcohol consumption, exquisite placebo cocktails have been carefully concocted and paired, ensuring a delightful experience for all diners.
Indulge in a Varied Array of Culinary Delights
The Non-Stop Buffet Lunch presents an exquisite array of hot and cold dishes, skillfully prepared by Executive Chef, Benny Lim. Diners can embark on a tantalizing culinary journey, starting with the Ice Bar offering freshly shucked oysters, short neck clams, black Norwegian mussels, poached prawns, salmon & tuna sashimi and, made to order, baked Japanese half-shell scallops accompanied by signature cocktail such as "If Strawberry Makes Me Happy" – a delightful blend of vanilla-infused gin, chocolate liqueur, and strawberry puree, and the refreshing placebo cocktail "Spritzing" featuring citrus fruits and tonic.
The hot selection encompasses both western and local cuisine, with delectable options such as Braised Lamb in Red Wine Sauce, Hawaiian Style Baked Chicken Thigh, and Sicilian Style Red Snapper. Vegetarian choices like Grilled Asparagus with Hollandaise Sauce and Mashed Potato with Brown Jus and Fried Garlic Flakes are also available. For local delights, diners can savor Chicken Siew Mai, Fried Chicken Pocket, DIY Singapore Laksa, and Nasi Lemak.
To complement the meal, an array of cocktails awaits, including "KOMpliment" – a butterfly-pea gin infused with lavender bitters and the aroma of floral perfume; and "Men's Pink" – a tequila blanco and enhanced with the bitter notes of grapefruit and sweet flavours of agave nectar.
Diners can also relish freshly carved Roast Beef Sirloin and Crispy Pork Belly served with condiments of red wine sauce and mashed potatoes, paired with unique cocktails like "Shibuya Crossing" – a nutty and sweet creation with peanut butter, or "Berry Good Berry Funny" – an earthy and aromatic mix of Cassis Liqueur, Vermouth, blueberries, and mint, among others. The Non-Stop Buffet Lunch promises an unparalleled dining experience with its diverse selection of exquisite dishes and captivating cocktails.
The lunch experience offers a delectable cheese board that features premium cheeses like Brie, Cheddar, and Edam Dutch, accompanied by an array of pastries such as mini croissants and Danish. These delicious treats can be paired with with the Cracked Maison Jar a placebo cocktail with Aperitif Rosso, rosemary, strawberry shrub, ohba leaf and spiced ginger beer.
In addition, the Salad Corner boasts an assortment of salads, pasta salads, potato salads, and fresh cut fruits of the day, each with its own perfectly paired mocktail. Why not try The Gardener placebo cocktail with pea-infused London dry spirit, dill, cucumber shrub and fresh herbs.
The star of the show is definitely the KOMYUNITI dessert bar, offering an array of sweet indulgences such as Custard and Chocolate Éclairs to Mini Belgian Sugar Waffles, Mini Mixed Doughnuts to Mini Portuguese Egg Tarts, Tiramisu Mousse Cake to Mini Cake Matcha, Cake Ondeh to Chocolate Fondant, there's something for everyone with a sweet tooth. To complement these delectable desserts, why not sip on the Barrel Aged Old Fashioned cocktail? Made with a 21-day aged Bourbon infused with maple syrup, aromatic bitters, and Amarena cherry, it's the perfect beverage to accompany these delightful treats.
Enjoy a Wide Variety of Free-flow Beverages
At the Non-stop Buffet Lunch, the free-flow beverage package offers a tantalizing array of both alcoholic and non-alcoholic cocktails, all thoughtfully curated to perfectly complement the diverse flavors of the buffet.
Diners can choose from six expertly crafted cocktails: KOMpliment, If Strawberry Makes Me Happy, Men's Pink, Shibuya Crossing, Berry Good Berry Funny, Barrel-Aged Old Fashioned, and KOMYUNITI's signature house draught, bottled beers, house pour wines, and spirits for those seeking traditional options. For those who prefer non-alcoholic beverages, there are five placebo cocktails to choose from, including Tonic & Gin, Spritzing, Cracked Maison Jar, Amaretto Sour, and The Gardener, as well as fresh fruit juices and soft drinks. Whether you're a cocktail connoisseur or prefer something light and refreshing, the Non-stop Buffet Lunch beverage package has something for everyone to enjoy!
There is also a food-only option available for just $59++ per person.
YOTEL Singapore is located in the heart at 366 Orchard Rd, Singapore 238904.
For reservations, please call +65 6866 8000 or visit the KOMYUNITI website.
We had an enjoyable and delightful experience at KOMYUNITI's Non-Stop Buffet Lunch! The diverse array of dishes on offer was simply amazing, with a wide range of flavors and cuisines to choose from. The free-flow beverage package was a fantastic addition, with expertly crafted cocktails and a variety of non-alcoholic options to complement the meal perfectly. The ambiance of KOMYUNITI was stylish and inviting, making it a pleasant dining experience. The attentive and friendly service from the staff further enhanced the overall dining experience. Highly recommended for those seeking a memorable and delicious dining experience!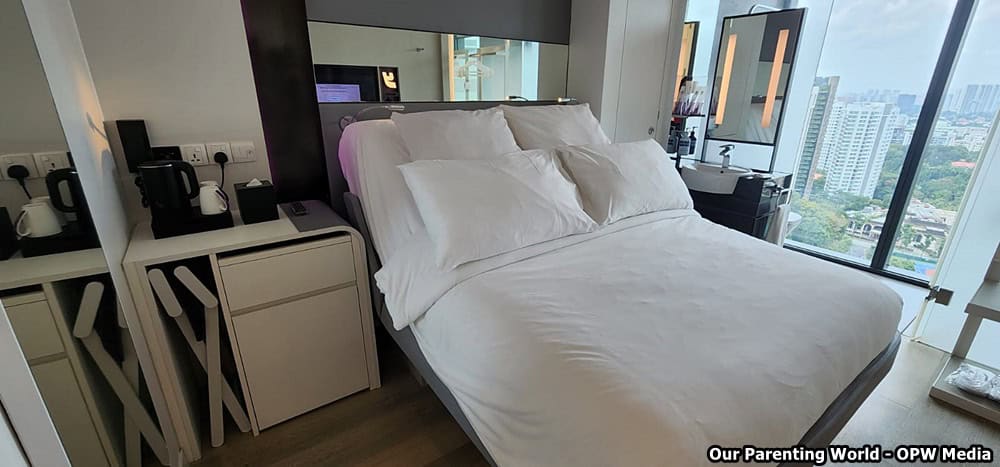 If you are looking for a hotel that provides comfort and convenience, YOTEL Singapore is a modern hotel that offers a seamless stay experience, excellent service, and located at prime location in the heart of Singapore's vibrant city center.
It is also known for its innovative design, featuring compact and efficiently designed rooms with high-tech features.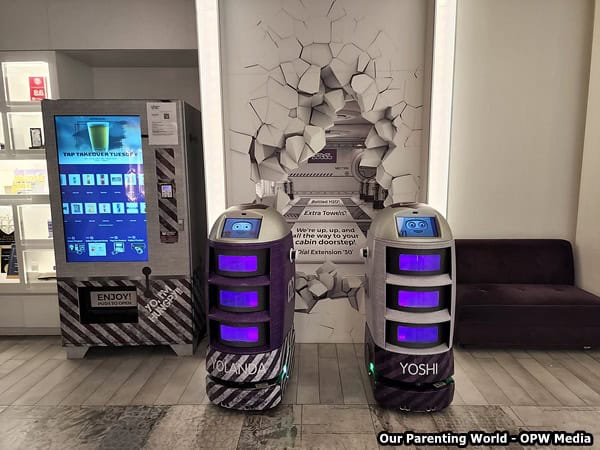 Friendly guest service robots at YOTEL Singapore
The hotel offers amenities such as a well-equipped gym, a rooftop pool with city views, and friendly guest service robots to deliver anything you need to your room. 
The hotel's location in the heart of Orchard Road makes it convenient for shopping, dining, and exploring the city's attractions. YOTEL Singapore is committed to sustainability, with eco-friendly initiatives such as LED lighting and water-saving measures.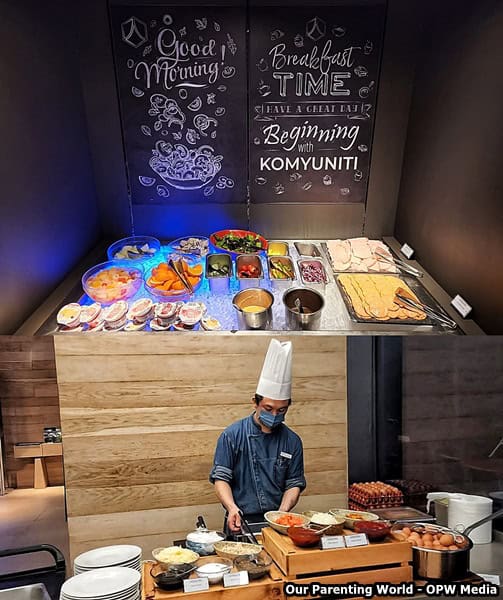 Rise and Shine! Enjoy a hearty and sumptuous breakfast at KOMYUNITI with a wide range of hot and cold items ranging from Western and Asian dishes as well as freshly baked pastries, fruit, salad and yoghurt, choice of  juices, coffees and teas. Breakfast is served everyday between 6:30 and 10:30am.
For more information and for booking, please visit https://www.yotel.com/en/hotels/yotel-singapore.