Flash Concepts, a homegrown experiential events company renowned for creating one-of-a-kind experiences, is thrilled to announce its latest project: The Great Digestion Adventure. This carnival-style family-friendly event offers a learn-through-play experience about the digestive system by bringing the inner workings of our gut to life.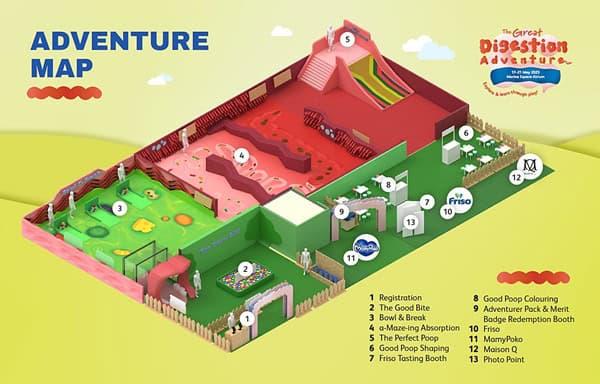 Held in Marina Square's Atrium from 17 to 21 May 2023, The Great Digestion Adventure features four interactive and educational zones where families can explore how our bodies break down food. From ingestion and digestion through to absorption and egestion, parents and their little ones can understand how our digestive system breaks down the food we eat and absorbs the nutrients we need for our health and wellbeing.
The Great Digestion Adventure is proudly sponsored by Friso, a nutrition formula milk brand with over 150 years of Dutch dairy expertise, and co-sponsored by Maison Q, homegrown designer kidswear label, and MamyPoko, a trusted brand with Japan quality diaper products.
"We've always believed that a healthy digestive system helps children absorb the nutrients they need to be happy, healthy kids, so naturally, we are thrilled to be part of this experiential learning carnival," said Giacomo Tortora, Managing Director, Specialized Nutrition for Rest of the World, FrieslandCampina. "And we believe that good poop matters because it is a wonderful, visible indicator of a child's gut health."