One of Hi-5's most popular cast members, Stevie Nicholson bids farewell to Hi-5 after eight fun-filled years.
Stevie said "My time with Hi-5 has been a wild rollercoaster ride, I can't thank Hi-5 enough for allowing me the opportunity to grow professionally and personally over the last 8 years."
Stevie joined Hi-5 in mid-2007 as an understudy but quickly became a principle cast member. Since then he has brought fun, joy, and laughter to millions of children across the globe through Hi-5's television shows and onstage performances.
One of the highlights of his journey is the opportunity to work with charities that work with children. Stevie visited hospitals as an ambassador for Starlight Children's Foundation Australia, and he travelled overseas with World Vision, both memories that Stevie will cherish.
Stevie is looking forward to meeting as many of his fans as possible in the upcoming tour to thank them for their support and love. 
"I can't thank the children and their families enough – their words of encouragement, signs at shows, emails, and posts on social media meant the world to me. It has been an honour to be considered a role model to so many children and families. I sincerely thank you for your love and friendship," said Stevie.
Although Stevie is saying goodbye to live-tours, he will be back soon with the brand new series of Hi-5 House, which he is starring in. The series is currently in post-production and is due for release later in the year.
What is Stevie going to do after leaving Hi-5?
Stevie, now 31 years old, is looking forward to furthering his performing career and expanding his creative work with the release of his children book "Superdudes". The book is available at www.superdudesworld.com and also available for download from Amazon, iTunes and the Google Play store.  
Our Parenting World team send our best wishes to Stevie Nicholson, he will definitely be missed by all Hi-5 fans! We are so glad to be able to have the opportunity to meet Stevie in person when he came to Singapore with the rest of the Hi-5 cast to promote the coming Hi-5 House of Dreams. We are looking forward to see them again at Marina Bay Sands for their Hi-5 House of Dreams live shows!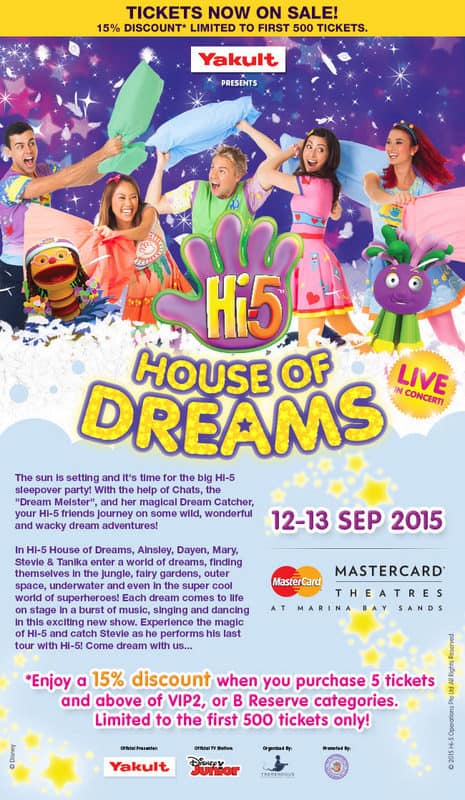 Fans of Hi-5 can look forward to see Stevie Nicholson together with the rest of the Hi-5 cast, Dayen Zheng, Ainsley Melham, Mary Lascaris and Tanika Anderson in the new stage show, Hi-5 House of Dreams where the Hi-5 cast will find themselves in a jungle, a fairy garden, outer space, underwater, and even in the cool world of superheroes.
Hi-5 House of Dreams features well-loved Hi-5 songs such as "It's Party", "Underwater Discovery", and "Action Heroes", and offers plenty of interactive elements for children. The action-filled show includes a whole lot of singing and dancing, bubbles, bouncy balls and dazzling disco-ball lighting. Those attending the show will be treated to a special encore performance presented by Hi-5 which showcases Stevie's time with Hi-5.
For two days only, Hi-5 will continue the success of their previous tours, and will be hitting the stage to engage young audiences with their special brand of high-energy and educational song-and-dance.
Held at The Grand Theatre at Marina Bay Sands, the talented cast of promises a sing-and-dance extravaganza that is guaranteed to be a fun-filled event to be enjoyed by the whole family. 
Don't miss this opportunity to catch Hi-5 and also say goodbye to Stevie and wish him all the best for his new adventures in life ahead!
Goodnews! Hi-5 organizers are offering 15% discount with every purchase of 5 tickets and above of VIP2, or B Reserve categories. (Offer limited to first 500 tickets only). Take this opportunity to attend Hi-5 House of Dreams as this is Stevie's farewell performance. Audience will be treated to a special encore performance presented by Hi-5 which showcases Stevie's time with Hi-5.
Please go to this link to obtain the discount code for your bookings at :http://entertainment.marinabaysands.com/cms/events/index.html?specialCode=hi0915DD&contentCodeBE=hi0915
Children and parents can look forward to Hi-5 House of Dreams which will be the most exciting slumber party you will ever attend with plenty of singing and dancing and adventure when Chats takes control of the Hi-5 dreams and makes their dreams come true!
Hi-5 welcomes all children and parents to join in the sleepover party in the Hi-5 House of Dreams, as tickets are currently selling fast at SISTIC. Please click HERE to purchase the tickets. 
Ticketing Details
Event:
Hi-5 House of Dreams
Date:
12 and 13 September 2015 (Saturday and Sunday)
Venue:
The Grand Theatre, Marina Bay Sands
Time:
10.30am, 2.30pm, 6.30pm
Tickets:
VIP 1 – S$115
VIP 2 – S$105
A Res – S$65
B Res – S$45