This festive season, get your Christmas shopping done at TANGS the family-friendly retailer and Singapore's iconic, world-class shopping destination. Aligned with this year's chosen Bible verse from Matthew 5:16, TANGS encourages one and all to illuminate the reason for the season by radiating the joy of Christmas to their loved ones.
SHEDDING LIGHT ON HOMEGROWN BRANDS
Shoppers can look forward to a vast array of curated fashion, home décor, gifts, and the brand new Sinpopo Brand at TANGS this festive season! To cater to the ever-evolving needs of savvy multi-generational customers to have an enjoyable memorable shopping experience, TANGS is constantly innovating and working with like-minded partners to provide a truly immersive shopper experience.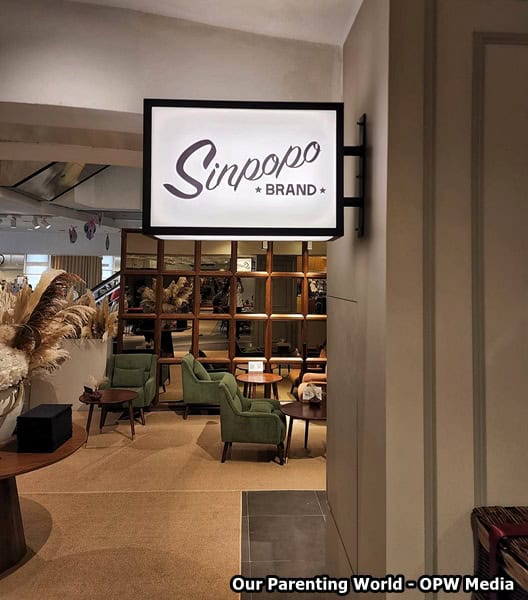 The latest addition to this experiential retail smorgasbord is the Sinpopo Brand at TANGS, the only dine-in outlet and flagship restaurant in Singapore to date. Sinpopo Brand at TANGS is specially designed to be a cosy and welcoming respite for customers. Beating exclusively in the heart of Orchard at TANGS at Tang Plaza this December, Sinpopo Brand at TANGS will serve up a contemporary selection of gourmet local dishes inspired by well-loved Singaporean flavours. The menu is artfully crafted using traditional recipes and cooking methods passed through generations  with a luxurious flair.
Diners will be spoilt for choice with Sinpopo Brand's delicious array of local gourmet dishes, desserts, and handmade cakes based on authentic local recipes alongside a menu inspired by the communal dining concept – a norm in Asian culture. Sinpopo Brand at TANGS will be the perfect destination for business lunches or high tea with friends.
Must-trys include bestselling menu items include Sinpopo Signature Nasi Lemak, Crab Bee Hoon, and Baked Miso Cod Hor Fun. Customers can also opt for nostalgic dishes with a twist like the Auntie Mei Salted Vegetable Duck Soup, Fei Po Char Siew, and Beef Cheek Rendang – all newly crafted dishes exclusive to Sinpopo Brand Restaurant at TANGS. To end a satisfying meal, Sinpopo Brand's team of pastry chefs will prepare a seasonal selection of freshly steamed kuehs, delectable plated desserts like Gula Melaka Jelly, Durian Pengat, and Crème Brulee, and handmade cakes such as Pink Coconut Cake and Pandan Kaya Cake.
We tried out the delicious high tea set with a local touch that includes their Signature Dry Mee Siam, Curry Crab & Egg White Tart, Truffle Scramble Mille Feuille and Fei Po Char Siew Donut and more. 
Samantha Tan, Brand Owner of Sinpopo Brand, stated: "We're excited to launch Sinpopo Brand's only dining concept in TANGS, a brand that's aligned with our values of authenticity and our love for Singapore's unique heritage. We hope to delight customers here with our wide range of artisanal gourmet dishes – from new menu offerings to timeless classics – served up in a sophisticated, chic ambience."
A LIFESTYLE DESTINATION FOR THE MODERN WOMAN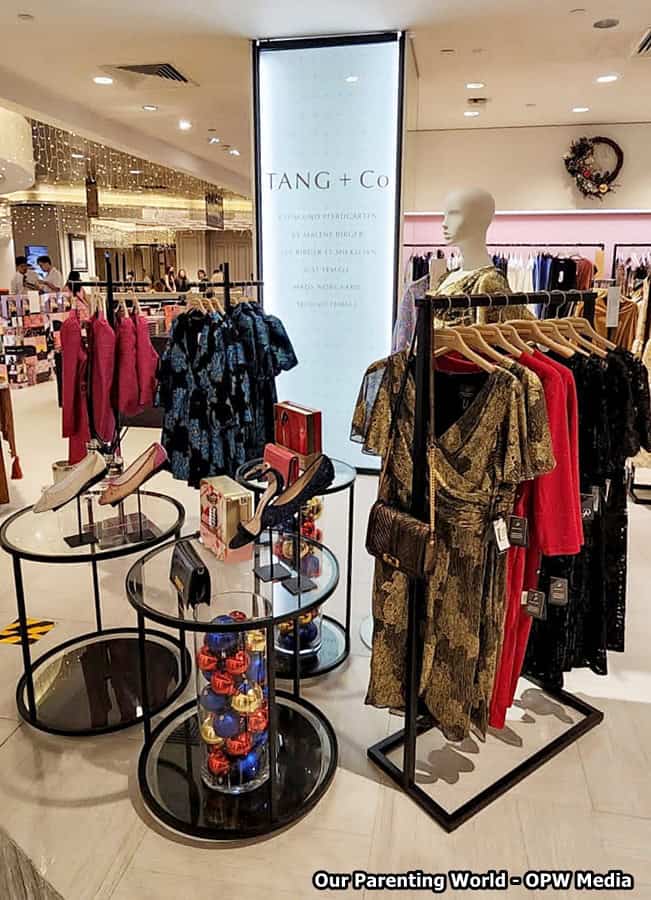 TANGS continually changes its fashion offerings to cater to elevated styles with women as their core customer profile. Designer bridging lines from TANG + Co make great wardrobe-essentials. Collating a sizeable collection of contemporary fashion brands with a focus on wearable, well-made classics and trendy accent pieces to stay in style, there's something for everybody.
The collection of TANG + Co brands spans across apparel, shoes, and handbags include 2NDDAY, Arron, Baum Und Pferdgarten, Bellerinas, By Malene Birger, Innit Bangkok, Second Female and Unisa which hail from origins such as Copenhagen, Denmark, Spain, Italy, Asia and more. The pieces are synonymous with the demands of the modern woman's multi-faceted lifestyle, offering work-friendly outfits as well as off-duty relaxed looks at accessible price points from as low as $129. Sustainability is high up on the agenda, as TANG + Co brands dedicate resources to offering eco-conscious wardrobe staples to reduce their environmental impact.
Yuen Lee, Senior Director, C.K.Tang Limited shared that  "TANGS keeps a firm pulse on our customer favourites, and market trends to bring unique offerings and experiences to our customers at every stage of their life. Blessed with like-minded local and international brand partners, curating offerings to meet our customers' needs bring us the most joy. In the new year ahead, the continual enhancement of the shopper experience remains our priority. Here's wishing our customers a most blessed Christmas and New Year." 
LIGHTING UP THE HOLIDAY SEASON
A hallmark on Orchard Road, TANGS The Christmas Store infuses a modern take while keeping its traditional appeal to delight generations of Singaporeans.
Customers hosting Christmas parties will enjoy choosing gifts and homeware from TANGS' impressive gourmet kitchen selection. The team has curated the best tableware, home appliances, and kitchen products in the latest trends and coveted designs to satiate the consummate host.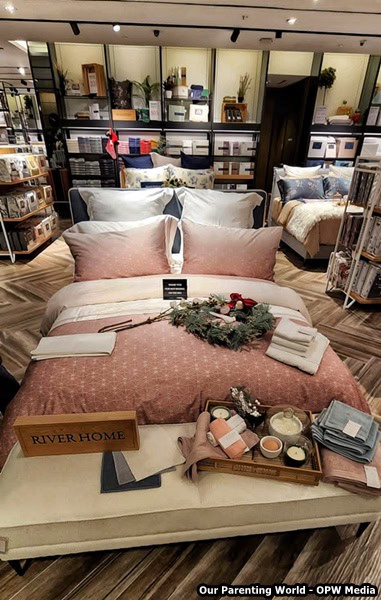 if you are looking for beddings and bath products, check out the thoughtfully designed quality bed and bath products by River Home, a local brand that is exclusive to TANGS, add cheer to the home, and much-needed comfort after late-night parties. Within River Home's collection is a special design – the Crest series, that celebrates TANGS' 90th anniversary this year, drawing inspiration from the iconic TANG Plaza green-tiled roof.
THE CHRISTMAS SHOP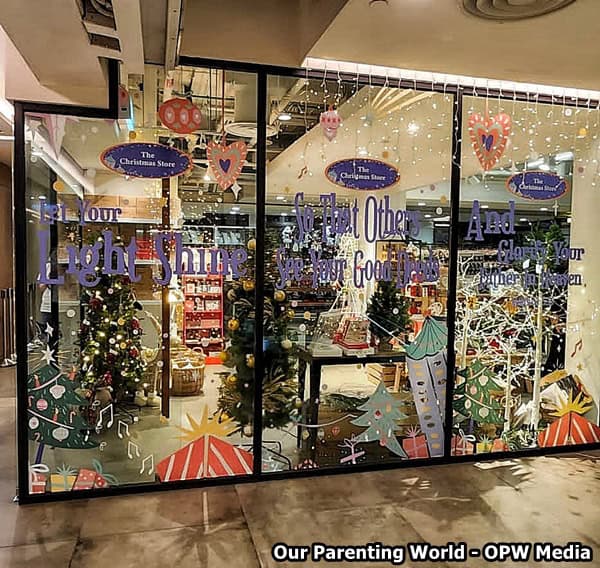 The Christmas Shop on Level 4 at TANGS at Tang Plaza transforms the entire floor into a mesmerising wonderland of festivities. Their curation of festive décor from brands like Anara, Cold Mulder, EDG, Inges, and O-Seasons features Christmas trees, trims, baubles, and decorations to make your Christmas party an unforgettable one.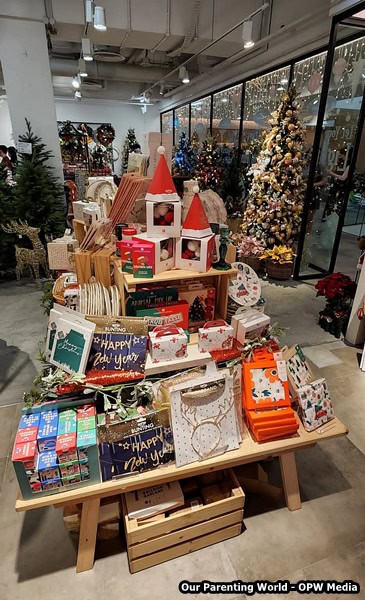 Colourful festive décor is displayed with Scandinavian-themed artisan ornaments; while their hand-blown glass baubles and Nativity showpieces in very limited quantities lend just the right level of eclecticism to achieve a tasteful look. Not forgetting the hampers, wines, and selection of festive chocolates and goodies curated under one roof to complete your Christmas shopping experience.
Come, head down to TANGS at Tang Plaza, TANGS at VivoCity or shop for their festive collection on TANGS.com. For more information on TANGS, please visit : www.tangs.com. Happy Shopping!
Featured image credit to TANGS