I'VRE (pronounced eev-reh) is the first and only fragrance subscription service in Singapore, allowing you to curate your own personalised 3-in-1 Parfum Kit, from a wide range of authentic luxury fragrances including those from brands like Versace, Issey Miyake, and Carolina Herrera.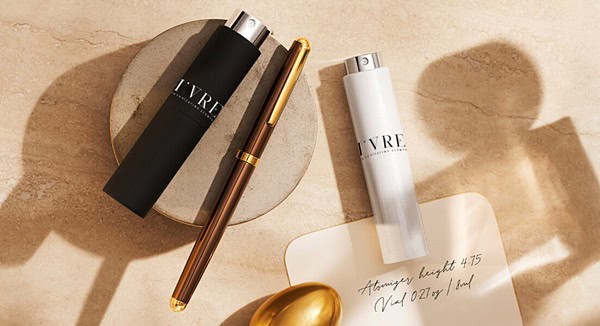 The homegrown brand, I'VRE allows customers to choose up to 3 scent atomisers monthly from its perfume subscription service. Each atomiser contains 8 millilitres of perfume about 120 sprays, equivalent to roughly a month's worth of use. The subscription can be modified anytime you like, from the number of atomisers to choosing different scents, or even cancelling it altogether. These atomisers are relatively small size and these pocket-sized fragrances can be conveniently carried around for that extra spritz and confidence, great for travelling too! 
We speak to Christian Kwok and Elaine Yuan, Co-Founders of I'VRE to share about their brand concept and inspiration behind I'VRE, the scent curation process of I'VRE's perfume subscription service as well as their upcoming plans in the pipeline and more. Read on to find out. 
Interview with Christian Kwok and Elaine Yuan, Co-Founders of I'VRE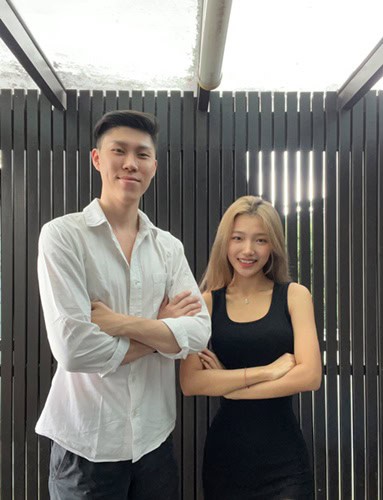 1. Can you tell us more about yourself and what motivated you to go into the fragrance industry?
Christian: Prior to starting I'VRE, I was employed as a Recruitment Consultant. I graduated from Kaplan with a Diploma in Finance & Banking. Elaine had approached me with the idea of a perfume subscription service back in 2021, but I brushed it off without putting much thought into it, as I did not believe that it would be a viable business model. Fast-forward to August 2022, I had come back from a trip and like most Singaporeans, took advantage of duty-free shopping. I purchased a few bottles of perfumes, only to go home and realised that I already had over 30 bottles of perfume sitting on my desk, some of which hadn't been touched in years. This spurred me to give more thought to Elaine's idea, thus, marking the day I'VRE was born.
Elaine: I was taking my foundation year at the University of Sydney when I decided to start I'VRE. Prior to that, I spent around 2 years gaining work experience while pondering what I truly wanted to do after completing my A Levels. One thing that has remained constant since I was a teenager, is my fondness for trying and purchasing new perfumes. Every three months, I would treat myself to a new fragrance, and soon I had a dressing table full of perfume bottles. As cliché as it sounds, I became aware of an issue that the majority of people who use perfume would eventually encounter – spending hundreds on a bottle of perfume but barely using it. This then gave rise to the initial concept of I'VRE.
2. Any interesting story and inspiration behind the brand name, I'VRE?
Christian: The word 'ivre' comes from the French dictionary, which stands for 'intoxicating'. When Elaine and I were deciding on a name for our company, we knew that we wanted it to be simple yet elegant. So when one thinks of a language that could incorporate a deeper meaning into a word, it would have to be the French language. Thus the journey began, we started Googling on the different words in French and trying to get a feel for the name, but none stood out. After several hours of searching, we accidentally stumbled upon the word "ivre" and it came in an image format, which had the English translation below. Right there and then, we knew that it was the perfect name for us.
3. How did you start up I'VRE and what are some of the challenges you faced in setting up I'VRE?
Elaine: The conceptualisation of I'VRE didn't take long, in fact, it took us about three days before we started putting our plan into action. The conceptualisation of the idea was made easier due to the fact that this concept is not new; there are several well established companies overseas in the U.S. and Europe. It was a matter of learning from them and applying similar strategies.
Throughout the entire journey before our initial launch on 31 October 2022, we faced many challenges and difficulties, but one of the key issues we faced was logistical problems. Our product comes with several different components, which meant that we had to work with several different suppliers at the same time. Coordinating with them, especially when they are based overseas, proved to be a challenge.
Another issue we faced was educating consumers. The concept of perfume subscription is not new worldwide, but we took that for granted, as we had assumed that people would understand what we do and how it works. There were instances where consumers contacted us and asked as to why they received such a small bottle, as they assumed that they purchased a full bottle of perfume.
4. How did you overcome the challenges faced?
Christian: During our relaunch on 10 December 2022, we learnt from our previous experience dealing with our suppliers overseas. Regardless of the timeframe that our suppliers provided, we made sure that we procured our products at least three weeks earlier. It also did help that Elaine is a Chinese national, so communication and relationship building was much easier.
We also learnt that we had to educate our customers and it had to be done on multiple fronts (social media, website, etc). So all of us at I'VRE focused on putting out a clear message across all our marketing channels. We did so by writing blogs, providing infographics, and creating videos so that our potential customers are clear on the product that we are offering.
5. What does I'VRE hope to bring to the fragrance industry in Singapore with its unique perfume subscription service?
Both: Our goal at I'VRE is to change the way consumers explore and use fragrances. With a starting price of $16.95 monthly, consumers are able to select from 150 designer fragrances with brands such as Versace, Dior, Mont Blanc, and more. Our prices are designed so that the overall cost is equivalent to buying a 100 ml bottle from retail. For example, if you were to purchase 12 atomisers from I'VRE, it would give you 96 ml and would cost $200, which is equivalent to purchasing a 100 ml bottle from a retail store. However, the catch is that you get to try 12 different scents, which might cost more if purchased in full-sized bottles!
Apart from that, most fragrance users would know that perfume can only last on the skin for a limited amount of time, but no one wants the inconvenience of bringing a full bottle of perfume out, that is why our atomisers are designed to be sleek and pocket-friendly so that when you bring them out, you would barely notice that it's there.
6. Can you share more about the scent curation process of I'VRE's perfume subscription service?
Both: I'VRE currently has 150 different fragrances in its catalogue, these were chosen with several factors in mind, however, the main considerations are the popularity of the fragrances, and being part of our personal favourite scent rotations.
One of the key focuses of I'VRE is customer satisfaction, ultimately as we continue to grow our collection, we put an emphasis on listening to our customers. We have had cases of customers contacting us to share feedback on perfumes they'd like to see in our catalogue, and on our end we try to accommodate to the best we can. As we continue to grow our catalogue to 500 different fragrances, we intend to add in more unique fragrances from boutique brands as well as limited edition fragrances.
7. What are some of your favourite scents and why?
Christian: One of my favourites is Mont Blanc Explorer, it has been my go-to fragrance for the past three years ever since I discovered it. I'm personally a fan of woody and spicy scents that doesn't come off too strong, and Explorer is the perfect choice for me.
Burberry London for Men is also another favourite, it was the first perfume my mother had bought for me when I was just 15. Since that day, I've always had it in my fragrance collection and I believe that it has influenced my scent preferences till this day.
Elaine: Yves Saint Laurent Black Opium is definitely at the top of my list. It was my most used scent during the two years of Junior College and holds numerous bitter-sweet memories. In fact, I am currently halfway through my third bottle! This specific fragrance also made me realise my love for vanilla/musky fragrances.
Gucci Guilty is another favourite of mine. To me, this scent is rich but not overpowering, and it brings me an immense sense of comfort.
8. What's the purpose of using scents? Any benefits?
Both: There is much more to perfumes than just their pleasant smells. Not only do they help to boost self-confidence, they also hold the ability to enhance moods and trigger unforgettable memories.
A great perfume that suits your personality, like an awesome outfit, can boost your confidence and ensure that you get through the day with a high morale. It is also known that our sense of smell offers one of the strongest links to our feelings and memories. For most of us, fragrance evokes deep emotions and meanings. Like a song, it can instantly bring you back to a moment, a feeling, or a memory of where you were when you first smelled it. Using the right scent will allow you to make a unique, memorable impression with anyone.
9. What are some of your favourite beauty, skincare and fashion tips that you would like to share with our readers on looking good and taking care of themselves?
Christian: Personally, I do not have any tips as I am not into such things haha, in fact I only do the bare minimum when it comes to skincare (wash my face twice daily) but it works out for me and my skin is acne-free so no complaints here.
But in general, as a man, there are three standards that if followed will allow one to look and feel good. Firstly, I believe that a man's hair is like a woman's makeup, and it is an important factor in one's first impression. Secondly, having clean and ironed clothes is important, it provides me with a sense of confidence knowing that I look fresh and clean. Lastly, I believe that smelling good is as important, we as humans tend to have memories linked to smell and by smelling good, you could leave a significantly positive impression on anyone.
Elaine: Personally, I have 3 beauty rules/tips I stand by. Firstly, it is to apply sunscreen every day, no matter if the sky is cloudy or sunny. Wearing sunscreen is one of the best and easiest methods to protect our skin's appearance and health at any age. Sunscreen prevents sunburn, premature ageing, and skin cancer. Next, is to remove makeup properly before going to sleep. As our skin repairs and renews itself at night, when we sleep with makeup on, they will mix with the oil our skin naturally produces, which can lead to clogged pores and breakouts. Lastly, is to choose skin care products that are suitable for your skin. Unfortunately, I've made my fair share of mistakes for this point before, which caused my skin to flare up and become really sensitive for a prolonged period of time. Nowadays, we see trendy products being promoted all over the Internet and although it is indeed very tempting to purchase them, we need to ensure the ingredients in those products are suitable for our own skin.
10. What are your visions for I'VRE? Any upcoming plans in the pipeline?
Christian: As we work on this journey to achieve our goal of 500 fragrances in our catalogue, we intend to roll out a minimum of 25 new fragrances monthly. Ultimately, we want to be able to provide an option to every customer.
We're also in the midst of planning our expansion into Indonesia, where I call my second home, by Q1 2023.
Another aspect that we're looking into is on how we can have a more sustainable business model, especially when it comes to our atomisers. Currently, our customers receive a new atomiser with each order and although they can be reused (although not advisable), we intend on seeking solutions as to how we can reduce our environmental footprint in the long-run.
11. What kind of advice would you give to aspiring entrepreneurs looking to start their own business?
Christian: Don't think too much about it. Before starting I'VRE, I had attempted to start two other start-ups, one of them was a concept similar to GetGo. I believe that there were many factors as to why my previous attempts did not come to fruition, but there is one thing that I'd like to highlight, which is that not everything can be perfect. You aren't able to plan and start a company where everything is perfect with no issues at all, as an entrepreneur, the most important thing is to be able to take the first step and just get started.
Elaine: Plan things out to their finest details and once you have that, act on your idea immediately! One of my biggest fears (I believe this is relatable to many others) before starting I'VRE was what if things do not go as planned. However, after embarking on this journey, I have realised that a lot of things definitely will not go as how you wanted, hence it is crucial to learn how to adapt to different situations and just give it your all.
12. Lastly, what would you like to say to our readers who are looking forward to trying out I'VRE?
Christian: Life is all about experiencing new things and with I'VRE's mission on making it cost-effective for consumers to try out as many fragrances as they'd like, I'd like to encourage everyone to be bold and experimental with their selections and not to stick with the "norms".
Elaine: I hope that I'VRE is able to bring out the fun and experimental side of you, as it allows you to discover a new way of purchasing fragrances. I personally believe that a great product possesses the quality of convenience and quality, and that's how I've moulded I'VRE to be. May I'VRE become the product that brings happiness to you!
Now you can try out more than 100 different scents at a fraction of the price instead of buying full-sized perfume bottles. I'VRE is Singaporean's fragrance destination, a single place to discover new scents whilst uncovering a new and confident you. For more information, please visit https://www.ivre.sg/.
All images credit to Christian Kwok, Elaine Yuan and I'VRE