Nonbei Izakaya, sister restaurant of George Town Tze Char & Craft Beer has opened at 282 South Bridge Road. Inspired by Tokyo's Nonbei Yokocho (drunkards alley lined with izakaya and bars), Nonbei Izakaya specialises in fresh sashimi, tantalising Japanese bites, sake and Japanese beer in a cosy setting. Highlights include Sashimi, Beef Tataki, Sukiyaki Beef, Negitoro (fatty tuna minced with seaweed), Asari Butteryaki (asari clam pan-fried with butter), Hokke Yaki (grilled Atka mackerel), Buta Kakuni (braised pork with soy), Tempura Mori (assorted tempura), Grilled Yellowtail Collar, Otoro Tataki and more.
Check out their menu as follows: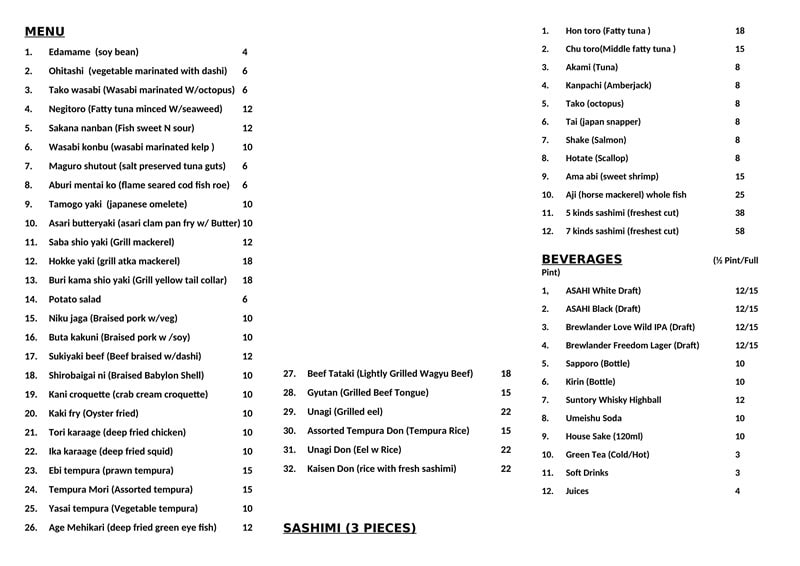 Diners can look forward to Nonbei Izakaya's Opening Special Promotion as follows: 
PROMOTION
2 Exciting Promos: Choose 1
$3 for 6 Live Oysters OR $3 for 5 pieces of the freshest sashimi air-flown from Japan (choice of either king salmon, bluefin tuna or amberjack)
HAPPY HOUR PROMOTION
Enjoy 1-for-1 on Asahi OR Sapporo 
$15 for two pints (500ml) draft Asahi
$10 for 2 bottles (320ml) Sapporo
Nonbei Izakaya is located at 282 South Bridge Road, Singapore 058831.
For reservations, please whatsapp 8112 8028.