The Singapore Food Festival (SFF) returns for its 29th edition running till 11 September 2022 and for the first time since the pandemic, SFF 2022 offers a sumptuous spread of in-person experiences, including a Festival Village with over 20 food establishments and a special 9-course dinner, as well as an array of workshops, tours, and exclusive menus at partner restaurants.
Foodies residing outside Singapore can also enjoy a taste of authentic local fare through SFF activations in select countries and virtual masterclasses, or go behind-the-scenes to learn more about the lives of local chefs and brands through SFF-exclusive video content on the festival site.
Ms Teyi Guo, Director, Retail & Dining, Singapore Tourism Board, said: "The Singapore Food Festival has always been a celebration of our multi-cultural local cuisine, and a global platform for our chefs, bartenders and food personalities. As international travel resumes, we are excited to bring SFF back to its usual format, with engaging in-person programming so visitors can fully experience the international palate of our city. We encourage everyone to come and experience Singapore cuisine in a new way through our exciting line-up of both in-person and virtual experiences."
Here's the key highlights at Singapore Food Festival 2022 as follows:
This year's line-up, with the theme 'Real Foodies Only', comprises several components: the Festival Village, limited-time menus at partner restaurants, tours and workshops, virtual offerings, as well as overseas activations.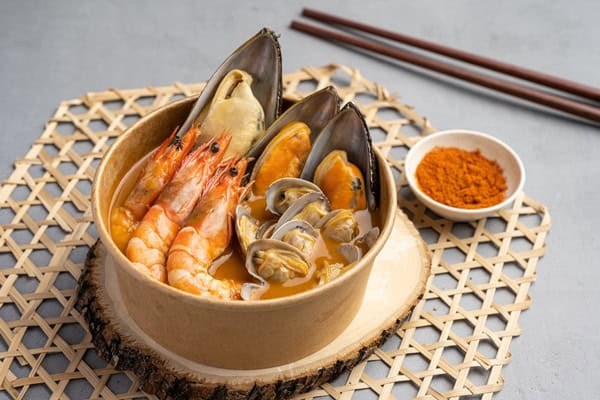 The Festival Village will bring together over 25 culinary and beverage brands at the Bayfront Event Space from 31 August to 11 September 2022. Over 20 food establishments will serve familiar favourites with an innovative twist, such as Jelebu Dry Laksa's signature dish topped with Boston lobster and tiger prawns. Singapore's hottest food truck The Goodburger is set to sizzle with Blue Lotus Eating House on a SFF-exclusive plant-based Golden Chilli Crab Burger, while the newly-minted Michelin Bib Gourmand stall One Prawn & Co will collaborate with heritage brand Hock Lian Huat to present a thick, silky prawn bisque with shrimps, mussels and clams (above), alongside a ngoh hiang (five-spiced meat rolls) platter. The Chef Arena situated within the grounds of the Festival Village will present a special 9- course dinner created by top culinary masters featured in SFF 2022's virtual masterclasses, complete with a Martell Noblige cocktail created by Juan Yi Jun, the head bartender of No Sleep Club.
Complementing the food offerings is a curated line-up of workshops for those who prefer to get hands-on. Foodies can learn the art of mixing spices from 3rd generation owner, Jeya Seelan from traditional spice stall Jeya Spices; as well as gather Thermomix tips to whip up delicious meals with cookbook author Annie Xavier and passionate home bakers. There will also be a Marketplace featuring a curated selection of merchandise and an Entertainment stage presented by Tiger Beer.  For more details, please visit: www.singaporefoodfestival.sg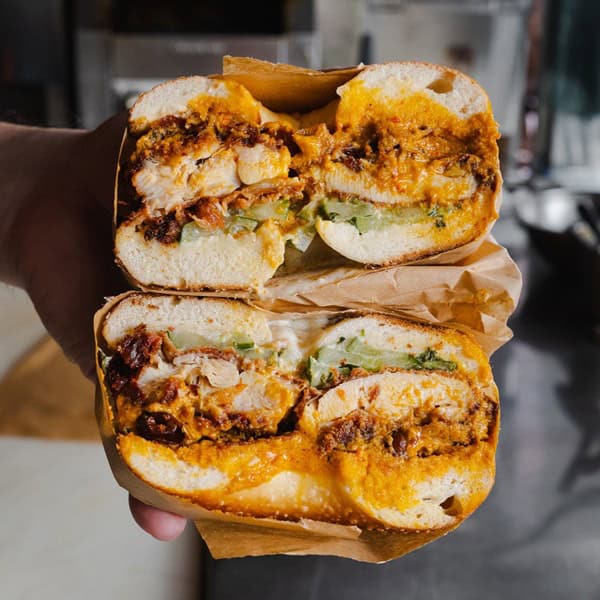 Beyond the Festival Village, various restaurants island-wide will offer festival-exclusive dishes. In an
ode to the melting pot of cultures in Singapore, Two Men Bagel House will present a bagelwich  packed with the aromatic flavours of Chinese, Indian and Malay curries; while Italian meets Malay at Italian-inspired restaurant and bar Dopo Teatro with its sambal goreng pizza.
In a meeting of old and new, deli veteran Steeple's Deli will collaborate with new-school Park Bench Deli for a 1-day pop-up at Steeple's Deli, featuring sandwiches that incorporate the former's mouth-watering corned beef and the latter's pastrami. Foodies with a sweet tooth must try the Teh Halia flavoured ice cream or the guava sorbet with sour plum powder by Made With Passion brands The Ice Cream & Cookie Co. and Creamier.
For foodies with an adventurous streak, various tours and workshops are happening around the island during the festival period. Atlas Aquaculture and Blue Aqua are organising trips to land-based urban fish and shrimp farms for participants to learn more about where their food comes from and how they can harvest their own shrimp at home. Foodies can also sign up for a plant-based cheese and gin pairing workshop by Nut Culture and Brass Lion Distillery, for an exclusive behind-the-scenes look at the distillery and an introduction to the botanicals that make up their Singapore Dry Gin. For those who crave interactive drama, learn to make comfort foods of the 60s' while being regaled with stories by grandpas and grandmas, in an immersive theatrical workshop by Oh! Stories. 
Festival goers can attend fringe events including the Singapore Vegan Festival and Feed9Billion Singapore Restaurant Week, both of which feature sustainable, healthy food options and creative innovations. SFF has also partnered Airbnb Experiences for three highly immersive workshops including one where coffee aficionados can make and taste cold brew coffee using locally roasted coffee beans. One-Michelin star restaurant Burnt Ends will also be throwing a party, gathering restaurants within the enclave to serve good food and groovy tunes.
SFF 2022 also caters to those who prefer culinary adventures from the comfort of home. 9 free-to-view virtual masterclasses will be held, offering avid foodies the opportunity to cook-along live with some of the best culinary talents in Asia. These include four-hands collaborations between Asia's Best Pastry Chef 2022 Maira Yeo from two-Michelin star Cloudstreet and Chef Justin Lee of JL Dessert Bar in Seoul; and Chef Will Goldfarb of Room4Dessert in Bali and Chef Genevieve Lee of Sourbombe Bakery. Food kits are available on the SFF website to enrich the masterclass experience.
Bringing Singapore's rich and diverse culinary scene overseas to 13 countries, foodies can expect locally-inspired treats such as a 4-hands dinner in the Philippines by Chef Han Li Guang of Labyrinth and Chef Chele Gonzales of Gallery by Chele, and in the United Kingdom where KEK Seafood collaborates with UK burger chain Honest Burger on a Cereal Chicken Burger, served with a limited-edition craft beer by UK-based brewery Northern Monk and Singapore's Off Day Beer.
Singapore Food Festival 2022
Venue: Bayfront Event Space, 12A Bayfront Ave, Singapore 018970
Dates: 24 August – 11 September 2022
Festival Village
Dates: 31 August – 11 September 2022
To find out more and to book the tickets to Singapore Food Festival (SFF), please go to this LINK.