THE FRONT ROW (TFR) returns for the third year bigger and better than before!
This year marks two firsts for TFR: first, by presenting a trans-digital world where virtual events cross over into physical space and intermingle with reality and second, by collaborating with Singapore Design Week, one of Asia's premier design festivals which is making its return after a two-year hiatus to showcase the best of design from Singapore and beyond.
The Front Row 2022 is set to demonstrate its beliefs in:
▪ Design With a Conscience, where TFR embraces the pillars of sustainability, eco-consciousness, seasonless and cruelty-free fashion and beauty in our journey towards being a more responsible creative and consumer. All creations presented in TFR 2022 do not use leather or fur at all, while the sets and décor are made only with upcycled materials.
▪ Celebrating Unique Concepts that were created through pivoting during Covid lockdown. These concepts form the foundation for creative, design and fashion events of the future. Barely out of the pandemic, TFR had already stepped into NFT and the digital art world with MIRL's showcase.
▪ Celebrating the Solidarity of cross-border designers and creatives who created an international (digital) brother-and-sisterhood during the lockdown and continue to create ground-breaking new works. Sometimes, we produce our best work in times of adversity!
Here's the key highlights of The Front Row 2022 as follows: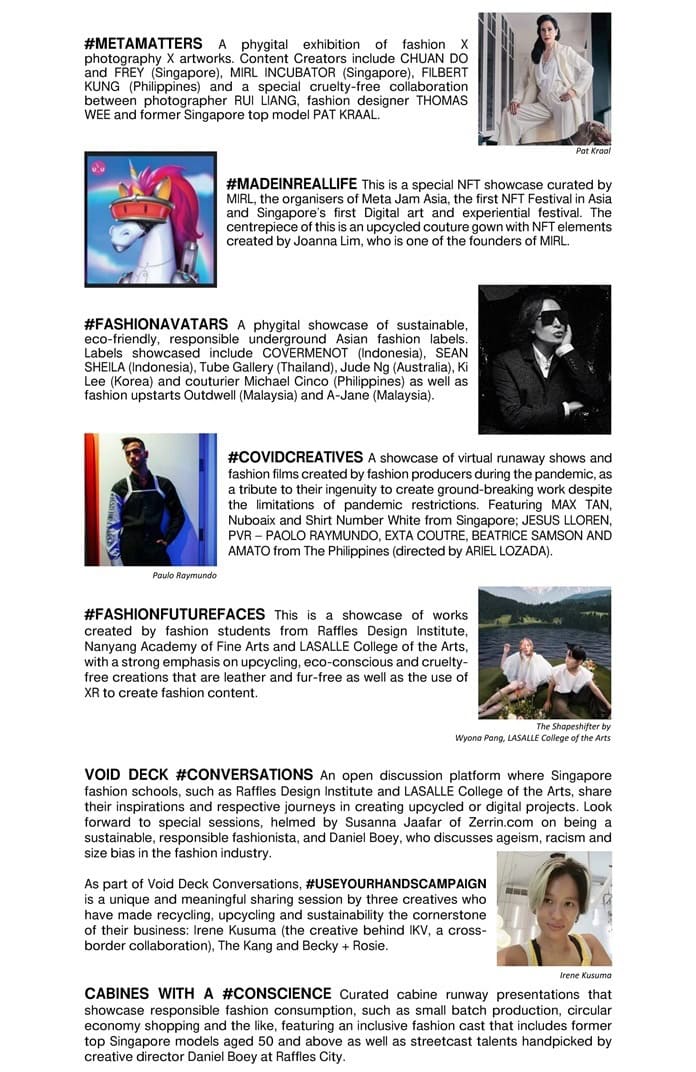 Find out more about The Front Row 2022 as follows:
Website: www.thefrontrow.style
Instagram/Facebook: @thefrontrow.style
Official Hashtag: #FashTag | #TheFrontRowSG | #SDWSG22 | #SingaporeDesignWeek