This festive season, PARKROYAL COLLECTION Marina Bay, Singapore is ushering the arrival of the Yuletide season with a sumptuous ensemble of festive dining experiences at Peppermint, Peach Blossoms, and Portman's Bar, as well as a wide variety of festive takeaways, goodies, festive gifting items, Countdown to 2023 packages, festive spa offers, and more!
Whimsical Yuletide Festive Feast at Peppermint
Experience festive dining like no other at Peppermint this holiday season. The festive buffet feast will be available from 25 November 2022, and includes Peppermint's signature Festive Tom Turkey, served with Chestnut Stuffing and Giblet Gravy, Maple and Clove Chicken Ham, served with Cranberry Jam, Truffle Black Angus Beef Shepherd's Pie, Barbeque Glazed Veal Leg with Yorkshire Pudding and Apple and Raisin Compote, among others. For Christmas Eve and Christmas Day, the buffet spread will serve mouth-watering recipes, including the 16 Hours Pot-roasted Wagyu Beef Belly with Barley and Apple "Risotto", Salmon and Prawn Mousse En Croûte with Truffle Cream and Salmon Roe, Baked Oyster Biltmore, and the Gingerbread Spiced Sweet Potato Pie. A decadent spread of Christmas cakes and desserts will also be available, including the Sudachi Strawberry Verrines, Raspberry Pistachio Yule Log, Opalys Mango Calamansi and Chocolate Hazelnut Yule Log.
To welcome 2023 on a luscious note, Chef de Cuisine Leon Yee and his culinary team will unveil tantalising creations at Peppermint on 31 December 2022 and 1 January 2023, with the signature 16 Hours Slow-roasted Wagyu Beef Steamship with Caramelised Apple, served with Charcoal Brioche and Urban Farm Thyme Sauce (Available exclusively for dinner on New Year's Eve), Mint Pesto Lamb Rack, served with Beurre Noisette, Ratte Potato and Cranberry Jus, Fisherman's Pie, filled with Mixed Seafood, served with Spinach and Herb Cream, Crab Claw and Prawn Tortellini Crustacean Bisque, Poulet Cordon Bleu with Dijon Cream Cheese, Turkey Ham with Mushrooms, Brussel Sprouts Gratin with Winter Truffle, Apple Frangipani Tart with Apple Jell-O, and more!
Peppermint
Venue: PARKROYAL COLLECTION Marina Bay, Singapore
6 Raffles Boulevard, Level 4
Singapore 039594
Tel: +65 6845 1111
Email: [email protected]
Website: https://bit.ly/Peppermint-sg
Nearest MRT: Esplanade Station (CC3)
Festive Set Menus at Peach Blossoms
Meanwhile, at Peach Blossoms, Executive Chinese Chef Edward Chong has prepared an exquisite treat for the holiday season with a six-course Penfolds Festive Wine Pairing Set Menu. Available daily for lunch and dinner from 15 November until 30 December 2022, this curated menu includes Chilled Abalone in Yuzu Ponzu Sauce, Peking Duck, served with Foie Gras in a Golden Trophy, Marble Goby Fillet in Kombu Crab Meat and Conpoy Broth, Braised Lobster with Yuzu Somen in Superior Stock, Applewood Smoked Jamón Ibérico Pork Char Siew, and Refreshing Chrysanthemum Jelly, served with Philibon French Charentais Melon and Peach Resin.
From 22 December 2022 until 1 January 2023, Peach Blossoms will also offer a six-course Harmonious Blessings Set Menu, priced at $188++ per person. Diners will get to enjoy Chilled Amaebi, served with Jellyfish, Black Garlic Dumpling, stuffed with Minced Smoked Duck, Double-boiled Peppercorn Soup with Stuffed Scallop and Morel Mushrooms, Steamed Marble Goby Fillet, served with Superior Broth, Mini Claypot Rice with Sous Vide Lobster and Black Truffle, and Chilled Avocado Purée, served with Hazelnut Ice Cream.
Whimsical Yuletide Festive Afternoon Tea at Portman's Bar
From 16 November until 30 December 2022, a sensorial Festive Afternoon Tea awaits at Portman's Bar. Enjoy a gourmet spread of premium savouries and sweets, including freshly-baked Homemade Cranberry Scone with Clotted Cream and Cinnamon Apricot Jam, Applewood-smoked Sustainable Salmon with Cream Cheese and Citrus, as well as Festive Turkey Salad, Goat Cheese, Croque Monsieur, Mini Salmon and Leek Pie, and delectable sweets, including Santa Hats (Morelllo Cherry Pistachio Gateaux), Sweet Wagon (Christmas Patisseries, Pralines and Cookies), and more! Bubbly lovers may add on a two-hour free flow of Prosecco at $38++ per person or Perrier-Jouët at $68++ per person.
Whimsical Yuletide eShop
The hotel's Whimsical YuletideeShop offers a wide variety of traditional festive roasts, festive goodies, festive family bundles, festive desserts, premium hampers and unique gifts for gifting, are available on the hotel's eShop at https://eshop-prsmb.panpacific.com/category/whimsical-yuletide-1916.
Explore an impressive array of Christmas gifting ideas for family, friends, and clients, available on the hotel's Whimsical Yuletide eShop. These gifts are presented in the form of e-vouchers that can be redeemed at the receiver's convenience. The range of items available includes the signature "Singapore Passion" soy wax candles, blended with lemongrass, ginger and mango, exclusively concocted for the hotel, essential aromatherapy oils, Appelles bath amenities, skin care products from Elemis and Thalion, Houghton & Gough room sprays, DIY Urban Farm grow kits, spa hampers from St. Gregory, personal training vouchers, dining vouchers, spa packages, staycations, and more!
Grandeur & Novelty Hampers
PARKROYAL COLLECTION Marina Bay, Singapore's premium hampers come cocooned within a sophisticated luggage-inspired multifunctional case that is ideal for holiday season gifting. Each hamper offers a perfect mix of epicurean treats. The exquisite Grandeur hamper comes with a bottle of Champagne, as well as Homemade Minced Fruit Pie, Festive Stollen with Almond Filling, Panettone Classico (500gm), 12 pieces of Christmas praline in gift box, 55% Dark Chocolate Bar, 28% White Chocolate Bar, and Chocolate Santa with Gift. A Novelty hamper option is also available, which includes assorted Christmas Cookies, Gingerbread Figurine, Festive Stollen with Almond Filling, Rich Fruit Cake, 24 pieces of assorted Christmas praline in gift box, 55% Dark Chocolate Bar, Chocolate Santa with Deer, and a bottle of house red wine.
Festive Favourites
Making a comeback this season is our signature Roasted Tom Turkey, marinated with Urban Farm Rosemary and Cajun Spices, served with Chestnut Stuffing, Sautéed Winter Vegetables and Homemade Giblet Sauce, Turkey Breast, stuffed with Foie Gras, Truffle and Chestnut, wrapped with Prosciutto di Parma, topped with Sliced Truffle, and served with Sautéed Winter Vegetables and Urban Farm Rosemary Truffle Sauce, Manuka Honey Glazed Gammon Bone-in Ham, served with Roasted Sweet Potato, Buttered Seasonal Vegetables and Madeira Pineapple Sauce, Smoked Barbeque Baby Back Rib Slab, served with Manuka Honey Glazed Cinnamon Apple, Seasonal Vegetables and Smoked Barbeque Sauce, and more!
Festive Family Bundle
The Festive Family Bundle that serves four to eight persons includes the crowd-favourite Christmas Ambrosia Salad, which is filled with generous servings of Pineapple, Coconut, Mandarin Oranges, Dried Cranberries, Pecan Nuts, Marshmallows, and Maraschino Cherries, Roasted French Corn-fed Chicken, marinated with Fresh Rosemary and Cajun Spices, and served with Homemade Chicken Jus, Glazed Boneless Ham with Gingerbread Spices, served with Buttered Seasonal Vegetables and Madeira Pineapple Sauce, Tagliatelle Al Funghi with Truffle Cream Sauce and Shaved Parmesan Cheese, Bread and Butter Pudding with Vanilla Sauce, and Mexique 66% Chocolate Mousse Log, with Bergamot Crèmeux, Caramel Banana Compote on Hazelnut Crunchy Base.
Festive Sweet Treats
Festive sweet treats include Mexique 66% Chocolate Mousse, with Bergamot Crémeux, Caramel Banana Compote, on Hazelnut Crunchy Base, as well as Mao Shan Wang Durian Mousse Vanilla Sponge Yule Log, Sudachi Citrus Mousse, with Yuzu Crémeux, Vanilla Pear Compote, and Almond Breton Biscuits, and Raspberry Mousse, with Pistachio Sponge, Raspberry Confit and Pistachio Crémeux.
Discounts
Orders placed with selected credit cards from now until 30 November 2022 enjoy Early Bird savings of 25%, and thereafter, 15% savings from 1 December until 26 December 2022. Discounts are excluded for Festive Hampers and Jolly Santa Goodies.
Delivery & Collection
Delivery to one location is chargeable at $50 nett per location. Complimentary delivery to one location is available for orders of $500 nett after discount.
The Whimsical Yuletide Festive Shop, located on level one, will be open from 14 November until 26 December daily from 11:00am until 8:00pm. Pre-order is available from now, and collection starts from 14 November until 26 December 2022.
Festive Spa Promotion
In celebration of the much-awaited Yuletide season, St. Gregory is giving away wonderful treats to guests with the newly launched Sure Win Lucky Draw! The Sure Win Lucky Draw is applicable with every $250 spent on à la carte services or Elemis/Thalion products. Available for the months of November and December 2022.
Stand a chance to win any of the following prizes:
• Selected Thalion Retail Products
• A 30-minute Beauty Enhancer
• A 45-minute Personal Training session with their in-house personal trainer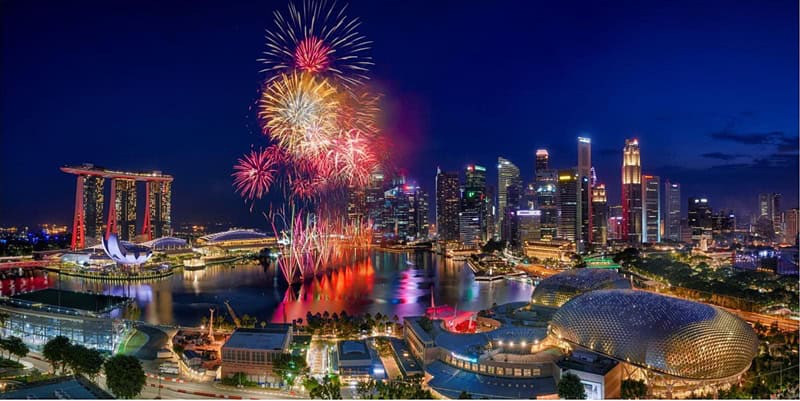 Festive Room Promotion:
Countdown by the Bay
Usher in the New Year at PARKROYAL COLLECTION Marina Bay, Singapore, with the Countdown by the Bay package, and catch breath-taking views of fireworks display from the comfort and privacy of your Signature Marina Bay Room. Enjoy a selection of specially curated amenities and access to the Wellness Floor, which includes the gymnasium, Spin Bike Studio, and outdoor swimming pool.
Included in this package:
• Guaranteed Signature Marina Bay View Room
• Specially curated countdown amenities
• Access to the Wellness Floor, which includes the gymnasium, Spin Bike Studio* and outdoor swimming pool
• Complimentary parking for one vehicle per room per day (Single exit, self-park at Marina Square)
*Reservation of slots required after check-in.
The above package is available for bookings from now until 31 December 2022, for stays between 28 December 2022 and 2 January 2023. For reservations, please call +65 6722 6780, email [email protected], or book direct on https://panpacific.co/marinabay.
New Year's Eve
50,000-Balloon Drop Countdown by the Bay at Portman's Bar
The iconic and one-of-a-kind, 50,000-balloon-drop will make a thunderous return come 31 December 2022 at the Countdown by the Bay Balloon Drop Celebration at Portman's Bar from 10:00pm until late.
Everyone is invited to partake in this exhilarating and most anticipated year-end party in town. Countdown by the Bay Balloon Drop Celebration is priced at $128++ per person, which includes a host of entertainment lined up for the evening, and three standard drinks, where guests may choose from draught beer, house spirits, house pour wine, chilled juices, or soft drinks. A Mini Festive Supper Canapés Buffet for guests feeling famished from the festivities, will also be available at $38++ per person, from 10:00pm until 12:00am.
All used balloons will be donated for upcycling into beautiful art pieces.