Uncle DiDi, a homegrown snack brand, understands that nostalgia is a powerful emotion that brings back fond memories of simpler times. For Singaporeans, these memories can be triggered by various things, such as munching on kacang puteh, playing with retro Bestman balloons, or visiting Uncle Ringo carnivals with family. These treasured moments evoke feelings of joy, fun, and warmth in our hearts.
Co-founders Wilson and Caleb of Uncle DiDi aim to recreate these sentiments and ignite the same emotions among Singaporeans during the Hari Raya festive season. Drawing inspiration from their own childhood favourites, Uncle DiDi brings back its seasonal Ondeh-ondeh popcorn. This delectable snack perfectly blends the rich sweetness of gula melaka with the fragrant aroma of pandan, creating a delicious and nostalgic treat.
By tapping into the power of nostalgia, Uncle DiDi hopes to create an experience that goes beyond just eating a snack. They hope to remind Singaporeans of the joy and warmth that comes from simple traditions and cherished moments with loved ones. With Uncle DiDi's Ondeh-ondeh popcorn, the Hari Raya festive season is sure to be filled with happy memories and warm feelings.
Uncle DiDi's latest offering is a welcomed addition to their repertoire of 12 bespoke recipes and innovative flavours including all-time classics like Bandung, Milo Dinosaur and Salted Caramel, which are now available right in the heartlands at Uncle DiDi's new specialty store at Hillion Mall.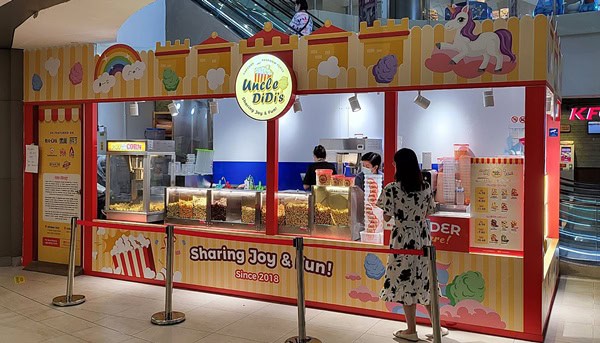 The newly minted store's design, featuring a fun carnival theme, is reminiscent of our childhood memories, adding to the experience of indulging in Uncle DiDi's nostalgic treats. Loyal patrons of Uncle DiDi will be thrilled to know that the hot popcorn, a highly requested addition to their menu, is now available alongside their signature cotton candy. With the carnival-inspired ambiance and tasty treats, a visit to Uncle DiDi's specialty store at Hillion Mall is sure to bring back fond memories and create new ones.
April Promotion:
Customers can take home one FREE Jumbo Tub of Original Sweet Corn or Salted Butter worth S$11.40 with every S$25 spent across the month of April.
Uncle DiDi has sold almost 500,000 tubs of popcorn and cotton candy, achieving top-line seven-figure revenue since its inception and has served over 300 corporate clients including AXS, Amazon Prime, DBS and Pan Pacific Hotels. 
With two in-store outlets at Hillion Mall and NEWest Mall, upcoming pop-up outlets around Singapore, and available online on their website, Lazada, Shopee, and GrabMart, Uncle DiDi has hopes to expand their presence overseas to Batam, Malaysia and Vietnam.
All images credit to Uncle DiDi