F&N Magnolia has been a well-loved addition to breakfast tables in Singaporean households for over 85 years. With its range of unique and limited-edition flavors, the brand has brought excitement and fun to mornings for milk lovers and families alike. This year, F&N Magnolia fans can look forward to a fresh and modern look, featuring vibrant colors and contemporary design elements.
Becoming a well-loved brand in Singapore was no easy feat, it took F&N Magnolia years of dedication and unwavering effort. The brand's story began in 1937, with humble beginnings that eventually led to the establishment of their first dairy farm at Chestnut Drive, Bukit Timah by 1940. This laid the foundation for a modern milk manufacturing industry. The 180 acres of farmland was eventually populated by a herd of specially imported temperate cows.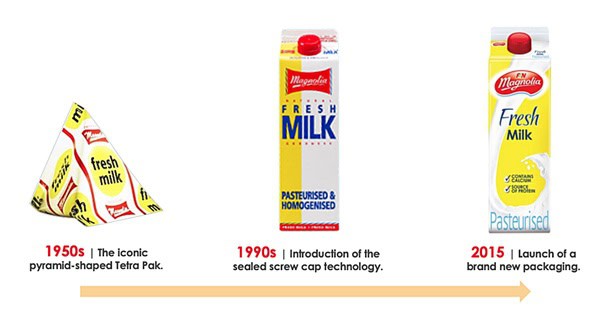 By the late 1950s, the iconic pyramid-shaped Tetra Pak lived up to its slogan "the peak in quality in every household" and the brand's commitment to quality was recognized with top honors at the 1977 Singapore Packaging Award Competition by the Singapore Manufacturing Association. Throughout the 1990s, F&N Magnolia continued to innovate in its milk packaging with the introduction of the sealed screw cap technology, ensuring the cartons remained airtight for extra freshness. Today, F&N Magnolia remains as one of the most trusted homegrown brands for dairy products and promises to provide nutritious, delicious and wholesome goodness for everyone. 
Although delicious and nourishing, the many benefits of milk are often overlooked or underappreciated. Healthhub.sg highlights that milk is an outstanding source of calcium and phosphorus, which are crucial for maintaining strong teeth and bones. Additionally, dairy products contain Vitamin D, which aids in calcium absorption – an essential nutrient at any age. Milk is also naturally rich in high-quality protein, carbohydrates, and water, making it a unique and effective post-exercise recovery drink for both fitness enthusiasts and individuals who lead an active lifestyle.

A glass of tasty goodness a day goes a long way. One serving (250ml per serving) of F&N Magnolia 100% Fresh Milk provides 9.5 grams of protein – equivalent to about 1.5 eggs, and 300mg of calcium, slightly more than one-third of the recommended dietary allowance for an adult between 19 to 50 years old, according to Healthhub.sg. Enjoy milk in different ways by adding it to different dishes and beverages like Latte, Avocado Milkshake, Breakfast Pancake and Creamy Chicken Mushroom Pasta. For those who are lactose intolerant, indulge in F&N Magnolia Lactose Free Milkinstead. For some quick and easy recipe ideas, please refer to the digital Recipe Book:  https://www.yumpu.com/en/document/read/67938473/fn-magnolia-recipe-book
Enjoy the benefits of milk with the newly revamped packaging in the morning and throughout the day. F&N Magnolia, which is Halal certified, is available at all leading supermarkets, hypermarkets, and convenience stores at the following Recommended Selling Prices:
1) F&N Magnolia 100% Fresh Milk 
○     946ml – $3.50
○      475ml – $2.42
2) F&N Magnolia Chocolate Flavoured Milk 
○      946ml – $3.50
○      475ml – $2.42
3) F&N Magnolia Low Fat Fresh Milk 
○      946ml – $3.50
○      475ml – $2.42
4) F&N Magnolia Lactose Free Milk 
○      946ml – S$4.55
5) F&N Magnolia Low Fat Hi-Cal Milk with Oats 
○      946ml – S$3.50
6) F&N Magnolia Low Fat Hi-Cal Milk with Omega 
○      946ml – $3.50
140 Years of Enjoyment and Goodness  
F&N celebrates its 140th anniversary this year. Over the years, the different brands under the F&N umbrella have touched the lives of people from every walk of life, and have been a part of many memories and milestones. In the years to come, the F&N brand will continue to stand for quality and most importantly, pure enjoyment and goodness.
For more information, please visit 
www.magnolia.com.sg or https://sg.fnlife.com/magnolia. 
Follow F&N Magnolia on Facebook or @fnnmagnolia on Instagram for more updates.
Photos Credit : F&N Foods